Misión Bolivia Santa Cruz

Here are free resources about the Bolivia Santa Cruz Mission:
Aquí están algunos recursos gratuitos sobre la Misión Bolivia Santa Cruz:
*Other Mission Pages: Bolivia LDS Missions.
---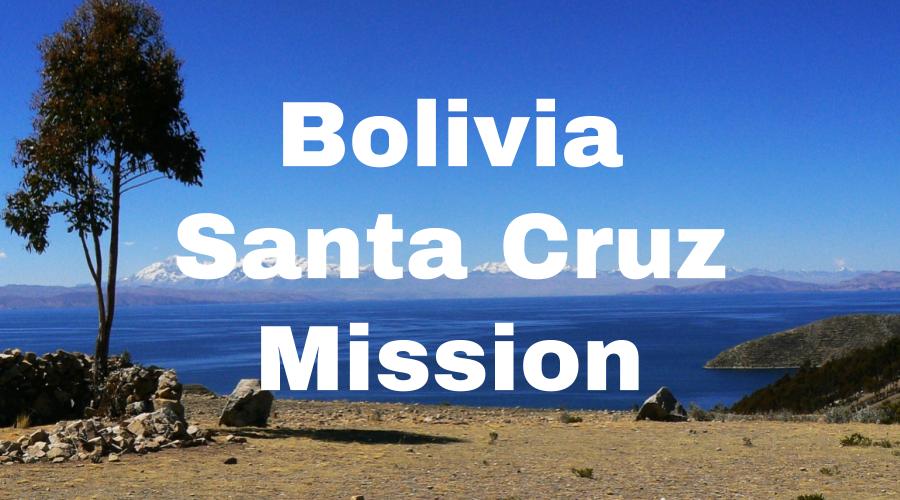 ---
Santa Cruz Mission Address
Here's a recent address for the Santa Cruz Mission. We try our best to keep this info up to date, but it's a good idea to check the mission address with several sources, including your mission packet or the mission office.
Bolivia Santa Cruz Mission
Casilla de Correo 2042
Zona Central
Santa Cruz, Santa Cruz
Bolivia
Phone Number: 591-3-333-7072
Mission President: President Luis Rodríguez Serrano
Bolivia Santa Cruz Mission Map
Here's a link to the mission map for the Santa Cruz Mission (LDS). To access an official, up-to-date LDS.org map for the Santa Cruz Mission, simply
Log into your LDS account here.
Click here.
Bolivia Santa Cruz Missionary Blogs
Here's a list of LDS missionary blogs for the Santa Cruz Mission. This list includes the missionary's name, URL and when their blog was updated.
*Send your missionary a gift (mission-specific shirts, ties, Christmas stockings/ornaments, pillowcases, etc.)
Bolivia Santa Cruz Mission Groups
Here are Bolivia Santa Cruz Mission Groups- for LDS missionary moms, returned missionaries, mission presidents and other alumni of the Santa Cruz Mission.
Bolivia Santa Cruz Mission T-Shirts
Here are T-shirts for the Bolivia Santa Cruz Mission!
Shirt designs include Bolivia Santa Cruz Mission logo/emblem shirts and Called to Serve shirts. The shirts make great gifts for pre-missionaries, returned missionaries and missionaries currently serving.LDS Mission shirts come in all sizes: Small, Medium, Large, Extra Large, up to 4XL.  The mission designs are printed on white shirts and are shipped to you.
*Simply click on a shirt design to view the details and submit an order. The designs on mission t-shirts may also be printed on other LDS mission gifts, including: Bolivia Santa Cruz missionary aprons, Christmas stockings, ties, pillow cases, teddy bears and Christmas ornaments.
*Click here to browse Santa Cruz Mission gifts
---
---
Santa Cruz Mission Presidents
Here's a list of current and past Mission Presidents of the Santa Cruz LDS Mission.
2016-2019, Luis Rodríguez Serrano
2013-2016, Jason Alfred Willard
Bolivia LDS Statistics (2015)
Church Membership: 192,339
Missions: 4
Temples: 1
Congregations: 253
Family History Centers: 34
Helpful Articles about Bolivia
Santa Cruz Missionary Survey
Here are survey responses from Bolivia Santa Cruz RMs, to give you a snapshot into what it's like to live in the mission.
*Click here to take a survey to help pre-missionaries going to your mission.
When did you serve?
2015-2016 (Drew)
2014-2016 (Nyal)
2012-2014 (Curtis)
1980s (Elder)
1979-1981 (Roberto)
What areas did you serve in?
La Colorada. (Drew)
Santa Cruz, Puerto Quijarro. (Curtis)
Sucre, Tarija, Cochabamba, Santa Cruz. (Elder)
Santa Cruz, Tarija, La Frontera (Puerto Quijarro). (Nyal)
Santa Cruz, Sucre, Riberalta (Beni) y Cochabamba. (Roberto)
What were some favorite foods?
They eat a LOT of bread. One type that I liked was cunape. Its like this little roll looking bread with cheese in the middle. They eat rice and potatoes with almost every meal and sometimes even add pasta to the mix. They eat a lot of beef cuts or chicken on the bone. I never ate anything that was absolutely horrible. They eat fried plantains which I wasnt a huge fan of but they were tolerable 🙂 They also eat queque which is like a version of pound cake. The food portions are really big though- You can ask your pensionista (the lady who cooks you lunch every day) for smaller portions but a lot of the time, the serve you the same portion haha. So all in all, Bolivian food isnt something that I would crave, but it wasnt bad either 🙂 (Drew)
Sopa de Maní (peanut soup), Salteñas, and Pique Macho. (Curtis)
Cuñapé, plátanos, yuca, papas a la huancaina. (Elder)
Cunape, Saltenas, Majao, Pique Macho, Chicha de Mani, Fesuada, potato salad. Don't ever let any one tell you the food was meh, because it was great! (Nyal)
Majao, Churrasco, Kjaras, Pataska, Cuñapé. (Roberto)
What was a funny experience?
I had plenty, but one of the funniest experiences was when we were doing service for an elderly lady in our ward. She handed my companion and I two machetes and said okay the grass needs cutting! I was shocked!! haha but we just hacked away at the ground until the grass came up. It took hours! But it was super fun. The ladies were making fun of the gringa missionaries hacking away at the ground because we looked crazy, but it is by far one of the funniest experiences of my mission. (Drew)
One P-Day we fit 10 missionaries into an old Toyota Corolla to go play soccer. We put 1 in the trunk and 9 up front. (Curtis)
Cuando mucha comida me hizo daño y no habia servicio higiénico cerca… (Roberto)
What was a crazy experience?
Taxi drivers (well any drivers at all) in Bolivia are pretty nuts. They dont obey traffic laws and just go crazy. So when in a taxi or car, I firmly believe there are angels surrounding it! Or else I dont know how I would have survived 🙂 (Drew)
Basically every bus you drive on you have to hold on for dear life. The bus drivers drive so fast and stop way fast too. (Curtis)
Living in Bolivia for two years. However, under the careful watch of my wife, I plan to live my last few decades in Cochabamba. Boil your drinking water. No joke. (Elder)
Riding in the buses when they are full so you have to hang out side the door holding on to the handles they have above the door. Also climbing up and cutting branches off of trees with machetes. (Nyal)
Cuando algunos jóvenes nos molestaban e insultaban. (Roberto)
What was a spiritual experience?
Everyone is a big believer in Christ- there isn't really a dominant religion (Catholicism is big, but they don't really go to church). Almost everyone has a common belief in Christ though so that is neat. They are really receptive to dreams down there so Heavenly Father blessed me with the opportunity to hear some vivid dreams from my investigators and recent converts testifying to them that the church is true. (Drew)
When I baptized someone that had truly repented and I could feel the cleansing power of the Savior. I could feel the forgiveness. It was incredible. (Curtis)
Every moment can be a spiritual experience, if you listen to the advice of your mission president, love the people, but most importantly love the Lord. My last 6 months were amazing, I could see the Lord's hand in my life and the live's of those around me. Because of that I could feel constant gratitude for the blessings he poured out on us. It sucked sometimes, and it was really hard, but the blessings of the spirit were always present. He won't always be there in every step, but He will guide your every step. (Nyal)
Cuando el Espíritu Santo testificaba al corazón del investigador y este aceptaba la invitación bautismal. (Roberto)
What are some interesting facts about the Santa Cruz Mission?
It is very 3rd world. There are streets and things, but a lot of the amenities and luxuries we have in the US are no where to be found there. It is fun to experience their culture and the no traffic laws and the laid back police staff. I didn't see a ton of animals, but I had friends whose areas had tons of monkeys, toucans, etc. There are little shops in the centro (a little ways from the mission offices) that have hand carved nativity sets and other things to take home. I loved those shops and got a nativity set and a hand carved angel, tshirts, and a few other things as memories. (Drew)
The mission includes the Brazilian city Corumbá and there are a couple of companionships that cross the border every day to go proselyte in that city. They have to learn Portuguese as well as already know Spanish. (Curtis)
The borders keep changing, ward, stake, and mission boundaries as well. A good amount of people speak quechuia so if you want to impress people, say Imaynaya Kashanki, and when they respond say Walhejia. It means how are you and hello. (Nyal)
La visita del apóstol David B. Haight cuando se organizó la estaca Cochabamba. (Roberto)
What was the weather like?
In the summer it is HOT. Like 100 degrees everyday hot. And in winter it is COLD and WET. The streets flood with water and the air is wet. It is really hard for your clothes to dry during the winter there and everything has a mildewy smell. (Drew)
So so so so so hot. Unbelievably hot and humid. In the winter months it can get quite cold as well (never below freezing in Santa Cruz). It is important to have a warm jacket for winter. (Curtis)
Hot and sticky for half the year in Santa Cruz. Very pleasant in Tarija, Sucre, and Cochabamba. (Elder)
Always windy in Santa Cruz, which throws up sand into your face. There is a period for a few weeks in the winter (July or August) when a southwind from Antartica passes through called El Sur. Since it is humid when it gets cold, it feels like it passes through your coat into your bones. Other than that it is alway 90 degrees or above, Typically it is always 100 degrees, sometimes up to 120 depending which branches you get sent to. There is one Area called Tarija where the temperature and climate is similar to Utah in the spring. When it rains it pours, and since it is rather flat and there are no drainage systems (except in Tarjia) the streets flood, typically to your ankles, but sometimes to your knees. (Nyal)
Clima cálido y húmedo, temperatura promedio 30 °c. (Roberto)
Any things you really like about the area/people?
The people are EXTREMELY laid back. Which can be good and bad 🙂 I loved their culture and how they just really love their families. The kids all play outside and play street soccer after school. It is so fun to watch! (Drew)
Everyone is willing to learn about the Lord, and most people are very respectful toward the missionaries. (Curtis)
They'll give you the shirt off their back. DON'T LET THEM. Oh, and go back when you're done preaching the gospel and do something like building a school in a rural area. (Elder)
The people were so kind and loving. Every once and a while you'll find a scrooge, but everyone will listen to your message. They recognize you as men of God. Now, that doesn't mean that they'll actually repent and change their lives, but you will get plenty of practice teaching the lessons as you look for the ones that God has prepared for you. The people will give you the clothes off their backs, and feed you with the last scraps they were saving for their children. They are truly a Christlike people as ever I've seen one. Of course they can be stubborn but that's from their Lamanite blood. (Nyal)
Muy amistosa y receptiva. (Roberto)
Any packing/clothing advice?
Do not bring shirts that you have to wear something under like a tank top because it is too low or a t-shirt because the sleeves don't cover garments. Make sure it is light weight and light colored because it gets so hot. But bring sweaters and a nice coat, leggings, and tights for winter because it is cold. And don't wait to buy rainboots there. My companion did that and had to wait because they don't sell them there and she had to break them in after that and it was a nightmare. (Drew)
Bring mostly short sleeved shirts, only a couple long sleeved. You'll use your suit maybe once a month for zone conference or interviews with the president so only bring 1. Bring a GOOD umbrella because it rains hard and the wind is strong. (Curtis)
DON'T WEAR MESH GARMENTS. They stick to you when you sweat, which is all the time. Other than that, personally it makes more sense to buy your jackets and coats and garments down there where it's cheaper. So the smart thing would be to buy your white shirts, slacks and VERY LONG LASTING shoes in America and buy everything down there. South American shoes tend to be cheap, undurable, and very uncomfortable. (Nyal)
Ropa ligera, delgada, relacionada a clima cálido, una muda para el ocasional "zuraso" viento frio invernal de corta duración. (Roberto)
What blessings did you receive from serving a mission?
My family was so so blessed. Their emails every week testified to me that Heavenly Father was strengthening my family's testimonies from the work I was doing in Bolivia to strengthen the testimonies of the people there. It was amazing to see how Heavenly Father consecrated the work I was doing there for the benefit of my family who was thousands of miles away. (Drew)
I learned how to get along with people, make relationships and friendships. I became closer to my Savior and I gained the desire to always to what is right because of the love I have for Him. I was blessed to be able to watch people and families change as they lived the gospel. (Curtis)
I got the blessing of spiritual progress. Without coming to know my mission president , PDT. Willard, I wouldn't have been able to get past the spiritual obstacles blocking. MY love for the people allowed me to come to know a new spiritual height I've never known before. (Nyal)
Experiencias reales acerca del poder del sacerdocio, el Espíritu Santo y la seguridad del amor del Padre Celestial y Jesucristo. (Roberto)
What are some skills you gained?
I learned that the gospel is a real thing- a way of life. I also learned the importance of eternal families and learned how important children are. I learned how important the leaders in the church are and how hard they work. I also learned how to work with people and help them understand the importance of the gospel in their own lives for themselves and how to help them gain a testimony. I believe this was great mom training 🙂 (Drew)
Scripture study skills, adminstrative skills (confirming appointments and keeping a schedule), people skills. (Curtis)
Talking to people. I hate talking to people still but I can do it, and confidently. I immediately came back to do summer sales and did pretty good because of that skill. (Nyal)
Paciencia, amor, servicio, mayor fe, testimonio y conocimiento de la doctrina. (Roberto)
What do you wish you knew/did at the beginning of your mission?
That everything will always work out, and just because you are called to South America, doesn't mean you will baptize millions. Our work in South America has challenges just like every other part of the world. Don't blame yourself if something goes wrong. Just keep trying and know that as long as you do your part, it is all in the Lord's hands. And be obedient, but don't be crazy. Don't create contention in your companionship trying to be a robot to obey the rules. Consider other's feelings and work as a companionship to be obedient- not as a single missionary. That will only cause contention and a loss of the Spirit. Also a big thing in our mission was a "Libro de Recuerdos" or a memory book. Every transfer we would have our investigators, recent converts, and other missionaries write testimonies/notes in this book to remember the area. I was so glad I brought a cute one from the States. (Drew)
I wished that I had known to focus more on the person and how to make the gospel apply to them rather than just teach all the material in the lesson. (Curtis)
I wished I had gone on splits with the missionaries before. It would have made a world of a difference. (Nyal)
Saber la geografía, el clima, las costumbres y la idiosincracia de las personas con quienes se convivirá. (Roberto)
Any advice/testimony for pre-missionaries going to Santa Cruz?
When you can't understand anyone or can't speak the language, just try anyway and trust in the gift of tongues. It will be so hard at first but just remember to try, try, try. Just keep praying and studying and the language will come. It normally starts coming around the 6 month mark, so just be patient and trust in the Lord with all your heart. He will finally show you mercy and help you understand. (Drew)
Work hard, be obedient, but make sure that you enjoy it. You should love being a missionary. You should be happy to be the Savior's representative. (Curtis)
Don't worry about learning the language. It will come as you literally beg the Lord every moment of the day to understand the people you're called to serve. REPENT of ALL your sins. BE OBEDIENT, I can't stress that one enough. It doesn't mean you're perfect but you are making a constant effort AND improvement. (Nyal)
Dispuestos a compartir, ser tolerantes y la clave: amar a quienes se servirá. (Roberto)
What was a funny language mistake?
I told people "Buenas tardes!" in the mornings all the time and said "Buenos dias!" at night a lot. You just laugh and get over it 🙂 (Drew)
My companion from La Paz whose first language was Aymara was ticking off all the things that Mormons don't use: café, té, marijuana, cerveza, heroína, apio…. Whoa, whoa, what was that? Apio? You guys can't eat celery? What's up with that? He meant to say OPIO (opium). (Elder)
Don't say EXITAR to say excite. It does not mean what you think it means. (Nyal)
Palmer (Bolivia Santa Cruz Mission)
–Paraphrased from Palmer's mission interview–
Santa Cruz
Santa Cruz is a really interesting city. It's really hot and always sunny. The weirdest thing is that it is so sandy. It makes no sense because it's really humid and a big chunk of the mission is in the Amazon Rain Forest, but Santa Cruz is really sandy. It's like covered in beach sand. At first you hate it, but you come to love having sand just everywhere. Only Santa Cruz is like that.
Mission Geography and Climate
Up north is all rainforest and it's hot and humid. Down south it's drier and even hotter. Santa Cruz is totally flat. It's the biggest city in the mission, the rest is just smaller towns. A lot of them are very poor and the cities are all very spread out. You have to fly, take a bus for hours, or take a train. I always flew. Depending on the town you go to you could be flying for an hour or up to four hours. You start to feel pretty isolated.
yndsee (Bolivia Santa Cruz Mission)
–Paraphrased from Lyndsee's mission interview–
Santa Cruz Mission Geography
Santa Cruz is now divided into 2 missions, but when I was there it was just the one. Some missionaries would just stay in Santa Cruz, while others spent most of their mission in the provinces. There was one area called Jaquiba that I think shared land with Argentina. We also shared land with Brazil. Any missionaries who went to the farthest provinces served in those countries
Church Organization in Bolivia
We only had 8 stakes in Santa Cruz, which was a pretty big city. Each set of missionaries was assigned to one ward, which was very helpful in the work. The church isn't very established yet. Although the chapels are gorgeous, the members are still learning how the flow of the organization should be. The Church is still new, but it's growing and the members are as well. I never saw the church building be so used: there was a soccer field out back, and members would often go to the field or simply in the building to hang out. It was inspiring to see them use the Church as a safe haven.
Staying Strong in the Gospel
The closest temple is in Cochabamba, so I never got to go. For the members, it was a big deal to plan a trip there. They had to have strength, time, and courage to save up and to travel to the temple. Going inactive was so easy there, so retention was a very big focus in Bolivia. New members see the church, they feel the spirit, and they experience the gospel. They feel the change in their hearts, are baptized, and they know it's true. But, because the Church is so new, it's so easy for the members to just get lost. Home teaching and other programs to help are still developing, and it can be very hard for members new and old to hold on. Despite everything, the members who are hanging on are hanging on strong for sure