Free resources about the Barbados Bridgetown Mission:
*Browse resources about the West Indies Mission.
---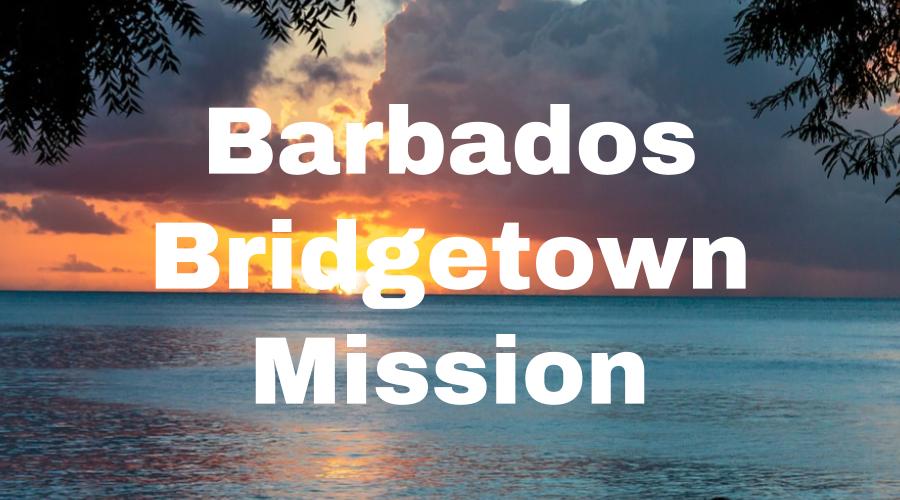 ---
Barbados Bridgetown Mission Address
Here's a recent address for the Barbados Bridgetown Mission. We try to keep this information up to date, but it's a good idea to check the address with several sources, including your mission packet or the mission office.
Barbados Bridgetown Mission
Highway 7
Hastings
BB
Phone Number: Coming soon
Mission President: President Alan C. Herrington
Barbados Bridgetown Mission Map
Here's a link to the mission map for the Barbados Bridgetown Mission (LDS). To access the official, up-to-date LDS.org map for the Barbados Bridgetown Mission:
Log into your LDS account here.
Click here.
Barbados Bridgetown Missionary Blogs
Here's a list of LDS missionary blogs for the Barbados Bridgetown Mission. This list includes the missionary's name, URL and when their blog was updated.
*Send your missionary a gift (mission-specific shirts, ties, Christmas stockings/ornaments, pillowcases, etc.)
Barbados Bridgetown Mission Groups
Here are Barbados Bridgetown Mission Groups- for LDS missionary moms, returned missionaries, mission presidents and other alumni of the mission.
Barbados Bridgetown Mission Group (104 members)
Barbados Bridgetown Mission T-Shirts
Here are T-shirts for the Barbados Bridgetown Mission!
Shirt designs include Barbados Bridgetown Mission logo/emblem shirts and Called to Serve shirts. The shirts make great gifts for pre-missionaries, returned missionaries and missionaries currently serving. LDS Mission shirts come in all sizes: Small, Medium, Large, Extra Large, up to 4XL.  The mission designs are printed on white shirts and are shipped to you.
*Simply click on a shirt design to view the details and submit an order. The designs on mission t-shirts may also be printed on other LDS mission gifts, including: Barbados Bridgetown missionary aprons, Christmas stockings, ties, pillow cases, teddy bears and Christmas ornaments.
*Click here to browse Barbados Bridgetown Mission gifts
---
---
Barbados Bridgetown Mission Presidents
Here's a list of current and past Mission Presidents of the Barbados Bridgetown Mission.
2015-2018, Alan C. Herrington
2015, West Indies Mission renamed Barbados Bridgetown Mission
Barbados Bridgetown LDS Statistics (2015)
Church Membership: 303 (Saint Lucia), 260 (Sint Maarten), 376 (Grenada), 908 (Barbados), 215 (Martinique), 492 (Guadeloupe), 600 (Saint Vincent)
Missions: 1
Temples: 0
Congregations: 2 (Saint Lucia), 1 (Sint Maarten), 1 (Grenada), 3 (Barbados), 1 (Martinique), 3 (Guadeloupe), 2 (Saint Vincent)
Family History Centers: 1 (Barbados), 1 (Martinique), 1 (Guadeloupe)
Helpful Articles about the Barbados Bridgetown Mission
Barbados Bridgetown Missionary Survey
Here are survey responses from Barbados Bridgetown RMs, to give you a snapshot into what it's like to live in the mission.
*Click here to take a survey to help pre-missionaries going to your mission.
When did you serve?
2015-2017 (Adam)
2015-2017 (Bryce)
2015-2017 (Jared)
2015-2017 (Bracken)
2015-2017 (Meliula)
2013-2015 (Garrett)
May 2013-May 2015 (Taylor)
What areas did you serve in?
St.Lucia, Barbados, St. Vincent. (Adam)
Lamentine, Guadeloupe; Point à Pitre, Guadeloupe; Lamentine, Martinique; Volga Plage, Martinique; Marigot, St Martin; Barbadose; Sans Succi, St Lucia. (Bryce)
St marteen, st Lucia Castries, st Lucia Vieuxfort, Granada, Blackrock Barbados. (Jared)
Barbados St Lucia & St Vincent. (Bracken)
St George – Grenada. (Meliula)
San Fernando, Trinidad; Kingstown, St. Vincent; Tobago; Oistins, Barbados; Diego Martin, Trinidad; Marigot, St. Maarten. (Garrett)
What were some favorite foods?
Breadfruit. pork, fish. (Adam)
Bokkits. Banane Péssé. Agalou. Kebabs. Frien chicken. (Bryce)
Oil down, stewed chicken,fig salad, rodies. (Jared)
Mac pie… salt fish and bakes. (Bracken)
Oil down, Brown Down, dumplings, Local fruits, salt fish, rice n beans. (Meliula)
Doubles, Roti, Bake and Shark. (Garrett)
Banan Peze and Pikliz (Haitian food), Bokits (Guadeloupean), Floup (especially "au coco"). (Taylor)
What was a funny experience?
Branch Christmas activity. (Adam)
Made all many fun friends out there, the people are hilarious! Especially the old ones! One lady loved to play Uno with us and she was actually good at it and when she would win, at the end of the lesson her prayers would include something along the lines of "Thankful Lord for making me a winner tonight". (Bryce)
Cutting grass with machete and asked the brother if we were doing good he said it doesn't matter I just wanted it cut. (Jared)
A drunk guy passed out on a bus and got kicked off. (Bracken)
When I was in Gouyave, Grenada, my companion Elder and I ( I don't know if I'm allowed to say other missionaries names) but we walked to our appointment. I walked by the road and he walk on the stairs and he tripped and fell on the stairs and rolled over like 3 times. And that got me laughing. (Meliula)
All experiences with Trinidadians. (Garrett)
An insane old Haitian woman (influenced by voodoo) decided to strip down and take a shower right in the middle of the little village where we were teaching a lesson. (Taylor)
What was a crazy experience?
Getting robbed. (Adam)
Got held up on gunpoint 3 times, chased by a guy with a machete, drunkenly attacked, got arrested, had to go to court and represent myself in a foreign language, got deported, hitch hiked my way home when separated from my companion, got held hostage, plane almost crashed and got rerouted to the wrong island and had to get my way back into the mission. (Bryce)
The army arresting the neighbors. (Jared)
Some guy bit my companion. (Bracken)
When one of potential investigator turns out to be one of the prisoners the police was looking for for the past 3 months. (Meliula)
Every time I got on the road. (Garrett)
A drunk guy on the bus got mad at me after I refused to give him 20 euros, then he waved a knife in my face and said "never come around here again or I'll slit your throat." (Taylor)
What was a spiritual experience?
Baptisms. (Adam)
Introducing the Book of Mormon to certain people- one woman started crying because of how she felt the Spirit from the book. Another woman broke into singing, praising Jesus. One woman was just diagnosed with cancer and we got the chance to give her a blessing and she felt like she was actually communicating with God and broke down into tears and we were able to help comfort her. (Bryce)
Baptizing in the ocean. (Jared)
Feeling closer to Heavenly Father on top a mountain. (Bracken)
My first baptism. Never felt so uplifted and so emotional. (Meliula)
One time as I walked up a huge hill and the investigator not being home, I remember looking over the city and ocean and just really feeling like I was supposed to be there and that I would not want to be anywhere else. (Garrett)
While fasting one time, we found a miracle family. The dad had tried to kill himself a few days before, because he was addicted to drugs and alcohol. So they left everything behind and went into the city to get away from their past life. While going to check up on a recent convert, we found the family, who were relatives. (Taylor)
What are some interesting facts about the Bridgetown Mission?
It has 8 countries. (Adam)
Most expensive, best mission in the world, best food, just the best!! (Bryce)
Variety of languages spoken. (Jared)
It's made up of 8 countries. (Bracken)
Tropical, warm, people are nice and friendly. Love the food, love the buses (they bust out their loud music & they go crazy). The views and sites are so pretty and just love being in the islands. (Garrett)
If you're getting transferred, get ready to fly to your next area. (Taylor)
What was the weather like?
HOT AND HUMID with some rain. (Adam)
Hot and sticky and sweaty and humid. (Bryce)
Hot and wet. (Jared)
Hot and humid. (Bracken)
Hot, warm and wet. (Meliula)
HOT AND HUMID. Rains every day. (Garrett)
Always warm- even at night- and very humid. Rainy for about half the year. (Taylor)
Any things you really like about the area/people?
They are friendly if you are friendly. (Adam)
The people are generally less intelligent than the average people you talk to, but they are the nicest and super humble! Just be friends with them and get then to cook for you and compliment them – they love it and all have unique stories, so talk to them and actually listen! (Bryce)
Friendly… some of them, good sense of humor. (Jared)
Kindness. (Bracken)
They are really friendly and kind and the place was so beautiful. (Meliula)
They are all laid back and loving. (Garrett)
It was the most beautiful place I've ever been to. (Taylor)
Any packing/clothing advice?
Short sleeve shirts and sweat rags. (Adam)
Haha, goodluck!! Only 1 suitcase! Just pack light and find old clothes missionaries left behind when yours get crappy (only works on French side) at the end, leave all your bad clothes and take all the souvenirs! Be careful with the airport tricks because if you get caught you will be in trouble. (Bryce)
More shirts than you think and less pants. (Jared)
Short sleeve shirts. (Bracken)
Just get heaps of mosquitoes repellent and get short sleeves shirts. (Never want to wear long sleeves in a hot sun.) (Meliula)
Do not over pack or you will be wasting a lot of money during transfers. Light weight clothing and mesh garment tops are best. Two pairs Clark's shoes will last you most of the mission. Closed toed sandals are useless. Bring a small sachel. one that can fit a Book of Mormon and some pamphlets. Do not look expensive. You will never wear a suit unless you're going home. (Garrett)
You don't need any warm clothing. Don't pack any shampoo, body wash, or other hygiene stuff. You can find all that there. You'll only have one suitcase, so only bring things you absolutely have to bring. (Taylor)
What blessings did you receive from serving a mission?
I know Christ better and I can hear his voice direct me. (Adam)
French language – lifelong friends – valuable knowledge of the Gospel. (Bryce)
Can't be numbered. (Bracken)
I've gained more confidence and most of all, I gained more of my testimony. Just seeing people's life change makes my testimony firm. (Meliula)
The knowledge and testimony and habits gained there cannot compare. (Garrett)
I learned French and made amazing friends. (Taylor)
What are some skills you gained?
I am more bold and compassionate. (Adam)
How to actually to talk to people in a meaningful manner – how to learn to adapt to the personalities of living with one person over an extended period of time – how to ration expenses and food – how to follow to Spirit – from daily scripture routine. (Bryce)
Ignoring people or things trying to bother or hurt my feelings. (Jared)
How to properly cut down a tree. (Bracken)
Street contact and speaking Creole English. (Meliula)
Study, prayer, and a constant missionary mind. (Garrett)
Cooking and communication. (Taylor)
What do you wish you knew/did at the beginning of your mission?
The key is to love the people. (Adam)
Apostate missionaries exist and how to deal with an apostate companion. (Bryce)
How different the country was going to be. (Jared)
Be prepared for anything. (Bracken)
I wish I knew more scripture that cross referenced from the Bible to Book of Mormon. (Meliula)
I wish I would've broken up with my girlfriend and had been more focused on the work. (Garrett)
Don't say the word "hard." Saying something is hard is just an excuse to not go for gold. (Taylor)
Any advice/testimony for pre-missionaries going to Bridgetown?
Be humble and pray, pray, pray for charity and WORK. (Adam)
Be ready to be in not a normal mission – just go with the flow, nothing will be like what you learned a mission to be like – you need to be able to adapt to the islands/cultures HAVE FUN!!! Try all the weird foods, especially the hole in the walls or the food trucks! Go make friends! (Bryce)
Worry more about the people and less about the other missionaries opinions. (Jared)
Remain teachable . (Bracken)
Just love the people and love the Lord's work. (Meliula)
Don't go unless you're going to give it your all or else your wasting your time and the Lord's. (Garrett)
Don't sit in the apartment when you're not supposed to. Get out and work! (Taylor)
What was a funny language mistake?
Trying to learn Patois. (Adam)
If you say "hot" in French with a certain verbs tense it means 'in heat, or like sexually ready' and I had a companion ask a girl of she was hot since she was in a jacket and it got really awkward. (Bryce)
Tahitians didn't realize what words were swear words. (Jared)