Here are free resources about the Australia Sydney North Mission:
*Other Mission Pages: Australia LDS Missions.
---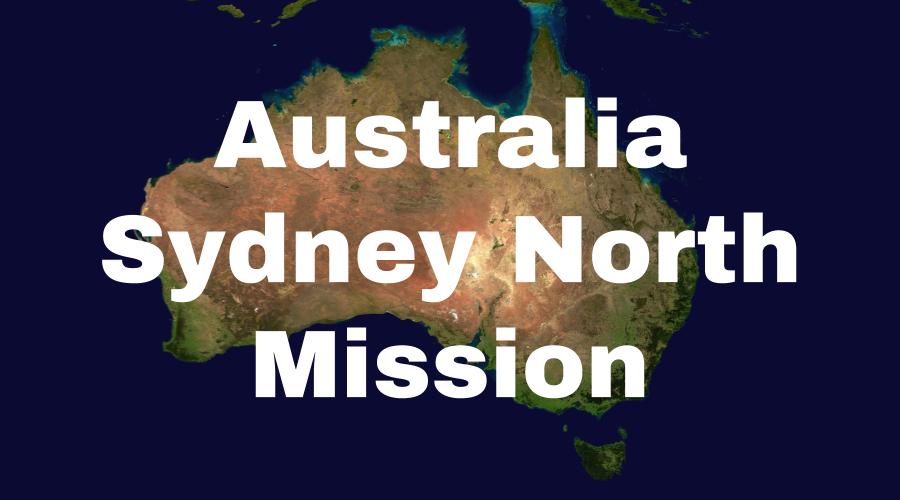 ---
Sydney North Mission Address
Here's a recent address for the Sydney North Mission. We try to keep this info up to date, but it's a good idea to check the mission address with several sources, including your mission packet or the mission office.
Australia Sydney North Mission
756 Pennant Hills Road
P.O. Box 2723
Carlingford Court, NSW 2118
Australia
Phone Number: 61-2-9841-5430
Mission President: President Philip F. Howes
Australia Sydney North Mission Map
Here's a link to the mission map for the Sydney North Mission (LDS). To access an official, up-to-date LDS.org map for mission:
Log into your LDS account here.
Click here.
Sydney North Missionary Blogs
Here's a list of LDS missionary blogs for the Sydney North Mission. This blog list includes the missionary's name, URL and when their mission blog was updated.
*Send your missionary a gift (mission-specific shirts, ties, Christmas stockings/ornaments, pillowcases, etc.)
Sydney North Mission Groups
Here are Sydney North Mission Groups- for LDS missionary moms, returned missionaries, mission presidents and other alumni of the Sydney North Mission.
Sydney Australia North Mission Facebook Group (297 members)
Sydney North Mission (President Vincent Era) Group (34 members)
Sydney North Mission T-Shirts
Here are T-shirts for the Australia Sydney North Mission!
Shirt designs include Australia Sydney North Mission logo/emblem shirts and Called to Serve shirts. The shirts make great gifts for pre-missionaries, returned missionaries and missionaries currently serving. LDS Mission shirts come in all sizes: Small, Medium, Large, Extra Large, up to 4XL.  The mission designs are printed on white shirts and are shipped to you.
*Simply click on a shirt design to view the details and submit an order. The designs on mission t-shirts may also be printed on other LDS mission gifts, including: Australia Sydney North missionary aprons, Christmas stockings, ties, pillow cases, teddy bears and Christmas ornaments.
*Click here to browse Sydney North Mission gifts
---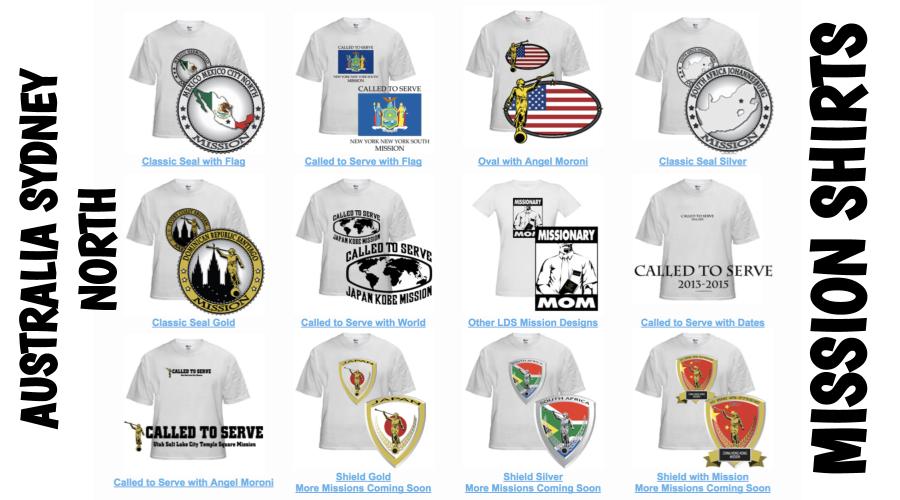 ---
Sydney North Mission Presidents
Here's a list of current and past Mission Presidents of the Sydney North LDS Mission.
2013-2016, Philip F. Howes
2007-2010, H. E. Scruggs
2004-2007, David D. Vincent
2001-2004, John Walker
1998-2001, Terrance Barry
1995-1998, Wilford Lynn Dredge
1993-1995, Glenn L. Pace
Australia LDS Statistics (2015)
Church Membership: 143,891
Missions: 6
Temples: 5
Congregations: 303
Family History Centers: 145
Helpful Articles about Australia
Sydney North Missionary Survey
Here are survey responses from Sydney North RMs, to give you a snapshot into what it's like to live in the mission.
When did you serve?
2014-2015 (Jessica)
2013-2015 (Peter)
2013-2015 (Derek)
July 2013-August 2015 (Matt)
2013-2015 (Marienette)
2013-2014 (Moriah)
2003-2005 (Sean)
Which areas did you serve in?
Areas: Greenwhich, Toronto, Bungarribee, Blacktown, also I traveled to most other areas for a few days at a time. (Jessica)
Sydney, Blacktown, Maitland, Coffs Harbour, Narrabri. (Peter)
Hebersham stake. (Marienette)
Doonside (which is now Doonside and Bungarribee wards), Baulkham Hills (and from there, I got to travel around the Baulkham Hills, Hebersham, and Penrith zones), and Harbord (Sydney's northern beaches). (Moriah)
Toronto, Newcastle, Port Macquarie, Blacktown, Bathurst. (Sean)
What were some favorite foods?
Thai food, Chinese food, Korean food, fresh produce (in Australia, it's amazing!), Yogurberry (frozen yogurt), and beans on toast 🙂 ((Jessica)
Sausages (hot dogs), chopsuey, pavlova, kangaroo, vegemite! (Peter)
Australian: meat pies, sausages, trifle, jelly, roast and crackle. Korean (I served Korean Speaking): bulgogi, bibimbap, kimchi, and seafood potato pancakes. (Matt)
Meat pies, Fish & chips, Kangaroo, pavlova, tim tams. (Derek)
Polynesian foods. (Marienette)
Lu, taro and boiled green bananas in coconut cream, seafood pizza, and massaman curry. (Moriah)
Pizza, spaghetti. (Sean)
What was a funny experience?
There were many little ones. You have to find humor in most moments on the mission because the work you do is hard work. (Jessica)
I tried to talk to someone on the street. But as soon as I said hello they shouted "I'm not interested". And then took off running, until they were out of sight. Even though the sidewalk was crowded, they ran into the road so they wouldn't have to stop. (Peter)
One time I tried to share the Gospel to these elderly Korean ladies. They were also missionaries for their church, and took my companion and I on a special bus to their church, where they tried to convert us- the only problem was it was was in a language I could barely understand! When they discovered we were Mormon, they promptly kicked us out- and we realized we had no idea where we were! Three hours later, we called our President to apologize for going out of our area, and to share the lesson we learned. (Matt)
For Halloween, my companion and I switched name tags with the 2 other elders in our flat for the day. (Derek)
Accidentally fart while walking. (Marienette)
Once, I accidentally told a Jehovah Witness that I was a member of their faith. We were standing outside of their Kingdom Hall dropping off 2 sisters who literally lived right next to it. They had come out on splits with us. A lady walked up and we greeted her. She asked, "Oh, are you part of this church?" I thought she was reading my missionary badge and excitedly responded, "Yes!" Later, the sisters and my companion were laughing, and they explained my error. (Moriah)
Ward mission leader came with us to teach an investigator. Ward Mission Leader fell asleep and started snoring really loud. (Sean)
What was a crazy/dangerous experience?
While I was driving 110 km/hr down the motor way, about 20 minutes into the drive, all of a sudden I saw a couple of big, hairy, brown legs slowly peek over the visor above my head. It was like time froze. I checked my mirrors then pulled over and stopped as quickly as I could. My companion seemed confused as to what was going on. As soon as the car was in park, I threw back my seat, pointing up and yelled, "SPIDER!!!!" She looked up, swiftly smashed her palm into the visor, crushing the beast, grabbed a tissue with the other hand, scooped it up and chucked it out the window. Then she just turned back in her seat waiting for the drive to continue like nothing had happened. My heart was still pounding, but I got us back on the road and we went on our way. (Jessica)
I had glasses at the time. During the rainy season we would frequently find ourselves riding home on our bikes in the dark, and rain. My glasses would get all blurry, and there were no street lights so I would just try to follow the flashing light on the back of my companions bike, but I was never really sure if I was on the road or not, because I couldn't see. (Peter)
We were doing service and cleaned up a play set, only to realize there was a nest of red back and white tip spiders…evil arachnids that, with one bite, can kill a grown man within hours. Frightening! (Matt)
A guy that was very high on drugs we met tried to bash with us, we rode our bikes away from him, later that same night we saw him sitting on a curb, smiling and waving to us as we rode past him. (Derek)
Went out to a mission boundaries, wrong bus to take. Lol. (Marienette)
On my first full day of driving, I accidentally drove us into the bus tunnel and got so flustered when the buses honked at us that I accidentally ran a red light. (Moriah)
A kid stole my bike while I was on trade offs with a big Tongan missionary. We went knocking on doors to see if anyone had seen the bike. We eventually found the kid and Elder picked the kid up by the collar and said "if you ever touch our bikes again I'll kill you!" (Sean)
What was a spiritual experience?
I saw many miracles. One of the greatest was watching an uneducated woman begin to read the Book of Mormon with her husband daily and see her reading improve dramatically. She went from reading words and a couple of lines to whole verses and chapters in a matter of weeks. It was an absolute miracle. They were more eager to learn everything about the gospel and live it than any other person I've met, and they did. It felt amazing to be in their presence, even though they didn't have the best living condition, they had a fire in their eyes and wanted to learn. It was inspiring. (Jessica)
We had one investigator who was not progressing and we didn't know how to help him. Before one lesson we really prayed to have words put into our mouth. During that lesson I began teaching and explaining the gospel in a way I had not previously taught, connecting principles which I had not connected before. The Spirit literally put the words into my mouth- all I had to do was open my mouth and speak. (Peter)
In the last week of my mission, I fasted that God might allow me to help one more person accept baptism. We had no investigator ready for the weekend, and baptisms don't come by easy in my mission. That Thursday, we were on the street finding when we got a phone call from a long time investigator, asking to meet immediately. She was from Brazil, and with a senior missionary translating, she expressed that she'd read The Book of Mormon and knew it was true. The next day was her birthday, and she asked if she could be baptized that day! 24 hours later, she was a member of the church. (Matt)
Witnessed my convert do baptisms for the dead while I was still serving in that same area. (Derek)
When we help less active to come back to church, had an awesome baptism. Sharing testimonies to everyone. (Marienette)
On our way to my second exchange as a sister training leader, we found that our GPS wouldn't go to the sisters' address because their house was so new. So we called up their zone leaders and asked them to meet up with us and show us the way there. All of us arrived together at the sisters' house, and out came one of the sisters. She asked how the zone leaders knew to come–because her companion had just packed her bags and was ready to go home, and this sister was at her wits' end and didn't know what to do. Luckily, the elders both spoke the frustrated sister's native language, and we were able to offer sisterly support and comfort. You could almost SEE the hand of the Lord at work. I know that Heavenly Father is there and that He loves His children. (Moriah)
We got to baptize our golden investigator in the ocean! (Sean)
What are some interesting facts about the Sydney North Mission?
Aussie people are funny! They like good humor. That's the best way to start a conversation. They don't like fakeness. They are reserved and private people, but very honest when you start talking. (Jessica)
It covers everything from downtown Sydney, to amazing beaches, to the bush (outback). There are tons of Asians and Polynesians. (Peter)
There are Korean, Chinese, Tongan and Samoan-speaking missionaries! (Matt)
It is the smallest mission in Australia. (Derek)
Meeting new people, encounter different cultures. (Marienette)
Geographic area so big we had to use all our allotted kilometers on our car for zone conferences and zone meetings because they were so far away. The Sydney Mission keeps splitting into Sydney North and South missions and then back to Sydney again. Not sure if this still happens, but there is a member from either Dubbo or Orange who used to carve personalized boomerangs for every missionary in the mission. (Sean)
What was the weather like?
Winter can be brutally cold! It rains a lot and is windy in winter. It's humid all year round. It's breezy near the coast. Summer is very hot in the country and more mild near the coast. (Jessica)
It depends on the area. But generally speaking there are really mild winters with really warm summers. Also, there are a couple weeks every year that seem like rain season where it will rain almost nonstop for two weeks. (Peter)
Beautiful. The summer is hot and the winters are calm. There's lots more rain than Utah. Along the coast is very tropical. (Matt)
Humid, hot, rainy. (Derek)
They have 4 seasons there. (Marienette)
Summers are hot and humid (very humid if you serve near the coast). You HAVE to wear sunscreen–and I'm saying that as someone who never does. The sun just burns more fiercely, and there's a higher rate of skin cancer there (most likely due to Australia's proximity to the ozone hole). Winters are cold and rainy, never cold enough to snow–but because it's humid, the cold penetrates, so wear wool and bring waterproof shoes. (Moriah)
Hot and fairly humid in summer, mild and sometimes cool in winter. (Sean)
Any things you really like about the area/people?
I loved how honest people were. So many people I met had so much heart and soul. Aussies are reserved, so it's odd to just walk up to them, especially in city areas. They are very private people, but very friendly nonetheless. Some days, we would just try to see how many smiles we could get. The country area is different. People are a lot more talkative. (Jessica)
I love how relaxed and friendly everyone was. Everyone was very happy to help, and very polite (regardless of whether or not they were interested). Everyone is sure to take care of the missionaries. There are a lot of ward activities. (Peter)
They are all laid back, willing to chat anytime. It is also very diverse and I met people from everywhere in the world! (Matt)
The members are amazing! (Derek)
Beautiful place, nice to lived. (Marienette)
I just love them! Sydney's the most multicultural place I've ever been. The people are all varied and different, and all good in their own way; and no matter what differences they have, all are alike as children of God. The gospel blessed all of them. (Moriah)
They are Australian like me. (Sean)
Any packing/clothing advice?
It gets FREEZING in the winter!!! No joke! You need nice rain boots and a rain coat, a nice hat and scarf, and thick leggings. Most people have umbrellas there to share. Summer can be very hot. Pack cotton shirts and light skirts as well. Sisters constantly are giving clothes away, so you don't need to pack a ton. Just bring a few essentials, and nice accessories like scarves and jewelry. Bring a little sewing kit. (Jessica)
Sweaters for winter! Bring an umbrella. (Peter)
Short sleeve shirts. We did lots of street contacting, so bring good shoes to walk in. (Matt)
(It rarely snows there) – no heavy snow boots – bring an umbrella -rain resistant coats – durable, comfortable shoes. (Derek)
Pack sparsely; you don't need much, and whatever you do need, you can get there. Pack interchangeable outfits so you don't need to pack around as much. (You and the other missionaries will be glad of this when transfers come. Remember that you'll pick up souvenirs and mementos of people along the way, and your journal collection will grow, so leave room.) Wear clothes and shoes that are conservative but nice so the people you encounter can focus on the message, not you. (I brought some nice shoes that had good support but we're rather fancy, and I found that they drew people's attention, especially in the less wealthy areas, so I stopped wearing them.) The place to spend your money is in shoes with good sole support–you use your feet a lot! (The last 9 months of my mission, I wore slip-ons that I loved but which had NO sole support, and it messed up my feet. Take good care of yourself.) Remember–if you don't love it, you're not going to wear it. (Moriah)
Don't go overboard with clothing or packing. (Sean)
What blessings did you receive from serving a mission?
So many that I'm still discovering. God told me to go on a mission, and when I got there, I wondered why He wanted me there. Now I'm learning why after it's all over. I'm learning to stand up for what's right no matter what anyone else does or says, and how to love others. (Jessica)
Confidence, becoming better at expressing myself, gaining a greater love for the gospel and an increased capacity to love. (Peter)
A sure testimony of the Gospel of Jesus Christ. (Matt)
A deeper relationship with Heavenly Father and Jesus Christ – deeper conversion – more gratitude for my blessings – learned how to follow the Spirit. (Derek)
Being matured in the gospel. Able to share the gospel to those around us. (Marienette)
Unending. (Moriah)
Wife and kids. (Sean)
What are some skills you gained?
Emotional intelligence, learning how to love people and really care about them and help them. How to teach people what the gospel is by showing them. (Jessica)
Public speaking, even with short notice. Not getting angry (no joke, I don't get angry anymore), becoming more of a team player, becoming better at expressing myself and understanding others. (Peter)
Great people skills. Teaching and communication skills. I am unafraid now to meet new people and make new friends! (Matt)
Knowledge of the scriptures -cooking -cleaning -people skills -confidence. (Derek)
Goal setting, planning, budgeting, teaching skills, and training. (Marienette)
Didgeridoo playing. Teaching. Cycling. Knee rugby. (Sean)
What do you wish you knew/did at the beginning of your mission?
How to be more honest and open with people. (Jessica)
Yo give it my all to follow every prompting. BE HUMBLE!! There is so much to learn. (Peter)
To relax and be myself. The Spirit works best when we are obedient and diligent, but real. (Matt)
More purpose-driven. More humble. More loving to everyone. More hard working. (Derek)
Eliminate all fear and hesitation immediately. That's how to have joy and accomplish what the Lord sent you there to accomplish. Just do the right thing always and heed promptings immediately. Everything you do must be motivated by love, or it doesn't do any good. You can be 100% obedient–and that does help; ALWAYS be 100% obedient (it brings SO many blessings)–but if your companion or other missionaries are struggling with that, it doesn't help to just enforce obedience. Being loved is what changes people. That goes for missionaries, investigators, less-actives, established, members, and yourself. (Moriah)
Nothing. Great the way it was. (Sean)
Any advice/testimony for pre-missionaries going to Sydney North?
Don't go for yourself, go with a true desire to help people. Don't be afraid to follow the Spirit, even if it doesn't make sense, or if it goes against the rules. I asked my leaders if the Spirit would ever tell me to do something that was against the handbook, they said yes. Don't take everything so seriously. Even your leaders are not right sometimes. Stand up for what's right. We are all human. Think about what really works with people. People want to feel loved, to be heard, to have a friend. Do whatever you can to help them. Promise it will get better. No matter what, follow the Spirit and do what you know is right. Ask yourself what Jesus would do. (Jessica)
Trust in the Lord in all things, all of them. Only by doing this can you reach your true potential, and become the best you. (Peter)
You are going to a place that will change your life. Be prepared to meet lots of Asians, Islanders, and Aussies who love Footy. (Matt)
Love the Lord, love your companion, love the people. Philippians 4:13, 

Ether 12:27, Moroni 7:45-48, Luke 1:37, Mosiah 3:19. (Derek)

Be the best you can be. And always align yourself to the will of God. (Marienette)
Be loving, humble, obedient, and diligent. Never waste a moment being lazy, disobedient, or afraid. The time really does go so fast, and the work is urgent–you have no time to spare. Also, don't just baptize people for the sake of baptisms. Prepare them completely, diligently, and to the best of your ability. In all that you do with them, have the last principle of the gospel in mind–enduring to the end. Write your converts and people after you leave! (Moriah)
Have fun. BE YOURSELF! Be genuine. Be honest. Forgive yourself. Have patience and courage and be persistent. (Sean)
What was a funny language mistake?
In Chinese, if you say the words just slightly off, you could be saying, "you are fat", instead of "you are cool". So be careful haha. (Jessica)
Don't call it a fanny pack (that really bad)! It's a bum bag. It's thongs not flip flops. Generally speaking they abbreviate everything. (Peter)
One time I said devil instead of mother! Haha. (Matt)
I was training a new Tongan sister who was learning English. During companion study, we were role playing teaching the Plan of Salvation, and it was her turn to teach about the creation. She said, "I'm so grateful that Heavenly Father created the land so we're not cold in the ocean." After a couple seconds staring, we burst out laughing because it was so absurd but true! It's simple, but it was one of my favorite memories with her. (Moriah)
Michael (Australia Sydney North Mission)
–Paraphrased from Michael's mission interview–
A Diverse Mission
We would always say that we loved the city mission so much because it's so diverse. I didn't expect that. You will feel like you're in China or Korea or the Polynesian islands. I feel like I can relate to a lot of different missionaries. There were Mandarin and Cantonese speaking missionaries. There were others that spoke Spanish and Samoan.
Wards and Stakes
There are probably under ten stakes, but they are great, There is also a district. You'll mostly serve in wards. They're a bit smaller than the ones in Utah. One of the wards I served in had about 70 coming each week and others had over 100.
The Church in Australia
The church is definitely doing well in Australia. I met some of the greatest leaders and they're doing a lot. The temple is in Sydney and is pretty close to the mission home. I remember a man that lived two hours a way that would come to the temple every week to do temple work. It's a lot easier in Utah. It was cool seeing the time that people took to go to the temple.
The Split
I started in the Sydney Mission, but it split into north and south. I got to stay with the same mission president.