Here are free resources about the Arizona Mesa Mission:
*Other Mission Pages: Arizona LDS Missions.
*Learn about living in Arizona.
---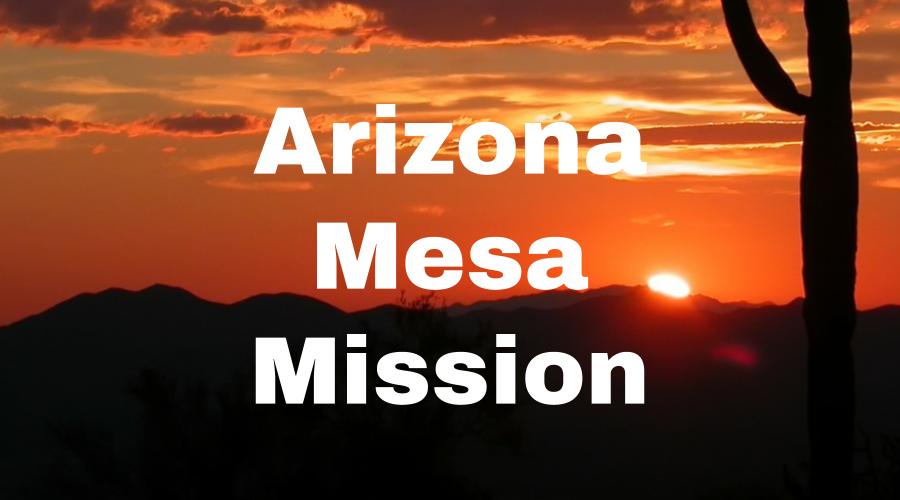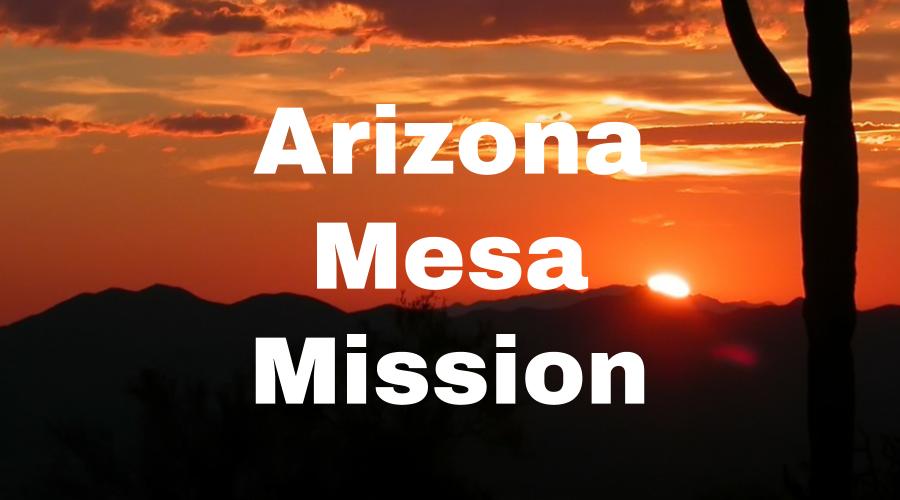 ---
Arizona Mesa Mission Address
Here's a recent address for the Arizona Mesa Mission. We try to keep this information up to date, but it's a good idea to check the address with several sources, including your mission packet or the mission office.
Arizona Mesa Mission
2525 N. 32nd St.
Mesa, AZ
85213
Phone Number: 1-480-500-5422
Mission President: President Lonny E. Townsend
Arizona Mesa Mission Map
Here's a link to the mission map for the Mesa Mission (LDS). To access the official LDS.org map for the Mesa Mission
Log into your LDS account here.
Click here.
Arizona Mesa Missionary Blogs
Here's a list of LDS missionary blogs for the Mesa Mission. This blog list includes the missionary's name, URL and when their mission blog was updated.
*Send your missionary a gift (mission-specific shirts, ties, Christmas stockings/ornaments, pillowcases, etc.)
Arizona Mesa Mission Groups
Here are Mesa Mission Groups- for LDS missionary moms, returned missionaries, mission presidents and other alumni of the Mesa Mission.
Arizona Mesa Mission T-Shirts
Here are T-shirts for the Arizona Mesa Mission!
Shirt designs include Arizona Mesa Mission logo/emblem shirts and Called to Serve shirts. The shirts make great gifts for pre-missionaries, returned missionaries and missionaries currently serving. LDS Mission shirts come in all sizes: Small, Medium, Large, Extra Large, up to 4XL.  The mission designs are printed on white shirts and are shipped to you.
*Simply click on a shirt design to view the details and submit an order. The designs on mission t-shirts may also be printed on other LDS mission gifts, including: Arizona Mesa missionary aprons, Christmas stockings, ties, pillow cases, teddy bears and Christmas ornaments.
*Click here to browse Mesa Mission gifts
---
---
Arizona Mesa Mission Presidents
Here's a list of current and past Mission Presidents of the Mesa LDS Mission.
2016-2019, Lonny E. Townsend
2013-2016, Kirk L. Jenkins
2010-2013, R. Spence Ellsworth
2007-2010, W. Mark Bassett
2004-2007, William Tracy Watson
2001-2004, Nigel George Wappett
Arizona LDS Statistics (2015)
Church Membership: 416,192
Missions: 6
Temples: 5
Congregations: 844
Family History Centers: 66
Helpful Articles about Arizona
Coming soon..
Arizona Mesa Missionary Survey
Here are survey responses from Arizona Mesa RMs, to give you a snapshot into what it's like to live in the mission.
*Click here to take a survey to help pre-missionaries going to your mission.
When did you serve?
2013-2015 (Joseph)
2011-2013 (Brant)
2009-2011 (Michael)
2006-2007 (Daniel)
2003-2005 (Stephen)
2001-2003 (Spencer)
2000-2002 (Jason)
What areas did you serve in?
Phoenix/Mesa. (Joseph)
Payson, AJ, N. Scottsdale, East Mesa, Heber, Lehi, East Mesa. (Brant)
Several areas across Mesa and one area in Payson and Pheonix (Daniel)
Mesa, Scottsdale, Fountain Hills, Phoenix. (Stephen)
What were some favorite foods?
Tortas. (Joseph)
Fish tacos, have each companion teach you an easy food. (Brant)
Polynesian, Mexican, Greek. (Michael)
I really liked the Mexican food that the members who fed us dinner often made. We were very blessed to be fed almost every night. (Daniel)
All things Mexican. Fresh homemade tortillas. (Stephen)
Carne asada, horchata, ribs, steak, Pete's Fish and Chips, Mangoes, fresh citrus fruits from the tree, fresh-squeezed lemonade. (Spencer)
Anything Mexican. Chicken. (Jason)
What was a funny experience?
When we got iPads, there came out a lot of funny videos. (Joseph)
In North Phoenix, there is an area there called "the square". My companion and I were driving down the road having a great day when we both saw a guy pushing a grocery cart, what makes this funny is he was naked. (Michael)
At the time it wasn't funny and I give it as a cautionary tale. My companion and I saw a lady out pushing a child in a stroller. My companion said something like, "Is that your grandchild?" She responded that it was her own child and that was the end of that conversation. Never assume you know how old someone is! (Daniel)
I once ate a lemon, including the peel to cheer up my companion. I let him take pictures so that whenever he felt homesick after that, he could look at his idiot companion eating a lemon like an apple. (Spencer)
Stephanie – I was confirming Stephanie on the stand the day after baptism and as custom dictates, she shook hands with all the men in the circle. As we had become close sharing life experiences during her conversion, she went to hug me. Being a good little missionary, I put my arm up (Hiseman Trophy stance) and she kept coming. Not wanting to touch her upper body as she kept coming, I pulled my arm back and leaned back away. I then fell over backwards over the pews on the stand in front of the whole ward. At meetings with the other missionaries, they would then assume the Hiseman pose @ me… 😂😂😂😂 (Jason)
What was a crazy experience?
We are out past 10 PM. (Joseph)
Having guns pointed at me at different points. Living in an apartment full of mood was more scary. (Brant)
I almost fought a meth head. (Michael)
My companion and I were riding our bikes down a pitch black road at night and my companion had his bike light on. It was one of those bike lights that snapped onto the part that was attached to the bike frame. To our surprise the bike light suddenly flipped out of where it was attached! It really creeped us out and to this day I have no idea how it happened. (Daniel)
My companion was almost thrown off a two-story balcony by an angry drunk investigator who had just found out his parents were getting divorced. My companion didn't handle the situation well and could have been injured as a result. (Stephen)
I got hit by a car while crossing the SR-51 overpass on Greenwood Ave. (Spencer)
Phoenix Car Bomb – while in my last area in Phoenix, I felt super strongly that we should go tract in an area previously black listed due to gang violence. My companion refused to go but after some persuasion he relented. We found no one. We went back 3 times each day repeating the conversation. After finding a family of 12 that were very responsive to the gospel, we went back to our car to find a cloth in our gas tank soaked in gas with the last few inches hanging out of the tank. A box of struck & burnt matches littered the ground, the edges of the clothe burnt around the edges and still soaked in gas. The Lord had kept the cloth from igniting and making our car into a Bomb, not only did this save us and the surrounding cars but likely the sinner attempting to harm us. (Jason)
What was a spiritual experience?
One investigator prayed with us and felt the Holy Ghost hug her. (Joseph)
Showing up at the right time for the right people. (Brant)
Reading the Book of Mormon from cover to end for the first time ever. (Michael)
I remember teaching an investigator family about the atonement using Alma chapter 7. Some of my favorite versus are in Alma 7. I talked about how Christ knows what we go through. He has experienced everything that everyone can feel. He can empathize with us perfectly. The spirit was really strong. (Daniel)
I recall a time when we were turning left onto one of the major four-lane roadways where the speed limit was 50mph. As we know, most Arizonans drive much faster. A large truck was turning right onto the road we were turning off of, which blocked our view. As we pulled out in our little Corolla a larger vehicle was just moments away from t-boning us. I recall feeling as though the back of our car was lifted up and moved out of the way as the other car skidded off the road. We should have died in this experience, but I have no doubt angels protected us. (Stephen)
When I taught a family who had a difficult time quitting smoking, we prepared a customized lesson about the Atonement and how it could help them stop. I remember being very sick, but we kept our appointment because we were prompted to do so. I just remember feeling the Savior's love for that couple and their children, and I knew they felt it too. (Spencer)
Same as Car Bomb. (Jason)
What are some interesting facts about the Mesa Mission?
It's small. The church is strong here. (Joseph)
It's hot. (Michael)
I was on a bike for most of my mission. I was in Mesa for the hottest months of the year and then got sent up to Payson AZ in the winter. Payson is up in the mountains and is very beautiful but it was very cold. So I got baked in the summer and frozen in the winter! Thankfully I did have a car for the 3 months I was in Payson. (Daniel)
The Mesa Temple was one of the first temples built. Number seven I believe. (Stephen)
I love the plants and animals that are in the Mesa Mission. I remember chasing roadrunners, the saguaro cactus in bloom with the wrens nesting in its arms, while feeding on its nectar, seeing coyotes roaming the orange groves with the distinct smell of orange blossoms in the air. People think the desert is void of interesting flora and fauna, but they're wrong. (Spencer)
My mission areas were a chiasmic flow from Tempe to Mesa to Maricopa to Mesa and back to Tempe. The Lord loves to communicate with me like the ancient Jews and these lessons served me well every day since my mission. (Jason)
What was the weather like?
Sunny. (Joseph)
Hot. Its a dry heat. (Brant)
Hot, no clouds, monsoon season in the summer. (Michael)
Very very hot in Mesa and very cold in Payson. I think I was blessed to be able to handle it though. We were out riding our bikes when the temperature hit 116 degrees! In an area that was new to both me and my companion at that. We were knocking on random peoples houses looking for a drink of water. As far as I know people are required by law to give someone water if they ask. (Daniel)
I absolutely loved the heat and sunshine. There was very little annual rainfall. (Stephen)
Two seasons: summer and hot. The exception is if you're blessed enough to get to higher elevation or northern country. (Spencer)
Hot & sweaty! (Jason)
Any things you really like about the area/people?
It's sunny and the church is strong here. (Joseph)
The members will do anything for missionaries but don't take advantage of them even when other missionaries do. (Brant)
Its beautiful, great places to hike. (Michael)
I met so many wonderful people and learned so much from them. (Daniel)
There is a long and deep history of the church in Arizona. The Easter Pageant is incredible, and is the largest outdoor one in the world. (Stephen)
I really loved feeling like I belonged where I was. I liked that the members in Arizona are, for the most part, eager and willing to help the missionaries succeed and new members thrive. I loved the desert so much, I moved back to Arizona for five years while I went to Arizona State. (Spencer)
The different colors of brown and rock and green cactus! But I'm red green color blind so it all looked brown😜 (Jason)
Any packing/clothing advice?
Just remember that missionaries leave a lot of stuff in the apartments. I got lots of nice secondhand stuff. (Joseph)
Have all pants machine washable and all pants match suit coat. Having different color suit jackets was hard. (Brant)
Nothing warm. (Michael)
If you are interested in working out like I was then I would invest in a good quality elastic band. You can get one at Walmart. I hauled around some weights for a while which didn't work very well! (Daniel)
Bring two long-sleeved shirts for church and meetings and a bunch of short-sleeved shirts. Find some sensible shoes that aren't black for proselyting in the sun. If you wear black shoes on a hot day and stand still for too long, your feet will feel like they are on fire. The first time you feel like a spider is crawling down your back, don't worry, it's just sweat beading and dripping. Bring a bandana or something to absorb sweat to put in a bike helmet. No advice for sisters, sorry. (Spencer)
Mesh garments, light clothing and lots of water. A camel backpack would be a wise investment and I still use my mission pack to this day! (Jason)
What blessings did you receive from serving a mission?
I now know Spanish and am firmer in the gospel.(Joseph)
Patience. (Brant)
Too many to list. (Michael)
I changed a great deal and prepared me to get married. It's scary to think about how immature I was before my mission. (Daniel)
I wouldn't be the confident and resilient person I am today without my mission experience. It solidified my testimony and gave me the strength to endure any trial. (Stephen)
All my blessings can be traced back to missionary service. This includes my wife, my family, my education, my ability to get a job, and just about everything else for which I thank God. (Spencer)
Personal fortitude! No matter the challenge I have never since my mission felt unsure of what I should do. Having learned to talk with God in prayer and receive revelation, I am never at a loss for answers or direction. I also have been blessed with a wife and 4 daughters. (I prayed to be surrounded by beautiful women, the Lord has a great sense of humor😜).  (Jason)
What are some skills you gained?
Planning. (Joseph)
My reading ability went way up. (Brant)
Speaking to anyone without problems. (Michael)
I learned how to better communicate with others, get along with someone, and how to take better care of myself. (Daniel)
I gained a renewed love for music and the courage to perform in front of others. I now play an integral role in the wards I've lived in, using my musical talents as a singer, pianist, and organist. (Stephen)
Since a stateside mission has some of the wealthiest people on earth, it requires missionaries to be more polished and professional. Building an instant rapport with people who may not want to talk to you is an important skill in business. Missions definitely teach that. I also learned to swallow fire, make a tennis ball cannon, and speak a little Spanish and Navajo. (Spencer)
Discipline, constant scripture study, diligent work ethic, determination, resilience under pressure, how to receive revelation. How to be the strong one when you feel weak. How to lean upon the Lord for strength when you feel like quitting. (Jason)
What do you wish you knew/did at the beginning of your mission?
Be humble. Don't judge your companion. (Joseph)
Have each companion teach me to make a food they know. Have families in my area teach me to make easy foods. If you love a dinner, get the recipe. I miss foods I don't remember who made it. (Brant)
All of preach my gospel. (Michael)
I wished I had worked harder. I was to quick to waste time by getting distracted talking about politics or something extraneous. I wish I had been much better prepared and put in the effort by studying "Preach My Gospel." (Daniel)
I wish I had been less judgmental and more patient with my companions. My trainer struggled with obedience to the mission rules and this was hard for me because I wanted to be strictly obedient. My mission taught me that we can't expect others to behave the same as we would. Every one has a different background of experiences and a different view/perception of things. (Stephen)
Above all, be humble and choose to love what you're doing, where you're serving, and who your companion is. It took me longer than it should have to learn this, and when I did, I started having the time of my life. The companion thing is probably the hardest. Serve your companion to love your companion. Iron his shirt, shine his shoes, make him lunch, or find something else. It's impossible not to love who you serve. (Spencer)
My scriptures. I graduated from both seminary and institute. But it was never enough. I needed more knowledge of how the Lord subtly reaches out to bless his children. (Jason)
Any advice/testimony for pre-missionaries going to Mesa?
You got this. (Joseph)
Go because you want to go. DON'T go to make someone else happy. (Brant)
Lose yourself in the work. Do not worry about your family, friends etc. Love God first, and do his will. (Michael)
Read and ponder the Book of Mormon daily. You will need to be able to say that you know that the Book of Mormon is true because you have read it and prayed to know that it is true. I didn't do that till I was on my mission. Take seminary and mission prep classes seriously. (Daniel)
Prepare yourselves spiritually. Study the Gospel rigorously, as the more you understand and love the scriptures, the easier it will be for you to have confidence and teach with the Spirit. Avoid serious dating as this may serve as a major distraction in the field. I saw missionaries go home early because they didn't want someone else to marry their girlfriend or they couldn't bear being apart. There will be plenty of time to fall in love post mission. (Stephen)
Work hard. Be obedient. Love God and your neighbor. Love who you teach without judging them. Pray for those who persecute you, and stay hydrated. (Spencer)
Become comfortable reaching into that unsure place in your heart, reach past it to the place where your gut instinct is. This and the front of your mind, those first words to come to you are where revelation is heard and felt. Take the time to ask yes or no questions to get revelation at first. After you feel confident, those moments of "maybe I should…" Will come more often… That's not you! That's the Lord directing you! Follow his lead! (Jason)
What was a funny language mistake?
I asked that the Spirit die here instead of dwell here. (Joseph)
I had a missionary that used slang often without knowing the non Mormon meaning of the slang. Often it was sexual things that he did not understand. (Brant)
While working the call center in the MTC I made the mistake of pronouncing someone's name as Jesus (as in Christ instead of "Hey zoose"). Being Canadian, I didn't have much exposure to Spanish. (Stephen)
A Spanish missionary asked an investigator how many balls he had, instead of how many tickets he had, when the investigator expressed worry about going to court over a speeding ticket. The word for ball is pelota, and the word for ticket is boleto. (Spencer)
Mark (Arizona Mesa Mission)
–Paraphrased from Mark's mission interview–
Founders in Arizona
One area of the Mesa mission was Snowflake, AZ. It's called Snowflake because it was founded the Snow family and the Flake family, and they actually decided to name the city after themselves. There's still a lot of people without the last name Snow or Flake in Arizona to this day.
Many cities in Arizona were founded by members of the LDS church as they were asked by former church president Brigham Young to settle the area. You can tell by the grid system and straight streets. I served in Lehi, AZ which was very historic. It was the area of the first church building built in Arizona. Today, a museum stands nearby with artifacts from the original states.
Temples and Worship
Before there was a temple in Arizona the saints used to have to travel all the way to Saint George to get married in the Saint George temple. I served my mission during the centennial anniversary for Arizona's statehood. The Mormon Tabernacle Choir came down to commemorate. One of the coolest things about Arizona is the growth of temples. There's temples built or announced in Phoenix, Snowflake, Tuscon, Gila Valley, Gilbert, and of course in Mesa
Each year the members put on an Easter pageant to tell the story of Christ. Every day and night of the show, people would come from far and wide and stand in the streets to see it. I believe it is the longest running Easter pageant in the world, and it was really cool to see the excitement of those who participated and spectated.