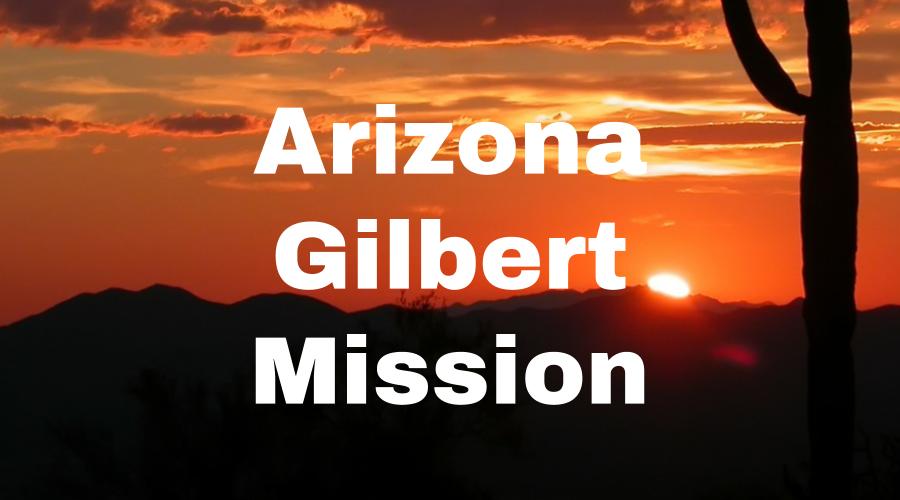 Chad (Arizona Gilbert Mission)
–Paraphrased from Chad's mission interview–
The Church in Gilbert
The first thing you'll notice about the Gilbert mission is that it's very small. On a map of Arizona, it's about the size of your thumb nail. The Gilbert mission includes two stakes in Mesa, most of the stakes in Gilbert, some stakes down in Queen Creek, San Tan Valley, and then Florence. I spent most of my mission in the northern area, or Gilbert. I did spend a little time down south in San Tan Valley. When you look at the mission, its split into two- the North and the south parts. They're very different when you compare them. In the Northern part, there's a lot of wealthier people, while down south the circumstances are more humble.
I served in a lot of areas throughout my mission, including some of the wealthiest areas. Most people would say that the well off areas were more challenging. but something unique about the Gilbert mission is that the members were willing to help. When the members cared about their friends, they wanted to share the gospel and we had success no matter where we were.
 Food and Travel in the Gilbert Mission
Most of my mission I had a car. All of the missionaries had bikes, but there were enough cars that each missionary would get to use a car at least once. However, just because we had a car doesn't mean we could drive anywhere. We had limits on the number of miles we could drive, and if we reached those limits, we would have to walk or bike. Riding a bike in Arizona is a very interesting experience. I would describe it like biking in an oven with a hair drier blowing in your face. If you went fast enough, the air would cool you down, but as soon as you stopped to talk to someone the heat would hit you.
Arizona has a lot of Mexican and spicy food. The mission had both English and Spanish speaking missionaries. I really loved when the members would make enchiladas. But, there was also a lot of variety. I ate a lot of authentic Hispanic food. The members are so giving, and they would always ask what we wanted for dinner. They wanted to help us feel at home.
Arizona Weather
People like to say that Gilbert has two seasons, summer and inferno. In summer it gets really hot… the hottest I ever saw was 117. Throughout the rest of year it does cool down a little bit, to the point where if you're riding a bike in the winter you'll get chilled. In the summer, there's also a lot of storms. While I was in San Tan valley, there was a big lightning storm every day, and they were absolutely gorgeous. The only downside was that it would rain a lot.