Here are free resources about the Arizona Gilbert Mission:
*Other Mission Pages: Arizona LDS Missions.
---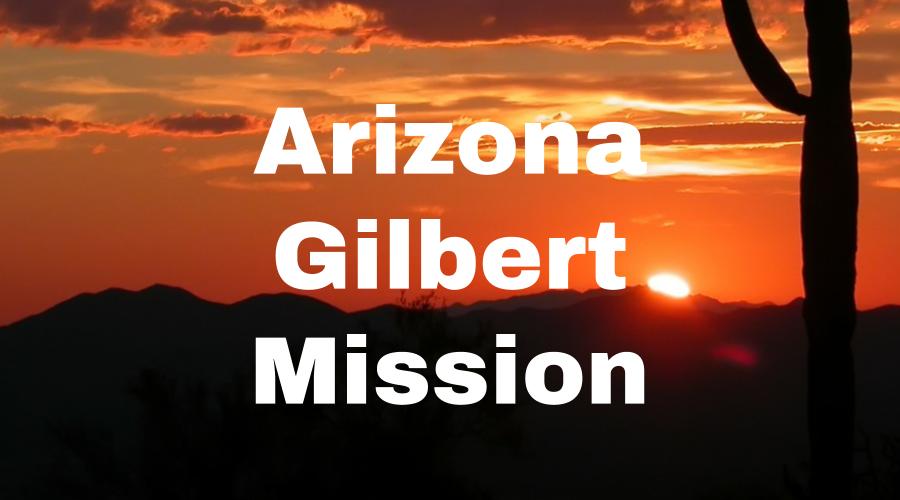 ---
Arizona Gilbert Mission Address
Here's a recent address for the Gilbert Mission. We try to keep this information up to date, but it's a good idea to check the mission address with several sources, including your mission packet or the mission office.
Arizona Gilbert Mission
1001 North Burk Street
GILBERT, ARIZONA 85234
UNITED STATES
Phone Number: 1-480-584-6315
Mission President: President Richard W. Wheeler
Arizona Gilbert Mission Map
Here's a link to the mission map for the Gilbert Mission (LDS). To access the official LDS.org map for the Mission
Log into your LDS account here.
Click here.
Arizona Gilbert Missionary Blogs
Here's a list of LDS missionary blogs for the Gilbert Mission. This blog list includes the missionary's name, URL and when their mission blog was updated.
*Send your missionary a gift (mission-specific shirts, ties, Christmas stockings/ornaments, pillowcases, etc.)
Arizona Gilbert Mission Groups
Here are Gilbert Mission Groups- for LDS missionary moms, returned missionaries, mission presidents and other alumni of the Gilbert Mission. Coming soon..
Arizona Gilbert Mission T-Shirts
Here are T-shirts for the Arizona Gilbert Mission!
Shirt designs include Arizona Gilbert Mission logo/emblem shirts and Called to Serve shirts. The shirts make great gifts for pre-missionaries, returned missionaries and missionaries currently serving. LDS Mission shirts come in all sizes: Small, Medium, Large, Extra Large, up to 4XL.  The mission designs are printed on white shirts and are shipped to you.
*Simply click on a shirt design to view the details and submit an order. The designs on mission t-shirts may also be printed on other LDS mission gifts, including: Arizona Gilbert missionary aprons, Christmas stockings, ties, pillow cases, teddy bears and Christmas ornaments.
*Click here to browse Gilbert Mission gifts
---
---
Arizona Gilbert Mission Presidents
Here's a list of current and past Mission Presidents of the Gilbert LDS Mission.
2016-2019, Richard W. Wheeler
2013-2016, Kevin Brett Nattress
Arizona LDS Statistics (2015)
Church Membership: 416,192
Missions: 6
Temples: 5
Congregations: 844
Family History Centers: 66
Helpful Articles about Arizona
Coming soon..
Arizona Gilbert Missionary Survey
Here are survey responses from Arizona Gilbert RMs, to give you a snapshot into what it's like to live in the mission.
*Click here to take a survey to help pre-missionaries going to your mission.
When did you serve?
What areas did you serve in?
Different parts of Gilbert, then in East Mesa. (Jacob)
What were some favorite foods?
What was a funny experience?
What was a crazy experience?
I've taught lessons in some…interesting places. From drug houses to the side of busy roads. Our mission wasn't particularly dangerous, but we had our fair share of crazy situations. I don't know if I could choose one specifically, because all these experiences are to me sacred in their own right. It made me feel like I was really a representative of Jesus Christ– I was willing to go anywhere He would and talk to anyone He would. (Jacob)
What was a spiritual experience?
What are some interesting facts about the Gilbert Mission?
It is one of the smallest in The Church (by geography) and one can drive from end to end in about an hour or so). Weather can be interesting at times; Frequent dust storms in monsoon season followed closely by sudden downpours for 6-8 minutes then back to sunny skies. And of course, very hot in the summers. It got up to 122 one July. (Jacob)
What was the weather like?
Any things you really like about the area/people?
If you want to get an idea of how a Missionary feels towards the people they met and served on their mission, read Alma 27:4. That's honestly the only way I know of to describe how I feel about the wonderful people I have come to love from my mission. (Jacob)
Any packing/clothing advice?
Pack light– it makes transfers a lot easier. (Jacob)
What blessings did you receive from serving a mission?
What are some skills you gained?
What do you wish you knew/did at the beginning of your mission?
Any advice/testimony for pre-missionaries going to Gilbert?
Honestly the best advice I can give anyone preparing to serve a mission is this: have a powerful and impactful experience with the Atonement. I know of no other way to serve a mission and testify of the Savior with the conviction we need to other than by getting to know the Savior. And there is no better way to get to know Him than by using the miraculous gift we've been given. (Jacob)
What was a funny language mistake?
I took a new Elder out on exchanges once and we came across a Spanish-speaking family while Tracting. While we talked, we saw a sign on the wall inside that said 'happy birthday'. We asked whose birthday it was and a little boy, maybe six years old, came forward. My comp wanted to wish him a happy birthday but instead of saying 'Feliz cumpliaños', he said 'Feliz Navidad'. This was in July, and the little boy was thoroughly confused why a gringo was on his porch wishing him a merry Christmas in July on his birthday. As we left the house, I asked my comp if he realized what he said. All at once, he realized what he said and was pretty embarrassed, but it all worked out since we were in my area, so he never saw them again. (Jacob)
Chad (Arizona Gilbert Mission)
–Paraphrased from Chad's mission interview–
The Church in Gilbert
The first thing you'll notice about the Gilbert mission is that it's very small. On a map of Arizona, it's about the size of your thumb nail. The Gilbert mission includes two stakes in Mesa, most of the stakes in Gilbert, some stakes down in Queen Creek, San Tan Valley, and then Florence. I spent most of my mission in the northern area, or Gilbert. I did spend a little time down south in San Tan Valley. When you look at the mission, its split into two- the North and the south parts. They're very different when you compare them. In the Northern part, there's a lot of wealthier people, while down south the circumstances are more humble.
I served in a lot of areas throughout my mission, including some of the wealthiest areas. Most people would say that the well off areas were more challenging. but something unique about the Gilbert mission is that the members were willing to help. When the members cared about their friends, they wanted to share the gospel and we had success no matter where we were.
 Food and Travel in the Gilbert Mission
Most of my mission I had a car. All of the missionaries had bikes, but there were enough cars that each missionary would get to use a car at least once. However, just because we had a car doesn't mean we could drive anywhere. We had limits on the number of miles we could drive, and if we reached those limits, we would have to walk or bike. Riding a bike in Arizona is a very interesting experience. I would describe it like biking in an oven with a hair drier blowing in your face. If you went fast enough, the air would cool you down, but as soon as you stopped to talk to someone the heat would hit you.
Arizona has a lot of Mexican and spicy food. The mission had both English and Spanish speaking missionaries. I really loved when the members would make enchiladas. But, there was also a lot of variety. I ate a lot of authentic Hispanic food. The members are so giving, and they would always ask what we wanted for dinner. They wanted to help us feel at home.
Arizona Weather
People like to say that Gilbert has two seasons, summer and inferno. In summer it gets really hot… the hottest I ever saw was 117. Throughout the rest of year it does cool down a little bit, to the point where if you're riding a bike in the winter you'll get chilled. In the summer, there's also a lot of storms. While I was in San Tan valley, there was a big lightning storm every day, and they were absolutely gorgeous. The only downside was that it would rain a lot.