Misión 
Argentina Santa Fe

Free resources about the Argentina Santa Fe Mission:
Aquí están algunos recursos gratuitos sobre la Misión Argentina Santa Fe:
*Other Mission Pages: Argentina LDS Missions.
---
---
Interesting facts about Santa Fe
Santa Fe is located in NE Argentina, along the Parana River.
The city was founded in 1957.
Santa Fe has three main universities in it.
The Metropolitan area has a population of about half a million.
The Franciscan Monastery and Museum was built in Santa Fe in 1680.
Santa Fe Mission Address
Here's a recent address for the Argentina Santa Fe Mission. We try our best to keep this information up to date, but it's a good idea to double check the mission address with several sources, including your mission packet or the mission office.
Argentina Santa Fe Mission
Candido Pujato 3269
3000 Santa Fe
Santa Fe
Phone Number:
 54-0342-455-6523
Mission President:
 President 
Gabriel Pérez Benavides
Argentina Santa Fe Mission Map
Here's a link to the mission map for the Argentina Santa Fe Mission (LDS). To access the official LDS.org map for the Santa Fe Mission:
Log into your LDS account here.
Click here.
Santa Fe Missionary Blogs
Here's a list of LDS missionary blogs for the Argentina Santa Fe Mission. This blog list includes the missionary's name, blog URL and when their mission blog was last updated.
*Send your missionary a gift (mission-specific shirts, ties, Christmas stockings/ornaments, pillowcases, etc.)
Santa Fe Mission Groups
Here are Argentina Santa Fe Mission Groups- for LDS missionary moms, returned missionaries, mission presidents and other alumni who served in the Argentina Santa Fe Mission. Coming soon..
Santa Fe Mission T-Shirts
Here are T-shirts for the Argentina Santa Fe Mission!
Shirt designs include Argentina Santa Fe Mission logo/emblem shirts and Called to Serve shirts. The shirts make great gifts for pre-missionaries, returned missionaries and missionaries currently serving. LDS Mission shirts come in all sizes: Small, Medium, Large, Extra Large, up to 4XL.  The mission designs are printed on white shirts and are shipped to you.
*Simply click on a shirt design to view the details and submit an order. The designs on mission t-shirts may also be printed on other LDS mission gifts, including: Argentina Santa Fe missionary aprons, Christmas stockings, ties, pillow cases, teddy bears and Christmas ornaments.
*Click here to browse Santa Fe Mission gifts
---
---
*Click here to see our new shirt design for the Argentina Santa Fe Mission:
---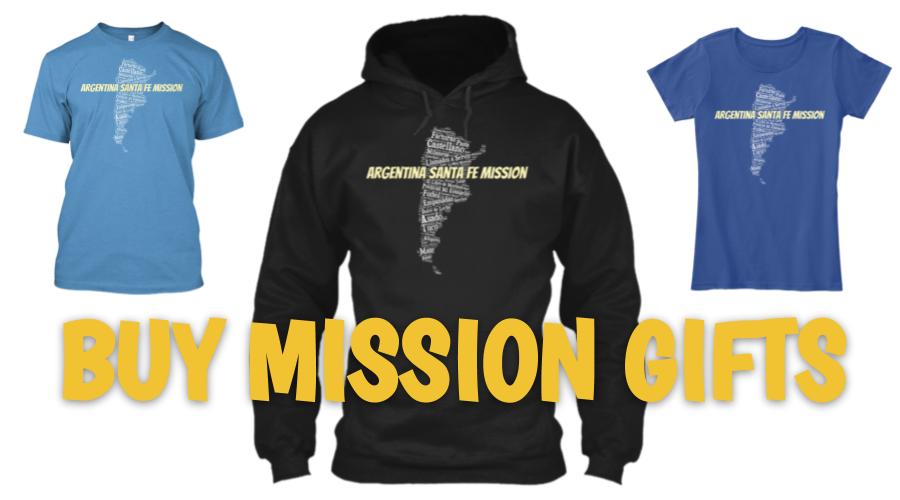 ---
Santa Fe Mission Presidents
Here's a list of current and past Mission Presidents of the Santa Fe LDS Mission.
2015-2018, Gabriel Pérez Benavides
Argentina LDS Statistics (2015)
Church Membership: 432,007
Missions: 12
Temples: 2
Congregations: 765
Family History Centers: 107
Helpful Articles about Argentina
Santa Fe Missionary Survey
Here are survey responses from Argentina Santa Fe RMs, to give you a snapshot into what it's like to live in the mission.
*Click here to take a survey to help pre-missionaries going to your mission.
When did you serve?
What were some favorite foods?
What was a funny experience?
What was a crazy experience?
What was a spiritual experience?
What are some interesting facts about the Santa Fe Mission?
What was the weather like?
Any things you really like about the area/people?
Any packing/clothing advice?
What blessings did you receive from serving a mission?
What are some skills you gained?
What do you wish you knew/did at the beginning of your mission?
Any advice/testimony for pre-missionaries going to Santa Fe?
What was a funny language mistake?
Tyler (Argentina Santa Fe Mission)
–Paraphrased from Tyler's mission interview–
Mission Geography
I originally started in the Rosario mission which has parts of three provinces. When the mission got split, it took the middle of Santa Fe and the new mission is just the middle of Santa Fe and a little more. All my mission I served in the boundaries of the new Santa Fe mission. Santa Fe is pretty big, but not as big as Rosario. There have been missionaries there for 50 years. There are lots of wards and a few stakes.
Popular Religions
The people are really great. There are some very poor areas and also some very wealthy areas. Santa Fe is probably more than 80% Catholic. There are some Evangelists and some people joining the Universal Church from Brazil.
Misconceptions
The people will say that the missionaries are spies from the CIA. There are people that try to spread rumors about missionaries doing bad things like going to clubs with girls, but for the most part they accept the missionaries and it's part of the culture having people in the streets talking to you about religion. There are a lot of people that like to argue with you and bible bash.
Smoking
There are a lot of people that smoke. It's hard for some people to get over it, but if they do the basic things and read their scriptures, pray, and go to church then they can get over it. I had an investigator that had been smoking for 15 years and her family told her she could never quit. We started teaching her and she ended up quit smoking. That miracle in their family lead to her mom, brother, and daughter getting baptized. A lot of people won't be able to quit, but if they keep their commitments they can. That goes along with any challenge.
Common Food
When I first arrived I was afraid of what the food would be like, but I ended up liking it a lot. It's not that good for you though. It's a lot of meat and fried food and pizza and things. A lot of days we had rice. We had a lot of pasta as well. They have every kind of pasta there. We ate asado. It's the thing I miss most about Argentina. They grill every part of the cow until it's really tender. They only season it with salt and it turns out amazing. I would love to go back. They drink a lot of tang. They eat every part of the cow. They eat heart, liver, just everything.
Transportation, Work, Crime
It's a very industrial city. A lot of people work there and it is very fast paced. To the north and outside of the city are the poorer areas and more dangerous areas. To the south are the wealthier people like the doctors and lawyers. There are also some famous islands there. There are a lot of shoemakers, teachers, tutors, but most people work in construction. Santa Fe is right on the Parana river. It's very humid there. In the summer it's very hot and humid and you sweat as soon as you leave your apartment. The housing for missionaries is very good. There is always one unlucky companionship with a bad apartment, but usually you have a great apartment. The crime is pretty bad, but nothing happens if you're paying attention to the Spirit. I served in the poorest area of Santa Fe and missionaries got robbed there pretty often. I was with a brand new missionary and on his first day in the mission field we were walking back to the apartment when I saw two 20 year olds standing in the street in front of us and they robbed us. They only took 15 pesos from me, but they took a camera and a watch from my companion and I felt pretty bad about that. It happened to us because I wasn't paying attention to the Spirit. You have to be very careful. People will be high or drunk or desperate for money and that makes them dangerous. Most of the time they fake that they have a weapon, but one time I was robbed at gunpoint and that was scary. Carry a little money, but enough that they don't get mad that you have nothing. Obey the white handbook rules. Santa Fe has a very good bus system. You'll get a yellow bus card and you can get right on the bus. The price is always going up. You can get to most areas by bus. They don't always arrive on time, but for the most part they're good. In the poorer areas things cost less and I could make it to the end of the month with money to spare, but in the richer areas I had to be more thrifty.
Entre Rios
The area of Entre Rios is between two rivers. It's a lot of country, farmland, chickens, and cows. It's a lot different than Santa Fe. It's a lot less educated. Everyone there drinks mate all day and pass it around from person to person. There's a lot more of that culture. They sit around a lot more. They seem more willing to listen to you because they aren't in as much of a hurry. It's really close to Uruguay. A lot of people from Uruguay live there. They share a lot of their culture as well. People with Uruguay drink more mate though. There is a lot less crime in Entre Rios than in Santa Fe. In La Paz they are famous for their hot springs. It's a very old city. There is one of the biggest triathlons in La Paz.