Here are free resources about the Argentina Rosario Mission:
Aquí están algunos recursos gratuitos sobre la Misión Argentina Rosario:
*Other Mission Pages: Argentina LDS Missions.
---
---
Argentina Rosario Mission Address
Here's a recent address for the Rosario Mission. We try to keep this information up to date, but it's a good idea to check the mission address with several sources, including your mission packet or the mission office.
Argentina Rosario Mission
Blvd Argentino 7935
2000 Rosario
Santa Fe
Argentina
Phone Number: 54-341-451-4503
Mission President: President Steven G. Allred
Argentina Rosario Mission Map
Here's a link to the mission map for the Rosario Mission (LDS). To access the official, up-to-date LDS.org map for the Rosario Mission
Log into your LDS account here.
Click here.
Argentina Rosario Missionary Blogs
Here's a list of LDS missionary blogs for the Argetina Rosario Mission. This blog list includes the missionary's name, URL and when their blog was updated.
*Send your missionary a gift (mission-specific shirts, ties, Christmas stockings/ornaments, pillowcases, etc.)
Argentina Rosario Mission Groups
Here are Rosario Mission Groups- for LDS missionary moms, returned missionaries, mission presidents and other alumni of the Rosario Mission.
Argentina Rosario Mission T-Shirts
Here are T-shirts for the Argentina Rosario Mission!
Shirt designs include Argentina Rosario Mission logo/emblem shirts and Called to Serve shirts. The shirts make great gifts for pre-missionaries, returned missionaries and missionaries currently serving. LDS Mission shirts come in all sizes: Small, Medium, Large, Extra Large, up to 4XL.  The mission designs are printed on white shirts and are shipped to you.
*Simply click on a shirt design to view the details and submit an order. The designs on mission t-shirts may also be printed on other LDS mission gifts, including: Argentina Rosario missionary aprons, Christmas stockings, ties, pillow cases, teddy bears and Christmas ornaments.
*Click here to browse Rosario Mission gifts
---
---
*Click here to see our new shirt design for the Argentina Rosario Mission:
---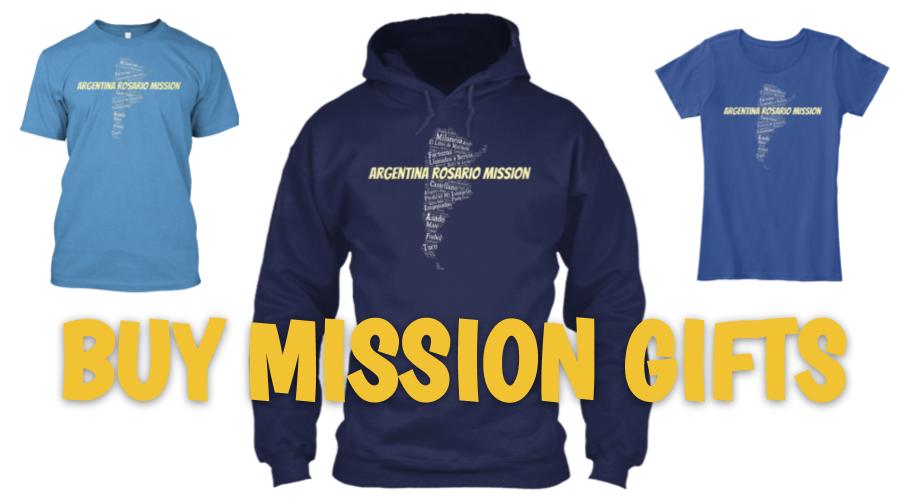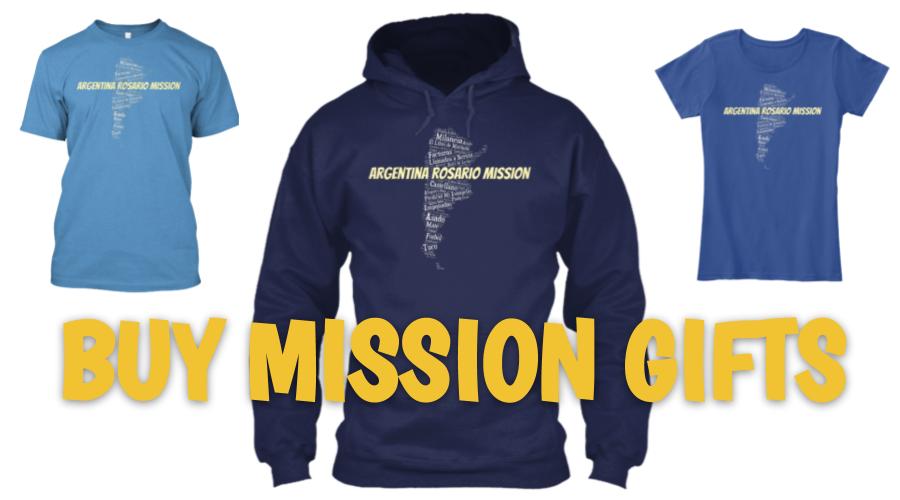 ---
Argentina Rosario Mission Presidents
Here's a list of current and past Mission Presidents of the Rosario Mission.
2017-2020, Steven G. Allred
2014-2017, Francisco Javier Zanni
2011-2014, Hugo L. Giuliani
2008-2011, Jorge Marcial Villalba
2005-2008, Richard C. Hutchinson
2002-2005, Hyde M. Merrill
1999-2002, Rafael Eduardo Pino G.
1996-1999, Eder Levi Ontiveros L.
1993-1996, Thomas E. Coburn
1990-1993, Jorge W. Ventura
1987-1990, Guillermo Ricardo Pitarch
1984-1987, Jesse Stay
1981-1984, David Horacio Baroni
1978-1981, Angel Abrea
1975-1978, Angel Miguel Fernandez
1972-1975, Joseph T. Bentley
1963-1965, Arthur Strong
1961-1963, Snelgrove
Argentina LDS Statistics (2015)
Church Membership: 432,007
Missions: 12
Temples: 2
Congregations: 765
Family History Centers: 107
Helpful Articles about Argentina
Argentina Rosario Missionary Survey
Here are survey responses from Argentina Rosario RMs, to give you a snapshot into what it's like to live in the mission.
*Click here to take a survey to help pre-missionaries going to your mission.
When did you serve?
September 2013-March 2015 (Megan)
2011-2013 (Hillary)
2011-2012 (Samuel)
2009-2011 (Kyle)
2009-2010 (Carmen)
2004-2006 (Nathaniel)
2000-2001 (Anonymous)
1999-2001 (Autumn)
1996-1998 (Neil)
1995-1997 (Damien)
1993-1994 (Tami)
1987-1988 (Terisa)
1986-1987 (Diana)
1985-1987 (Todd)
1983-1985 (Adam)
1981-1982 (Yerba)
What areas did you serve in?
Cañada de Gómez, Venado Tuerto, Santa Elena. (Hillary)
Nogoya, Paraná. Barranquitas, Santa Fe. Parque Field, Rosario Norte. Francia, Rosario Oeste. Las Heras, Rosario. (Samuel)
In the Rosario mission now. San Nicolas, Barrio Sur; Villa Gobernador Galvez; Rosario, Parque Field; and Granadero Baigorria. In the Santa Fe Mission now. All in the city of Santa Fe. Liceo, Pompeya, Altos del Valle, and Rural. (Kyle)
Rafaela/Juan de Garay; Santa Fe/La Costanera; La Paz/La Paz; Pergamino/Centro A; Rosario/Parque Independencia; Parana/Cinco Esquinas. (Carmen)
Concordia, Santa Fe north, Universidad, Parana, San Nicholas, Recreo. (Nathaniel)
Cañada de Gomez, Gualeguaychú, Casilda. (Anonymous)
Parana, Rosario, Venado Tuerto, Fray Luis Beltran. (Neil)
Rosario, Santa Fe. (Terisa)
Echesortu,Saladillo(rosario sur y norte),Corrientes,San Nicolas(Buenos Aires) Posadas(Misiones) Santa Fe. (Diana)
Gálvez, Carcaraña, Resistencia, San Nicolás and Concordia. (Adam)
What were some favorite foods?
Milanesa Sandwiches, Canelones, and alfajores. (Megan)
Pasta Frola! – A dessert made with a cookie-like shortbread crust and dulce de membrillo (quince paste) filling. Asado – BBQ choripan – sausage made out of beef and pork, hot off the grill, split down the middle, and served on a roll. I'm not a huge hot dog fan, but these were amazing. Milanesa- a breaded meat fillet (or eggplant!! That is delicious as well!). Guiso- a simple meat and vegetable stew, often with rice or noodles ("Fideos" – you'll have lots of fideos in Argentina!). (Hillary)
Alfajores. Pizzanesas. Asados. Ravioles. Ñoquis. Choripanes. (Samuel)
Milanesa, empanadas, flan, budín de pan, guiso, pasta. (Kyle)
Pasta frola, empanadas, milanese de pollo, y choripan! (Carmen)
Empanadas, Noquis, Carne asada, pollo asada, flan, chorizo. (Nathaniel)
Alfajores, ñoquis, empanadas, grapefruit soda, milanesa, flan. (Anonymous)
Ñoquis, soups and desserts. (Autumn)
Milanesa, Choripan, empanadas, noquis. (Neil)
Milanesa napolitana. Alfajores Triple. Facturas. Asado. Morcillo. Choripan. (Damien)
Ñoquis, empanadas, milanesa, queso cremoso, dulce de leche por su puesto. Tarta de jamón espinaca, y de todo tipo, la mayonesa. Es más rico que la mayonesa en él USA. El pan. No hay comparación. Bon Bon. Alfajores. (Tami)
Milanesa, noquis, alfajores. (Terisa)
Chipa, reviro, dorado asado. (Diana)
Alfajores, ñoquis, empanadas, grapefruit soda, milanesa, flan. (Anonymous)
Marcella, mondongo, Asada, cebollas con queso cremoso, Paso de Toros, Amargo Serrano, y Rosemont. (Todd)
Asado (beef), Alfajores (Carmel filled cookies), helado (ice cream). (Adam)
Fiambre – salami milan, queso cremoso, pan del Rey del Pan in Resistencia, Vainillas de Parana en la casa de los Dominguez. The Marucha cut of beef. (Yerba)
What was a funny experience?
Once while contacting a woman outside her house, her daughter was playing in a small kiddie pool about 10 feet away. Right as I was sharing my testimony about Joseph Smith (of course) the three year old daughter soaked me with her squirt gun… It caught me completely off guard and I didn't really know how to react. My companion and I laughed for a long time about it. (Megan)
A cockroach flew onto my hand while I was talking to my district leader on the phone- I screamed and threw the phone across the room to shake off the the bug. My companion picked up the phone laughing and explained what happened- he thought I had been attacked. There's more cockroach stories, and it's pretty crazy how you learn to just laugh it off, when really it is JUST SO GROSS. (Hillary)
I had a companion that was very similar looking to a famous cumbia villera band member. When walking in the streets people will sometimes call us "Wachiturros" which was the music band name. (Samuel)
The Jehovah Witnesses are there. Their churches are called Salon del Reino de Dios in Spanish. It translates as Hall of the Kingdom of God. However, somebody stole the 'o' and the 'n' of Salon which becomes Sal. It now commands people to leave the kingdom of God. (Kyle)
One time it was so hot and I carried around a tissue to wipe away sweat (I have never sweat so much in my life!!). The tissue got so much sweat that it disintegrated on my forehead and I did not realize I had pieces of tissue stuck all over. (Carmen)
Lip singing on top of an apartment building roof to Joseph Smith Nashville Tribute music. (Nathaniel)
The first time I used the toilet at a member's house, I learned too late that the towel hanging was not for drying clean hand, but for post-bidet use. (Anonymous)
A guy on a bike tried to steal my bag the day before I left for home but my bag caught on my elbow and the guy fell off his bike. My companion and I took off running. (Autumn)
Too numerous to count! Torrential rainstorms causing deep mud, watching companion fall backwards into a deep thick mud and disappearing under the water. (Neil)
Always fun to get on an old bus that's full where you literally are hanging out the door. (Damien)
Jumping over giant frogs in the mud. Walking through knee deep water in the streets after a rain. (Tami)
Seeing horses walking own the middle of the road. (Terisa)
Estaba en corrientes , goleando puertas , llegamos a una casa que la vereda y la entrada de la casa tenia el mismo color , y no pudimos diferenciar el escalon, mi compañera se adelanto y tropeso, golpeo muy fuerte la puerta que se abrio y quedo acostada a los pies de la dueña de casa, yo me di vuelta y me puse a reir.fue muy gracioso. (Diana)
Pescando Durante una torment (tipo clase 3) tremenda. (Todd)
Running back to apartment in torrential rain and slipping and falling in the mud. (Adam)
What was a crazy experience?
 I was robbed three times on my mission. The worst, I got thrown on the ground, scraped up my head, knees, and hands. I got a concussion from hitting my head on the street. Another experience, we set up an appointment to teach the girlfriend of a less active member because after a long time of hearing about the church she decided she wanted to get baptized. We went to the appointment and they weren't there, and we couldn't find a number to get a hold of them. It turns out a couple weeks later the man was arrested for being a drug lord and he had been on the run from the law. So I almost got to teach a drug lord. (Megan)
My companion and I were walking home from a member's house at night and two men quietly rolled up on their motorcycle and grabbed Hermana Green's purse. The guy with the purse tried to hop on the back of the moto but dropped the purse and struggled, and I thought, "Man these guys aren't very good, they're taking a long time to rob us" so I yelled "FUERA!!!" and stepped forward – it scared the guy, Hermana Green grabbed her purse, and he hopped on the moto and the driver took off. Close call, but hilarious once we calmed down. It's a perk for being more than a foot taller than the guys! (Hillary)
I stayed for 6 months in area where smoking Marijuana in the streets was very common. When I left I felt something missing in the air, getting to that point without even realizing. It was really crazy. (Samuel)
Going down dark street at night. (Kyle)
A drunk lady held me at knife point while her big friend was holding my companion against a fence. A miracle happened and we got away safely. I also got robbed in a different area–it was the worst. (Carmen)
Being attacked by a nest of wasps while playing Ultimate Frisbee in Concordia. -Being mugged with a green companion his second day in the mission field and being punched in the face while they separated my companion and I. We got away safely with no harm. -Being chased by teenagers that had bikes and pistols but somehow we were able to outrun them through a cornfield to a safe, abandoned gas station. They never followed us afterwards. (Nathaniel)
Having to swim across the roads that became drainage canals after torrential downpours. (Anonymous)
Two guys pulled up to my companion and I and tried to force us into their truck. Luckily my companion was able to swing her bag around and hit the one guy. We took off running. (Autumn)
Being shot at with a shotgun in the street. (Neil)
Being chased by dogs and chicas. (Damien)
The only danger I felt was a time when we were walking to the the bus at 5 am to go to a zone meeting in Rosario, there were some drunk men walking down the street. They tried talking to us and the spirit told us to get away from them quickly so we walked as fast as we could down a different block. (Tami)
Walking down the road with dirty water fairly high around us. The showers were also dangerous because they were powered by electricity which is a bad combination with water. (Terisa)
En mi primera area, fuimos una noche a ua villa en rosario a tener una noche de hogar con una familia, se nos hizo tarde y para volver teniamos que cruzar un campo muy oscuro, de pronto mi coma me dice"hermana guarde sus documentos en su ropa y cuando le diga corremos, yo no entendia que pasaba, de pronto dijo "ahora" y salimos corriendo, nos venian siguiendo una patota de hombres, llegamos a la casa de un miembro que no estaba, seguimos corriendo, y llegamos a la avenida y justo venia el colectivo que teniamos que tomar , y asi nos salvamos de ese peligro. (Diana)
Getting in a bus accident – the Spirit told me that everything would be ok and it was. It could have been a terrible head on accident between a big semi truck and a greyhound-sized bus. (Adam)
Walking on the red dirt in Eldorado after a rainstorm – resbaloso – slippery does not begin to describe what happens to those roads after it rains! (Yerba)
What was a spiritual experience?
My companion and I decided to fast to find a person ready for baptism that week. Four days later we received a reference from the church offices. We set up an appointment for the next day. Friday we met Martin, taught him the first lesson, and he accepted to be baptized. He was baptized 5 weeks later and went on to receive the priesthood. It was an amazing experience about the power of fasting and conversion. (Megan)
There's too many – read my blog to see some things I experienced! hermanamillerinargentina.blogspot.com (Hillary)
A late night last contact on a random street without much faith at the end of a hardworking day became one of the most admirable converts I knew. (Samuel)
Seeing the hand of Christ and the Atonement changing someone's life for the better and seeing the healing that comes. (Kyle)
Every day! I worked hard to have the Spirit and try to help other people feel it. I fell in love with the people down there and miss it every day because I tried to see them as Jesus sees them. (Carmen)
Feeling the Spirit as families' lives changed as they lived the gospel, both converts and long life members. (Nathaniel)
Seeing the love, joy, and faith that members on the there side of the world were willing to share with me. Seeing that even when they often had so little, they gave so much. (Anonymous)
A very white Christmas (several people dressed in white to be baptized). (Autumn)
Fortunately, my spiritual experience lasted a full 24 months! Monthly interviews with the President were among the most powerful of experiences. (Neil)
Just being in humble homes with dirt floors and people literally serving you all that they have. So welcoming and gracious. (Damien)
Many. My favorite was a boy we taught who had studied to be a priest. We were teaching him and read a scripture with him in the bible that talks about how the Lord will do nothing save He share it with his prophets first. I can't remember which scripture it is. But when he read that scripture, he wondered how in all his studies or the Bible, he had not seen that scripture ever. It's like at that point he knew he needed to listen to us. (Tami)
Being on splits and being led to a golden family. (Terisa)
Estabamos en posadas enseñando a una chica, que ya llevaba mucho tiempo de recibir a los misioneros y no se decidia a bautizarse, ese dia no sabiamos ya que enseñarle, mi compa, le hablo del bautismo, cuando me toca a mi , no se cuales fueron las palabras, pero senti muy fuerte el espiritu, le lei mosiah 18:8-10 , le pregunte que era lo que le impedia a ella ser bautizada, me contesto -nada_ asi que hice el desafio bautismal, ella me miro, y me respondio que si, al domingo siguiente su novio la bautizo. (Diana)
Giving a Book of Mormon away to a lady and seeing everyone in the room feel the Spirit descend upon them. (Adam)
The Villalba's blessing their little girl in Abril 1981, barrio Yapeyu. (Yerba)
What are some interesting facts about the Rosario Mission?
Rosario has a lot of Italian influence. The spanish is a little different and the food is lots of pasta and red sauce (no rice and beans like other latin american countries). We walked all the time! To transfer, we always went in charter buses from city to city. In Argentina, we always ate lunch with the members around 1:00 instead of dinner because they eat dinner around 9:00 at night. (Megan)
Rosario has a beautiful Monumento de la Bandera (Monument of the Flag). I served in two different provinces (which are now separated into two different missions!) Santa Fe and Entre Ríos. I was in Santa Fe for over half my mission, and then upon arriving to Entre Ríos – I was blown away by their distinct accent and campo (country) setting that it gave me a bit of culture shock. Máte (shared drink from a metal cup and straw). (Hillary)
Even though drinking mate is a cultural habit, missionaries aren't allowed to drink it. Argentina is very distinct to any other Latin American country where a high number of the population are Lamanite descendants. You will find more European descendants, thus, more gentiles. (Samuel)
Che Guevara and Messi are from it. (Kyle)
It is now split into the Argentina Rosario mission and the Argentina Santa Fe mission. I got to serve in both cities before the split. It also had three provinces of Argentina (entre Rios, santa fe, and Buenos Aires) and I got to serve in all three. (Carmen)
Served in the same district three different times for a total of 14 months of my mission as junior companion, trainer, District Leader and Zone Leader. (Nathaniel)
Many Argentines are very proud in their humble circumstances. They live in a country rich in land and resources, but historically unable to turn that into wealth because of corruption and mismanagement. (Anonymous)
You weren't allowed to kick a soccer ball. We weren't allowed to drink matè. (Autumn)
Almost all of the areas I served in had few paved roads, many areas still did not have actual chapels to meet in. Public transportation was available in almost every area. (Neil)
It's been a while and I know some of the borders have changed. I served most of my mission within the 3 stakes of Rosario, which also included distant towns. (Damien)
Para La gente de Argentina sus amigos son muy muy importante para ellos. Almost or just as important as a family member. They use very, very colorful language when talking about everything. You will learn lots of slang and lots of not so good slang. They know how to enjoy themselves. Even when they are super poor, they figure out a way to have fun. (Tami)
They use every part of the cow, including the horns and hoofs. They are mostly Italian and German descent, so a lot of fair skin, like mine. I fit right in once I learned the language. They eat a lot of beef and steak. (Terisa)
There were only 5 missions in Argentina when I served – now there are I believe 12. My mission ranged from San Nicolas in the province of Buenos Aires in the South to Resistencia in the Northwest to Posadas in the Northeast and down along the border with Uruguay. (Adam)
What was the weather like?
In the summers, very hot and humid. Summer storms would happen in about 15 minutes of crazy rain. Spring and all have lots of rain (November and March), and then the winters get really cold for about a month. (Megan)
Oh, it is like a churning weather of extremes that keeps changing! You'll become quite the meteorologist being outside all the time and learning what the cloud formations mean. You'll see a huge tower of clouds build up higher and higher, the humidity and heat will rise, and then the storm will hit. The rain pours down so hard, and sometimes the humidity doesn't go away! The streets will flood, it will last a day, or only a couple hours, and when it clears – it may be cloudy for a bit, or it can be so sunny minutes after. Sometimes you'll wish and wait for a storm because the heat and humidity will be pretty intense. A cold shower at the end of the night make it all worth it! (Hillary)
Winter, freezing. Summer, very humid and hot. (Samuel)
Summer is hot and humid with surprise downpours. Make sure to have a plastic bag inside of your bag to put all of you pamphlets and books in to protect them from the water. It is hard to predict when it will rain. Winter is really cold. (Kyle)
Very hot and humid and then quite cold and humid. (Carmen)
Warm, sunny, not too humid. The coast was beautiful.Winters were mild with maybe one to two days of small snow flurries. The rainy season was pretty intense with a lot of mud and flooding. (Nathaniel)
Hot. Humid. Wet. And bitterly cold in the winter because of that moisture. (Anonymous)
Hot and humid summers. Cold humid winters. So cold it was impossible to get warm. (Autumn)
Very hot in the summer months (Dec- Apr), very cold in the winter. No snow, but the humidity allowed the cold to penetrate to the bone. (Neil)
Coldest cold I've ever experienced is humid cold near the river. Up north in the summer, I sweat for 2 straight months, even at night. (Damien)
The weather isn't that bad at all. It doesn't really get that cold. The problem however is we never had good heating systems in our apartments and no one else seems to have good heating systems either so sometimes even though you are inside, you can't escape the cold. I've never been so cold or so hot in my entire life and I'm from Wyoming. It gets very cold here. I would take something to wear under your skirt to keep your legs warm during the winter. (Tami)
The weather had all four seasons, but opposite of North America. Where I was, was very humid, so the cold felt colder. (Terisa)
En ese tiempo la gran Mision Argentina Rosario, abarcaba todo e litoral argentino ,chaco,formosa,santa fe un pedacito de cordoba y un pedacito de buenos aires, el clima era muy variado, desde calor extremo a mucha lluvia, o sequia segun la epoca del año. (Diana)
Hot and humid at times in the summer and cold and humid in the winter. Luckily I served most of the winter months in the North where it was warmer. (Adam)
The first Winter in Santa Fe was chilling to the bone – I used a small iron to iron my bed sheets every night before I got under the covers. The second Winter in Eldorado – I was sun tanned through my white shirts- tan lines above and below my collar! I gave away all my warm weather clothes. (Yerba)
Any things you really like about the area/people?
I love how hard they worked and how important family is to them. (Megan)
How inviting they are despite them not knowing you very well. You'll be in homes quickly and they'll visit about anything and everything! The mate (MAH-tay) culture- friends sit around outside and visit together while sharing mate – for hours! The music – chamamé – old Argentine folk music heard on the radio through the streets, it's very charming (think accordion – it's very European influenced). The gaucho style/culture – they love their heritage! You'll see festivals with folk dancing and men dressed in traditional gaucho garb (Argentine horseman attire). Their generosity – when you create a bond with someone (sometimes it doesn't take very long!) or leave an area – they love to give gifts of parting, and it's most often something they already own and find dear to their hearts. It really got me thinking if I would ever be that willing to give up something of my own if I were to host those families in my own home! Their warmth and selflessness taught me a lot. Their sense of humor – you learn how to accept teases and make witty responses – it's a harmless, witty banter they have to show their trust and friendship. (Hillary)
People are awesome, sincere, with no filter when they talk, and very outgoing. You can be an Argentine's best friend in a day, or at least they will make you feel that way. (Samuel)
They share so much with everybody. (Kyle)
I like the accent they speak Spanish with. (Carmen)
The people were very gentle and kind hearted. They understood how to be faithful to their religion. They knew how to be humble, which was often related to their poverty. The cities are pretty with a lot of poverty surrounding all of the cities. There is not a lot of industry. The people are always smiling and willing to serve one another. There is crime, as you can find anywhere, but it is rather mild. (Nathaniel)
They were loving, kind, giving, and faithful. (Anonymous)
They people are friendly and the country is beautiful. (Autumn)
The most generous and genuine people ever. They lived in the most humble of circumstances, but come alive when they start to live correct principles. They can be great examples to all of us. (Neil)
Just good people. Can be rough around the edges with egos at times, but that's usually a "front" until you get to know them. Passionate people, most with Spanish and Italian blood in them. (Damien)
I like how honest they are. Although sometimes they could be more classy. Not everything you think should be said out loud. (Tami)
Generally, the Latinos are very accepting and nonjudgmental. I loved the culture and the people. I want to go back really badly. (Terisa)
El lugar que mas me gusto fue la ciudad de Posadas en Misiones, la gente era muy receptiva y amable, ademas era una area bellisima para trabajar, habia mucho trabajo. (Diana)
I loved their kindness and friendship. A very loving people. They are also very proud to be Argentine. (Adam)
Once I figured out Castellano, I found out that the people in the barrios were no different than people from my neighborhood. (Yerba)
Any packing/clothing advice?
Rain boots, light shirts for the hot days, a good raincoat, clothes to layer in the winter, and good walking shoes. (Megan)
Waterproof shoes, but not huge rain boots. Keens or something similar (still closed toe) – but nice for when it's hot out or if your feet swell with the heat! For Sisters – light skirts and blouses – I wore my polyester blouses more than the cotton in the summer. Winter – a good, thick pea coat. The cold still has humidity and goes straight to your bones. A good ear warmer or thick, wool hat. Good gloves, socks, boots with traction and support, and scarf. Bedding – you're fine with two sets of sheets, pillow cases, a pillow, and one blanket. The mission will have plenty of wool blankets for the winter. (Hillary)
If you live in Central America, you may want to bring with you some winter clothes. (Samuel)
Take mostly washable slacks and wear your suit on my important days. It is easier to wash slacks than it is to dry clean a suit. The streets are mostly dirt and mud especially in the poorer section of town. Do not go too fancy on clothing and stuff. It is a rough place for nice things. Do not bring nice watches. Wearing them around is asking to be robbed. (Kyle)
Take a poncho. It would rain a lot but still be pretty hot so you don't want a heavier jacket. As a sister though the clothing rules have changed a lot since I served so I don't think I could be too helpful. I think it's probably a lot easier now! (Carmen)
I would follow the mission handbook and bring all of the required church clothes which are to include a couple of suits and a couple extra pairs of pants because you will be walking a lot. It is not a bad idea to have a couple of sweaters and a small scarf as well. You can easily obtain a cheap poncho or even scarfs and gloves when you're on the mission. You will need two to three pairs of shoes but don't be too concerned with having any more as there are cobblers all around and they are amazing at fixing your shoes. Don't bring anything too fancy as the highest crime rate is theft and muggings; and so if you bring anything fancy, odds are you will not come home with it. (Nathaniel)
Comfortable shoes, a good rain jacket, a solid winter coat, thin clothing for the summer. (Anonymous)
Good long underwear and good comfortable walking shoes. (Autumn)
Pack simple: fewer items are best. Don't take any clothing that you absolutely love. Unplanned service opportunities, dirt roads, terrible weather and scorching heat destroy all of your clothing eventually. (Neil)
Clothes for hot, hot and cold, cold. (Damien)
Comfortable skirts and shirts and leggings of some sort for the winter under your skirt. (Tami)
Pack clothes that can be layered, so you can remove layers as necessary. (Terisa)
Para el area de Posadas, las blusas blancas se vuelven rojas , por la tierra colorada, creo que blusas de colores estaria bien, y que no falten las botas de goma, mas si te toca Corrientes, que enseguida se arman tormentas muy fuertes y llueve mucho. (Diana)
Just follow the guidelines. (Adam)
With the new missions in Santa Fe, Posadas, and Resistencia – you should be able to buy zone specific. It was humid throughout my mission, but once I was in Resistencia – I should have given away anything other than short sleeve white shirts, and suits. (Yerba)
What blessings did you receive from serving a mission?
I got the blessings of knowing the scriptures better, growing closer to my Savior. I understand the gospel and my covenants better. I have seen direct blessings in my life after with my schooling, marriage, and church callings in understanding how to work with others, plan ahead, communicate, and magnify my calling. (Megan)
The blessing of understanding people's hearts better, and having patience with people who think or live differently than me. The understanding of accepting trials and seeing them as a refiner's fire, rather than a setback. The understanding of the importance of the restored gospel and its priesthood on the earth, so we can have saving ordinances that help families be saved and together forever. The gospel is the best kind of happiness. The understanding of how many people become less active because of pride, or how many family members grow apart because of pride. I hate pride! But there is never a reason to lose hope, because sometimes people soften their hearts and they come back! The sacred and personal blessings my family received -especially my sister. The blessing of being endowed and always having the temple as a safe haven and source of peace, clarity, and guidance. I love the temple!!! The DAILY witness of God's hand in this work. (Hillary)
All, absolutely all that I have, it's a mission blessing. Job, education and calling. (Samuel)
I received guidance in my life. When I came home, I had decisions to make about money and education. Doors just opened and I knew what I needed to do. (Kyle)
I love knowing Spanish. I also learned to be a better teacher, roommate, friend, and disciple of Christ. My husband also served a Spanish – speaking mission and I know that's what helped us connect! (Carmen)
I learned a lot about the gospel and was taught how to listen to the Spirit. And learned the importance of hard work and being dedicated to a task. I learned how to trust in the Lord in everything I did. I learned how to love unconditionally and how to accept people's faults as potential strengths. I was better prepared to be a more dedicated student and eventually a more loving and caring husband and father. (Nathaniel)
An awareness of life outside of yourself. There happiness that comes from living your life solely to serve others and not focus on yourself. An understanding of how humans in vastly different circumstances, speaking a different language, and living lives unique from mine were still so similar to me. I returned with the ability to see others in world in a more human way. (Anonymous)
I learned to appreciate all I have especially the gospel. Learned a language that has helped me throughout my life. (Autumn)
What blessings have I received that did NOT come from serving a mission? My family literally came as a blessing from serving a mission (my wife also served in the same mission and we met at a reunion). (Neil)
Hard to put into words but anytime you can serve 24/7 and give your best you will be blessed. So many lessons and training for life that you could never receive any other way. (Damien)
Confidence. Knowing no matter how scared I am to do something, I will get through it and everything will be okay. I'm generally not scared to do anything anymore. Nervous yes, but I can push through and do it anyway. (Tami)
My testimony being strengthened was the biggest blessing, but I also learned the language so well that people don't believe I that I am not Latino. I met so many wonderful people, too. (Terisa)
La mayor bendicion fue fortalecer mi testimonio, que crei que no tenia,y la amistad con mis comañeras que a pesar del tiempo aun sigo e contacto con ellas. (Diana)
An enduring testimony and an experience to last a lifetime. And that's not to say we also helped people come into Christ. (Adam)
What are some skills you gained?
I learned how to communicate and work with people. I learned how to cook. I became more open to other ideas and cultures. (Megan)
Understanding more forms of Spanish – and the beautiful Castellano that I will never change from my accent when I speak now! It's such a beautiful form of the language! How to study and seek revelation for other people through the scriptures. How to plan and execute goals more effectively. How to teach someone by asking questions. This is a huge asset I find that can be helpful in the work place, family, and marriage – ok any relationship needs this. Whenever confrontation or hairy situations arise, simply asking questions instead of telling people what you think is best, is a more humble and gentle way of teaching – because the person will feel loved and supported instead of attacked. (Hillary)
A lot of didactic skills when teaching. No fear of anything. Courage when defending my faith. A genuine caring ability to love and serve others. (Samuel)
Being fine in weird positions. (Kyle)
Definitely teaching skills. I'm a confident teacher now and I love that! Also I became more relaxed with other people's customs and manners. (Carmen)
Unconditional love, faith, hard work, dedication, solid study habits, and how to learn of, obtain and utilize the attributes of Christ. (Nathaniel)
Sacrifice. Selflessness. Hard work. All skills that are a good foundation for being a good parent/spouse. (Anonymous)
Spanish, cooking, washing clothes by hand, know how to fix a toilet among other devices. (Autumn)
Public speaking, presentation skills, language skills, interpersonal skills, conflict resolution, enhanced work ethic. (Neil)
Organization. Diligence. Love. Patience. Teachability. (Damien)
Spanish. I speak Spanish like a native. I've heard that so many times from the people in Argentina. I learned how to speak Argentine Spanish with no American accent. (Tami)
The Spanish language was the biggest skill I gained. It has helped me obtain many jobs. I also learned to have a lot of patience and service. (Terisa)
Una de las habilidades que apendi fue a administrar el dinero,aun aplico mi plan de distribucion del dinero para que alcanse, y otra cosa es el no adquirir deudas. (Diana)
Language, love and compassion, working with and being with someone 24×7. (Adam)
How to fix any car (or about anything) with a pair of pliers and a screw driver. (Yerba)
What do you wish you knew/did at the beginning of your mission?
I wish I had read Preach My Gospel more before the mission and that I had started to practice my language before I entered the Mission Training Center. (Megan)
The beginning is easier if you just think about the people's needs more than "What am I doing to be a better missionary?". Although that is a great question – I know from experience that over analysis leads to paralysis. If you "forget yourself and go to work" – you will find you are a better missionary because your selflessness will allow the Lord to mold you into what you need to become. That being said, just be yourself! Laugh at yourself when you make mistakes, SMILE and don't be afraid. Argentines have this sixth sense when you are not acting yourself. So just let it go, they may tease you, but that is their way of showing camaraderie! (Hillary)
Unfortunately, there are missionaries that worry too much about being assigned to leadership positions. Remember you were called and set apart to be a missionary, not a District or a Zone Leader or an Assistant to the President, work hard; the Lord may put you where ever He needs you to be. (Samuel)
Worry about yourself first and ignore what the other missionaries are doing. They often take themselves too seriously. What is important is that you know you are working hard to help others and that you are trying to do better at it. (Kyle)
It's a lot of hard work and it's the best experience ever and to take full advantage of every day. Also not to stress too much. There's a definite balance to find. (Carmen)
I wish I had had the opportunity to study more of the missionary lessons. I wish I would have saved some more money on my own to assist my parents with the payment towards my mission. (Nathaniel)
Culture shock is a real condition that if you know and understand, you can be more forgiving of yourself. A mission is long and hard. You only hear the funny, crazy, or golden stories when in reality… most of your mission if filled with everyday, common, non-glamorous moments. But, the other moments make it worthwhile. (Anonymous)
I was always willing to serve but I wish I knew more doctrine and the Book Of Mormon. (Damien)
Contact all the less actives. Get the ward list, figure out who the less actives are and reactivate them. Baptize any of the members of their family who aren't baptized. You will get the most baptisms by doing this and it is the most effective way of doing missionary work. It will save you!!! And you will do a lot less door knocking. The less actives already have a testimony and have already felt the spirit. They will be more likely to let you in their home so they can remember what feeling the spirit is like. Then you can teach their children or wives or husbands. (Tami)
I wish I had known more of the history of the land (Falkland Islands) and more of the culture. (Terisa)
Al principio, estudiabamos mucho,y aprendi a quitarme el miedo a golpear puertas. (Diana)
Opened my mouth more to learn to speak the language quicker. It took being with a native speaking companion to really catch on with the language. (Adam)
Any advice/testimony for pre-missionaries going to Rosario?
The mission is hard but it is worth it. Never choose the easy way out. This time isn't about you but about the people you are there for. Do everything you can and be exhausted but you will love being exhausted. The people in Rosario Argentina are incredible and have amazing stories. Be yourself and share your testimony and the mission will be amazing. (Megan)
There will definitely be days where you will think that it's way too hard. As long as you keep your perspective on what really matters (aka the people and not your weekly numbers) and PRAY ALWAYS – you will find happiness and little miracles every. single. day. It is important to figure out for YOURSELF personally WHY you are going on a mission. Because you'll need that reminder when the days get tough. Missionaries are never perfect, and you are not expected to be perfect (nor your companion!). Be prepared to be vulnerable – being with a companion is like boot camp before marriage – you're together 24/7, and after the "Honeymoon" of showing your best self – you'll discover each other's weaknesses. Just be humble and be willing to have someone help YOU be better – it is not an excuse to change THEM. You can never change someone else. Have five great things you notice about your companion, and when they drive you crazy, name that list in your mind! I was placed with very different personalities all throughout my mission, and I had a blast with every single one of them. We definitely had our own heart to hearts, and I learned to be more patient with teaching together and not be controlling or a perfectionist! They helped me not be so hard on myself, which I am so grateful for! I know there's probably ways I helped them, but example will go farther than words. (Hillary)
Follow the mission rules, that separates you from being a normal missionary and being an special missionary. That missionary that people will remember for being dedicated missionary. People are not perfect don't make fun of their misunderstanding of the gospel truths or even simple truths. Pride is counteracted with humility. (Samuel)
My biggest mistake was thinking that my senior companion was going to care for me and help me adjust. Because of this I was robbed within two weeks. If you do not want to be robbed be smart. Most robbings are because the missionaries failed to think before they did something. For example going somewhere they shouldn't, leaving a key in the door, or walking around with nice things on display. (Kyle)
Learn to love the people and to not give up on a hard work. (Carmen)
The mission is going to be a different experience with a lot of challenges but a lot of amazing opportunities to learn and grow. You will be stretched beyond your own limits but trust that the Lord takes care of that and will make up for where you like. You will be placed into difficult situations including those with companions as well as investigators and members but you will learn how to rely on the Spirit to keep you calm and to avoid contention; at the same time you'll be learning how to love as the Savior would. (Nathaniel)
You will be a better person for serving a mission. Your testimony will be stronger, your love more pure, and your life more full. (Anonymous)
Go because you want to be there- it's the only reason that matters. I had told the Lord that I wasn't sure I wanted to go, but I would go if He wanted me to. The answer came quickly and very powerfully, and I have never doubted that response since. My own testimony that I was to be there provided me strength through the entirety of my service- so much so, that I absolutely did not want to come home at the appointed time. Sorry to say, they won't keep extending your time- no matter how hard you beg them to. (Neil)
Just do it. You can't afford not to. Life's too hard without the preparation a mission provides. (Damien)
Don't think you are any better than anyone else. We are all equal and all have something to bring to the table. It will help if you already have a strong testimony because there are those who will try to persuade you to believe other things. Love people, genuinely. Some people can tell if you are faking it. (Terisa)
Un consejo……, creo que lo mejor que pueden hacer es ir con un corazon humilde, dispuesto a aprender y a conocer, en especial a su compañero. (Diana)
Read the scriptures, pray and get familiar with the promptings of the Spirit. (Adam)
What was a funny language mistake?
All the time… instead of telling someone he was in charge, I told him he had ingrown toenails. I thought someone was talking about clothes when really they were talking about Europe. My companion (and I) one time said bad words that we didn't know were bad. (Be careful what you learn on the street, don't repeat it!) learning a language is fun and messing up makes good stories! (Megan)
I said "pescado" (fish) instead of "pecado" (sin) a week out of the MTC. It made me laugh immediately because of everyone's reactions and given the fact that it was such a classic beginner missionary mistake despite me knowing Spanish for many years. We had a good laugh and it broke the ice for sure! (Hillary)
I am a Spanish speaking person. At the beginning of my mission, I kept using the word "Carro" instead of "Auto" which refers to a car. Carro in Argentina is a Wheelhorse vehicle extreme needy people use. (Samuel)
My companion was tricked into saying a really bad word. The main problem was that even though he had been there just as long he had not done language study that well and so people were still able to pull the wool over his eyes. Language study is important. Many of my senior companions liked to do things during it such as brush their teeth and put ties on. This was all to get out the door at exactly 10:30. I was told I had half an hour to study and I took the full time to study without distracting myself. They viewed that study time as inferior to the other study times. Their Spanish suffered for it and I was able to communicate better. I was even able to understand somethings better than some native speakers from other countries. (Kyle)
My companion talked about 'preguntas del soul' which sounds like questions of the sun, and she meant preguntas del alma, or questions of the soul. (Carmen)
I was once taught how to say the word embarrassing incorrectly and when I brought it up to a female woman I accidentally called her pregnant. You'll understand when you learn the two words for pregnancy and embarrassment! (Nathaniel)
My companion introduced us as missionaries from the church of Jesus Christ of the United States. (Autumn)
Embarazado does not mean embarrassed. This is mission lore. (Damien)
Usando la palabra embarazada en vez de vergüenza. Eso pasa mucho. (Tami)
When I got to Argentina, it was March, so the beginning of summer, and it was hot outside. I had learned hot was caliente, so I said, "Estoy caliente". That was the wrong thing to say. I should have said, "Tengo calor." (Terisa)
No recuerdo, algun error, si recuerdo que estando en Posadas, golpeabamos puertas, y un señor nos recibio en su casa junto con su familia, y la primera pregunta que hizo fue¿ustedes los mormones tienen 7 esposas? y mi compañera muy chistosa le pregunto ¿usted aguantaria 7 suegras? el se rio y dijo -no- bueno un mormon tampoco. con esa ocurrencia, toda la familia recibio las charlas y se bautizaron. (Diana)
Funny language mistake in the question above – your should be you :). As far as any mistakes. Techo is roof and pecho is chest. Don't get them mixed up. (Adam)
Layna (Argentina Rosario Mission)
–Paraphrased from Layna's mission interview–
Travel Tips
They have supermarkets just like we do, but something unique they have is these small stores called kioskos where you can get milk, bread, crackers, cookies, and maybe some basic hygiene supplies as well. You go there when you need something quick or if you're on your way home and just want to make a convenient stop. If you're doing bigger shopping you can take a taxi. For internet they have places called cybers. It's not very expensive. You take your assigned mission time to email there. They have post offices. The mail system is actually pretty good unless you're out in a rural community. They do have full sized malls in certain places. They have a place like Home Depot.
Bugs and Animals
When you first get to Argentina we went to a city just outside of Rosario. There are a lot of trees and when it gets hot you hear these loud bugs that make a specific noise. There are a lot of other bugs as well, but you get used to it and learn how to deal with them.
Climate
It's a lot of flat land and there is a lot of agriculture. There is a big river down the middle of the mission and another one on the eastern border of the mission. People talk about how it's a humid cold. Even though it doesn't get cold enough to freeze the water, it does get down to your bones as the people say. It can be a little uncomfortable with the collared white shirt and long sleeves if you have that. You get used to it eventually. In my first area we had some pretty heavy rain storms. I remember going to a grocery store when the power went out because of the rain.
Food
In Argentina they have a wide spectrum of food. You'll notice the Italian influence in it because a lot of Italians migrated there. There are a lot of pasta type dishes. They have a harder type of cheese that they will grate on there. They're very well-known for their meat. They have asados which are barbecued meat. They have these sausages called chorizos. They just season the food so well. I highly recommend it. There is this dessert called alfajores that are really good. They often have dulce de leche. It's probably best not to eat too many of them, but they are delcious. They also have alfajores specific to a certain place like certain cities have their own. They're really good. Sometimes the bakeries make their own cookies with dulce de leche and other things. They're big on bakeries. People go there to get fresh bread because they eat it with every meal. Another thing you can find are these meat shops where you can buy your meat. They don't eat as much as they would like to; I think they used to eat more when the economy was better. Chicken with rice is a pretty common dish as well. They'll have these slices of chicken that they'll cover with bread crumbs and fry. One time they even did it with eggplant. Another time they did it with cat liver. I didn't like that as much. I just love their pasta dishes.
Nicholas (Argentina Rosario Mission)
–Paraphrased from Nicholas' mission interview–
Mission Geography
In our mission, you could take a bus ride from the center 8 hours north, 5 hours east, 3 to 4 hours south. It was a big mission. There are quite a few stakes, but I served in a couple areas that were just branches so it can really very. You could be in branches in with 25 members, but there are other places where meetinghouses have two giant wards. There isn't a temple in the mission.
Culture
You're in a different country, so you can expect a totally different culture. They greet people with a kiss and a hug. They talk really slow in Rosario at least. That's really nice. They speak really long and drawn out. They use their hands all the time. It was surprising how open they are. I remember the first experience I had with a member and she just had a baby and she pulled up her shirt and showed us her scar from her C section. Women will just openly breast feed their child as well. Don't be surprised by that.
Food
The food is amazing. Asado is the most famous dish. It's barbecue basically. They get these huge fire pits with a big grill and they pour salt all over it. When I saw it I almost gagged, but for some reason it tastes so good. They bring out a huge platter of all the cooked meat and they will have a little salad and they put whatever you want on their plate. They have mayonnaise with everything. They have these things called milonesas as well that they will give you with mashed potatoes and some vegetable. They'll give you a little lemon wedge sometimes. They love tomatoes too. For dessert they usually bring out fruit. They love canned fruits too. They make tons of different kinds of soups. The flavors aren't really spicy. They're wimps when it comes to spicy stuff. The food there is really mild. A lot of pasta too. Italian stuff, pizza, and hamburgers are common too. It isn't exactly the same as it is here, but it's good.
Safety Tips
Anything can happen, and you hear stories about crazy stuff happening to an Elder here or there, but you just have to follow the rules and the Spirit and make sure you aren't in the wrong place at the wrong time. They have a lot of places where it is poorer and you just don't go there at night. These places have alleys that go on forever. There are tons of run down houses with Directv satellites on them. Stay away from those places at night time. Pray a lot for your protection. It helps. You'll have stories of situations that were riskier than you wanted them to be.
Travel Tips
When you get your mission call, you get a list of what to pack and what to bring. I had talked with people beforehand, but I didn't really know what to bring. It's really hot and humid during the summer. You get used to it. You want to bring really thin short sleeved white shirts for the summer time. A lot of people will wear sweaters over their white shirts. It's really humid, so the cold cuts through everything. Wear more layers. You'll want waterproof shoes with good soles and good support because you're walking all day every day unless you're in the mission house. It doesn't snow. It rains a lot. It can rain during the summer. If you can find a waterproof scripture case that would be good. I would just put mine in a plastic bag and that was kind of uncomfortable. Their buses there are like our airplanes. The chairs are super comfortable if you're in first class. They're really nice and have tons of room. It's pretty cool . The other buses that move around the city are really crammed. Don't expect the buses to come at the same specific time each day. You just have to show up and wait. They have taxis and other guys that just use their own cars.
Matthew (Argentina Rosario Mission)
–Paraphrased from Matthew's mission interview–
Rosario Mission Weather and Geography
When I got called to Argentina, I thought I was going somewhere similar to Guatamala -rainforest and tropical. But when I got there I realized it was more similar to the Southeastern US. The Rosario mission covers three provinces: Santa fe, Entre Rios, and the very Northern tip of the Buenos Aires province. The Santa Fe and Buenos Aires provinces are super flat without a hill in sight. They are quite hot and humid, not like a desert, but not very green either. In Entre Rios there was more green and hills, and it was super lush. I was excited when I got transferred there since I hadn't seen a hill in almost two years.
No matter where you go, it'll be pretty hot and humid in the summer. Mold can get on everything, so you have to be careful to take care of your clothes and other belongings. Winters can get pretty cold, so be sure to pack some warm clothes. Argentina doesn't experience much snow, and the people would get amazed when you told them what it was like. It was quite close to snowing though; sometimes it would get as low as 33 degrees (F).
The Food and the People
The food is very good. Argentinas don't use a lot of spices, and they eat a lot of meat. They eat italian style food, with lots of meat and steak added in. They like to have big parties called Assados where they will grill steak and other meat, cooked really well without a lot of spices or barbecue sauce. Watch out, you might gain some weight if you're not careful… For Argentinians, the fat part of the meat is the best part, and they like to fry. If its ever raining, go to the members houses, and they will feed you.
About half the mission is big city, and the other half is "campo" or in the countryside. I spent half of my mission in each area. In the city, there's some very poor areas, some very rich ones, and its very crowded. Its very similar to European architecture. In the country they have a very cowboy like culture. In the city they call the very poor areas Vichas, where people will simply find a piece of land that they don't own and build a house there. Some families have lived in this poverty for generations. While theses areas could be dangerous, it was easy to find people who were receptive to our message. They were good people, but you had to be careful because there were some shifty ones as well.
Fun Facts
The Argentine people are awesome. Some people think they're a little odd. Others think they are a proud people. I love the national pride that they have. They think that they have the best country in the world. Messi is from Rosario actually. They're very proud of their culture. The siesta is a huge and sacred thing. It's usually a two hour nap they take during lunch. Knocking on people's doors during the siesta can be almost like a crime. Some people don't care as much. We would do most of our studies during the siesta. Dinner is a very small meal. Breakfast usually doesn't happen. They have this drink called mate that we couldn't drink as missionaries. I think it just tastes like grass and water. The people love it though. Everywhere they go they bring their thermos and their mate. Most people there don't have cars, but everyone has motorcycles. They're like family vehicles. I've seen a lot of people on a single motorcycle. I spent a lot of time in the country. There are these gauchos who are like cowboys. They have very distinct clothing. They're so fun and humble. I remember this one guy named Juan who had worked in the field all of his life. He kind of said yes to everything and so they didn't think he understood the baptismal invite so they didn't come back, but when we found him he still wanted to be baptized.