Here are free resources about the Argentina Neuquén Mission:
Aquí están algunos recursos gratuitos sobre la Misión Argentina Neuquén:
*Other Mission Pages: Argentina LDS Missions.
---
---
Neuquén Mission Address
Here's a recent address for the Argentina Neuquén Mission. We try to keep this info up to date, but it's a good idea to check the mission address with several sources, including your mission packet or the mission office.
Misión Argentina Neuquén
Zapla N 24
8300 Neuquén
Neuquén Argentina
Phone Number: +54-299-443-2413
                   Mission President: Carlos Casariego Abellal
Neuquén Mission Map
Here's a link to the mission map for the Neuquén Mission (LDS). To access the official, up-to-date LDS.org map for the Neuquén Mission
Log into your LDS account here.
Click here.
Neuquén Missionary Blogs
Here's a list of LDS missionary blogs for the Neuquén Mission. This blog list includes the missionary's name, URL and when their mission blog was updated.
*Send your missionary a gift (mission-specific shirts, ties, Christmas stockings/ornaments, pillowcases, etc.)
Neuquén Mission Groups
Here are Neuquén Mission Groups- for LDS missionary moms, returned missionaries, mission presidents and other alumni of the Neuquén Mission.
Neuquén Mission T-Shirts
Here are T-shirts for the Argentina Neuquén Mission!
Shirt designs include Argentina Neuquén Mission logo/emblem shirts and Called to Serve shirts. The shirts make great gifts for pre-missionaries, returned missionaries and missionaries currently serving. LDS Mission shirts come in all sizes: Small, Medium, Large, Extra Large, up to 4XL.  The mission designs are printed on white shirts and are shipped to you.
*Simply click on a shirt design to view the details and submit an order. The designs on mission t-shirts may also be printed on other LDS mission gifts, including: Neuquén missionary aprons, Christmas stockings, ties, pillow cases, teddy bears and Christmas ornaments.
*Click here to browse Neuquen Mission gifts
---
---
*Click here to see our new shirt design for the Argentina Neuquen Mission:
---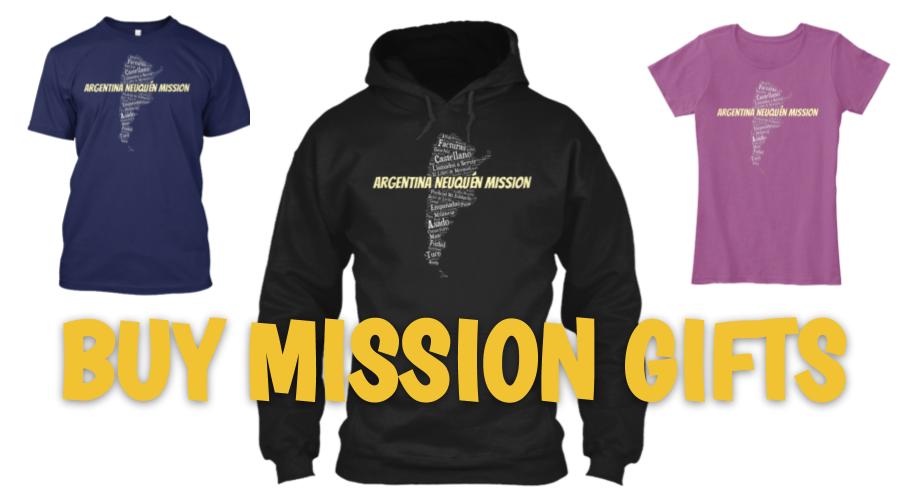 ---
Neuquén Mission Presidents
Here's a list of current and past Mission Presidents of the Neuquén LDS Mission.
2015-2018, Carlos Casariego Abellal
2012-2015, Paul R. Lovell
2009-2012, Darwin Peterson
2006-2009, Carl C. Cook
2004-2006, Gary Sorensen
2004-2005, Patrick Casaday
2002-2004, George O. Stewart
1999-2002, Richard R. George
1996-1999, Héctor Huerta
1993-1996, Luis C. Coronel
1990-1993, Antonio R. Cappi
Argentina LDS Statistics (2015)
Church Membership: 432,007
Missions: 12
Temples: 2
Congregations: 765
Family History Centers: 107
Helpful Articles about Argentina (written by RMs)
Here are some helpful blog posts about Argentina, written by returned missionaries.
Neuquén Returned Missionary Survey
Here are survey responses from Argentina Neuquén RMs, to give you a snapshot into what it's like to live in Argentina.
When did you serve?
2013-2015 (Cody)
March 2013-September 2014 (Natilee)
June 2013-December 2014 (Jessica)
June 2013-December 2014 (Camille)
2011-2013 (Michael)
2009-2011 (Emily)
2009-2011 (Cami)
2008-2010 (Nicole)
2008-2010 (Jacob)
2000-2002 (Jeremy)
1999-2001 (James)
1999-2001 (Luis)
1999-2001 (Ferrin)
1998-1999 (Kirk)
1996-1998 (Josh)
1996-1998 (Cristina)
1994-1996 (April)
1994-1996 (Jared)
No date (Alex)
What areas did you serve in?
Catriel, Senillosa, Caleta Olivia, Sarmiento, Zapala, Cinco Saltos. (James)
Bariloche Alto 1, Sierra Grande, Trelew, Ushuaia, Neuquen. (Luis)
Neuqen, Roca, Comodoro, Esqel, Chepolette. (Ferrin)
Ushuaia, Junin de Los Andes, General Roca, Allen, Neuquen. (Kirk)
Neuquen, Esquel, Comodoro Rivadavia, Cultural co, Bariloche, Rio Gallegos. (Josh)
Neuquen, Roca, Comodoro, and Bariloche. (Cristina)
What's a favorite food you ate in Argentina? 
Milanesas. Ñoquis (Gnocchi). Pastel de papa (Shepherd's Pie). Empanadas. Pizza. (Cody)
Pollo a la crema (not common at all, but if you serve in the Roca Zone, you should request it from Mama Olga! It is to die for). They eat fruit as a dessert, so our normal idea of sweets rarely happen. Milanesa is super common and delicious. Empanadas (if home made completely) are THE BEST food that exist in all of Argentina. You NEED to try alfajores de maizena. You should eat one for me, but if it isn't to die for, then you have to find another shop, because that shop obviously doesn't know how to make them. (Natilee)
Milanesas, empanadas, gnocchis. (Jessica)
Milanesa de Pollo, Alfajores, empanadas, dulce de leche. (Camille)
Matambre a la pizza Empanadas Asado Pastel de papas Milanesa napolitana Noquis. (Michael)
Polenta, ñokis, asado. (Emily)
Ñoquis, empanadas, asado!!! Facturas (and pretty much anything else sold in the little bakeries). (Cami)
Milanesa, empanadas de carne, ravioli, alfajores! (Nicole)
Asado. Ñokies. Pasta. Empanadas. Chorrizo. Chorripan. Basically anything a sister made. (Jacob)
Empanadas. Milanesas. Tortas Fritas. Asados. Alfajores. Dulce de Leche. (Jeremy)
Facturas, Empanadas, Milanesa Napolitana, Chivo, Cerderdo, Dulce de leche, and Alfajores. (James)
Tenia hambre siempre la comida era lo mejor jaja. (Luis)
Empandas, milensa, chodi pan. (Ferrin)
Lomos de Milanesa (de nuestro lomoteca favorita, El Turco en Ushuaia), Pastel de Papa, Mis hamburgesas famosas. (Kirk)
Ñoquis, milanesas, alfajores. (Josh)
Fish, homemade bread, soups, and spaghetti. (Cristina)
Empenadas, milanesas, pizza with ham, facturas and pan dulce at Christmas. Oh and how did I forget dulce de leche, mate cocido and Alfajores. Yum! (April)
Empanadas, Asado, alfajores, guiso, gnocchi. (Jared)
Probably pizza, milanesa steaks and empanadas (they're kind of like calzones filled with meats, cheese, potatoes, seafood, etc.). (Alex)
What was a funny experience?
During the floods, water rose to be almost be knee high on the dirt roads where we lived and worked. At the end of the day, my companion was tired of walking around the edges of the roads, that now appeared more like chocolate rivers, and trying to find a dry way to take a simple route. So, he simply took off his shoes and socks and just went straight across. (Cody)
My companion and I knocked a door, and hearing a voice ask who it was through a closed door, we answered "the missionaries". I don't think he understood us, so he came to answer the door…in a speedo. He just started yelling and flailing his arms suggesting he didn't want to listen to us. My companion however did not see his speedo so she thought he was naked. (Natilee)
Too many… some of my favorite were the dogs that would follow you everywhere. They come to be some of your best friends. (Jessica)
Once my companion and I were outside tracting (clapping doors). As we waited for the person to come out, a stray dog was walking around near us, I looked down and realized that the dog was peeing on my foot! Luckily I had boots on. Right as I realized that the person walked out of their house. I had to pretend like nothing happened as I started talking to them! It was definitely an experience to remember. (Camille)
It was General Conference weekend and in between sessions my companion and I went out to visit someone and pick up some treats on our way back before the 2nd session. A sister missionary from Argentina asked us to bring back some "papas". "papas" = potatoes. I took her literally and brought her back a bag with 3-4 potatoes. She burst out laughing and I quickly learned that even though "papas fritas" = potato chips, "papas" has a double meaning. (Michael)
A member tried telling my greenie that she should compliment his mom by saying "Qué rica su porquería hermana." When she came back in the room, she took one look at her son and tapped him upside his head. It was hilarious. (Emily)
So many to choose from… There were a lot of awkward situations where people came to the door only half dressed. Once an old man answered the door in only a towel. He was going to sit down to listen to us sing but then realized his towel would separate in the front so he just grabbed a little dish towel to place over the front. (Cami)
When I was serving in Calets Olivia, the wind was so strong ALL the time! There was a time we were walking to a baptism and I had the clothes in my hands. Well a large gust of wind hit me, and I lifted my leg and couldn't even move! Just stuck in the air! And then the gust ended, and I fell flat on the ground. There was dust and dirt EVERY where, so the clothes ended up with tons of dirt on them. (Nicole)
All the language accidents that happened. Saying something and thinking it means one thing, but it really means something inappropriate. 😉 (Jacob)
Playing soccer on the beach and kicking another elder's foot thereby breaking my toe and creating a huge blood blister which later became infected and swollen so I couldn't even wear my shoe. (Jeremy)
Reunion de zona. (Luis)
Drinking mate. I did not like it. (Ferrin)
I remember having lunch with my Mission President. It was just the two of us because I was in a trio companionship because, for some reason, they kept sending my companions to have callings at mission headquarters. Since my area was the farthest from the mission office, it usually took a full day (or sometimes two days) for a transfer. While waiting for a new companion, the Mission President was in town for a funeral. He agreed to go proselyting with me. After a morning of spiritual experiences, the Mission President and I went to lunch before he caught his flight back to mission headquarters. While we were eating, the President asked how I was liking the area. Naturally, I told him all about the fruits of the area and how we were taking part in a lot of people's conversions. Then I had to comment on the beautiful scenery. After all, it was the southernmost city in the world. Right at the base of the Andes Mountains and before the merger of the Atlantic and Pacific Oceans. It truly was gorgeous with national parks, glaciers, and forests. I mentioned our hike to the glacier on our preparation day a few weeks before. The Mission President replied, "Elder, you're not supposed to go climbing mountains. Haven't you been reading your missionary manual?" He then opened the manual to the exact spot (because he had the manual memorized, of course). So I read it sheepishly and said, "Oh." The next week, a newsletter from the President was sent to every zone, district, companionship urging us to review our missionary manuals. Every companionship in the zone read it, and, as if in unison, said, "McKnight!" (Kirk)
I never learned the cuss words and one day I felt really depressed for not being able to understand the people, then that night I went to a church fireside and I understood every single solitary word, it was at that moment I understood that the Lord was blessing me and I could have the Spirit with me even more so and that some Argentines have dirty mouths. (Josh)
To use socks with sandals to protect my feet to be to dry and to look dirty. Because there are dirt streets in some areas. To use fake lenses for the sandy wind on Comodoro Rivadavia. (Cristina)
During the rainy season my companion and I got stuck in the mud, it was a real "I Love Lucy" moment! We were covered in mud when we finally got home. (April)
Diving off the roof of the chapel in Frutillar of Bariloche into over 6 feet of snow that had fallen in the courtyard. (Jared)
What's the craziest food you ate in Argentina? 
I ate goat brain and tongue.  I was surprised how good they both were on bread.  I also ate liver paste and blood sausage on bread. Lots of crazy things on bread. (Alex)
What crazy/dangerous experience(s) did you have in Argentina? 
As we walked to the recent convert family's home, we passed a group of drunk young men on the other side of the road from their house. During the family home evening, the young men broke into a fight. The yelling interrupted our lesson. Almost immediately, three gunshots were fired and the fighting ended. As we finished the lesson, we came outside to find police searching the ground for bullet casings. It was truly a miracle that the gun was not fired in the direction of any home. The walls would not have stopped a bullet. (Cody)
Every corner has stores called kiosks. They are similar to general stores that are attached to gas stations in the U.S. but they are just the shops. A man walked into one when my companion and I were buying some alfajores (while she was buying fruit and I was buying alfajores) and this man was COVERED in blood. He had a huge gash on his forehead and blood covered his hair, shirt, and face. I just stood there super surprised and wondering how you call 911 in Argentina (my thoughts: "How does that even work? Do they have one here? I haven't seen one in the year and half I've been here. Do I call the police then? What is the number for police here?) I stood there still kind of dumbfounded while my companion was kind of flipping out. She was a few feet away from me and could hear the conversation between the man and the kiosk owner. The man told her all about how these thugs (seems to be the best translation that I can think of) beat him up and left him all because of his box of alcohol/wine. He was asking her for more wine (we were in a little dangerous part of our area) so the lady gave it to him. Only after she gave him the alcohol did he ask for something to help clean up his wounds. She told him she had given him his wine and he should leave, which he did. Thankfully I was able to buy my alfajores too. (Natilee)
The most dangerous thing was being there during the World Cup. The people were super crazy and we had to be inside a lot of those weeks. (Jessica)
One time during the summer, the water to the city I was serving in got shut off. We had large bottles of water stored in our apartment so we had plenty of drinking water. However, we didn't have water to take a real shower for three days and it was over 100 degrees outside! Looking back it was actually quite funny! (Camille)
I tripped and fell and broke my ankle bone. At first I only thought it was sprained, so I borrowed a cane and walked on it for a week before going to the doctor. Once I did, they yelled at me for being so stubborn. A week after I got the cast on, I was cutting my own hair in our apartment bathroom. I was finishing up when the protector fell off and I buzzed off all the hair on the left side of my head. There was no way to fix it except buzz my entire head. For the next month I walked around with a cast on crutches and without hair. It was often said I looked like a walking cancer patient. (Michael)
A tiny, stupid dog bit me in the street! It didn't do any lasting harm, but just scared me. I had a healthy respect for any dog after that. (Emily)
Just the crazy dogs that bite you occasionally. (Cami)
We served in a couple of areas where we would wake up and find out that a murder had happened the previous night. We usually would avoid that area for a while (or for good!). (Nicole)
Climbing cierro truncado on preparation day and getting stuck on a ledge and I couldn't move till the other elders pulled me up. (Jacob)
Walking a dark alley and 3 guys tried to catch up to us possibly to rob us. Then seeing we were two big Americans, they quickly backed down and walked away. (Jeremy)
Con borrachos. (Luis)
We were robbed a lot. (Ferrin)
One day, we saw a kitten that seemed to be lost. There were some dogs nearby, so we sequestered the kitten from the dogs and returned to our pensh (apartment). When we left the pensh, the dogs were circling the kitten and began to converge. I raced over to the melee and removed my scripture tote from my shoulder. As I drew closer, I launched the tote and it struck the largest dog (direct hit) and drove him back several feet. I gathered both the kitten and my tote and scared the dog back a little. We took the cat to a much safer distance on the other side of a fence and left. My companion turned to me and said, "That was a nice shot." (Kirk)
I always felt protected on the mission, I remember once a car drove really closely and ran over a very large rock and it flew by my leg and moved my pant leg. (Josh)
To walk after 9 pm. (Cristina)
Nothing really dangerous happened on my mission. I guess sometimes there would be "cat calling" when we would walk past a group of men but we would just ignore them and I never felt worried for my safety. (April)
Getting baseball sized rocks thrown at us while walking home at 10:00 pm in San Martin of Comodoro. (Jared)
I was punched in the face once while serving in Comodoro Rivadavia.  I also once walked right into a gang hideout, filled with robbers who said they "killed Mormons," (I think they were joking with us) and once was robbed by a drunk man in a dark part of town after a big soccer game (I only lost my tie).  (Alex)
What spiritual experience(s) did you have on your mission?
After a very tough lesson with an investigator about chastity, he promptly told us he did not believe in God. A few days later, we went to check in on him and he was going through a rough time with trying to find work. We asked if he'd like a blessing of comfort and he accepted. He began to cry as we gave the blessing and asked to be baptized afterwards. (Cody)
One of our investigators wasn't receiving her answer about The Book of Mormon, so we asked if we could pray with her. She offered a very sincere and heartfelt prayer. I can't even begin to adequately describe the special spirit that entered that room. I will never forget the testimony I received that day. I feel like it was an even stronger response than I received when I asked for myself. (Natilee)
One of my favorite experiences on my mission was about a part member family in Bariloche. This family was referred to us by a member and they were definitely prepared. There was one time we went for an appointment with them, and they had done all of the reading and praying we had asked them to do (which was amazing). But they then proceeded to share THEIR testimonies with US about everything that they had learned. The Spirit was so sweet and so strong. (Jessica)
One day my companion and I had all of our plans fall through and we had already gone through our backup plans. It was raining and during the siesta. We weren't sure what to do and so we offered a prayer. We felt impressed that we would not only find something meaningful to do but find someone that we could teach. We started walking. As we walked, a teenage girl we had previously contacted came outside and called out to us. We went and talked to her. She invited us inside to teach her. After the lesson, I had the distinct impression to ask her for a referral. I did so and she referred us around the corner to her grandmother. We contacted her grandmother and started to teach her. She eventually got baptized! (Camille)
We walked past a house and an individual outside said hello to us. We were so busy rushing to an appointment that we said hi back and kept walking. However, the thought stuck with me that there was something there. Fast forward a transfer and we're in the same area when our appointment wasn't home and we were trying to figure out what to do. I look up from my planner and see the house. We went and clapped from the gate and we met Silvana. As it turns out, she had been looking for a church to join. We eventually taught their entire family. At the same time, their father suddenly passed away from a heart attack. They have stayed faithful for the past two years, and in November 2015 they were sealed in the Buenos Aires temple to their father and to each other. (Michael)
The baptism of an investigator of 15 years. My greenie was so in tune with the spirit when she implored him to be baptized, saying that Heavenly Father wanted him so bad and that he had been waiting for so long for him. There was so much opposition we faced that week, and when he finally entered the waters of baptism, we knew Heavenly Father was so pleased. It was a beautiful feeling. (Emily)
There was a big earthquake in Chile that morning (which we didn't know about since we didn't watch television). But first thing when we left our apartment that morning, we were going to an appointment and felt prompted to knock on his neighbor's door. A woman answered whose daughter lived in Chile and she was trying to call her but couldn't get through. She was crying. We prayed with her and shared a scripture. We were never able to teach her again but I know we were led there because she needed us that day. (Cami)
My companion and I were walking and all of a sudden a girl stopped us in the street and said she wanted to return to church. She didn't end up coming to church that Sunday, but found us in the street the following week and explained herself. She began the lessons and coming to church, and she ended up getting baptized less than a month later! Since then she has served a mission and her whole family is working on getting to the temple to be sealed! (Nicole)
Blessing a man in the hospital and singing hymns for his family members waiting outside. They didn't know if he would make it or not, and they weren't members so it was a special experience. I later found out that he made a full recovery and that they were taking the discussions. Don't know what happened after that. (Jacob)
Too many to describe but learning to love the people and still remembering their faces and names to this day. (Jeremy)
la primera bendicion de salud. (Luis)
Get to teach the gospel to people that had not even heard the word Mormon. The people would come from far away 3 -10 miles walking to go to church. (Ferrin)
When God heard our prayers about a teenage brother and sister who wanted baptism more than anything, and He softened the hearts of their parents to let them be baptized. (Kirk)
I was in Comodoro Rivadavia, a sister was having a panic attack right before sacrament started, (her son was serving and she was concerned about him) and I was looking around and thinking, um should we give her a blessing? and waiting for her husband to mention it, and no one did so I finally brought it up, and they looked to me to do it, so I did. I have to say that it truly was a very spiritual experience and she calmed down and I know that the Lord will heal those that have faith to be healed. (Josh)
To see the changes on me and people. To pray and receive guide. (Cristina)
We had so many spiritual experiences.  The people of Argentina are so warm and kind! (April)
Too many to share, many too personal. In the final testimony meeting at the mission home, during my time to talk, I felt too overwhelmed by the Spirit that my knees almost buckled. This is when I knew that in spite of all of my flaws and mistakes, my sacrifice was accepted. (Jared)
So many experiences where I felt the Spirit guide me to people in need. I recall several times leaving lessons feeling like I was on air, being filled with the Spirit. (Alex)
Any cool facts about the Argentina Neuquen Mission?
Argentina has a heavy Italian influenced culture. Most foods are very Italian, like pastas, and pizzas. The mission of Neuquén is very diverse due to how big it is. The mission itself has large cities with paved roads and lots of small towns that only have paved roads on the center street where shops are located. In a city, you will find a large span of those who are well off financially and those who live in shanty towns barely making it off of the government welfare. (Cody)
The wind is so crazy and they don't have a ton of paved roads in most of the areas, so you get pelted in the face by rocks and dirt all the time. You walk about 12 miles per day and eat a ton of pasta and gluten things. (Natilee)
There are lots of Chileans. The siesta is super frustrating to work with as a missionary. Oh, and you'll get used to the smell of mate. 🙂 (Jessica)
It's the best mission! (Camille)
If you serve along the Andes Mountains, you feel like you're in Europe. If you serve anywhere else, you feel like you're in Southern Utah or Nevada. (Michael)
It's cold, windy, and dry! They don't eat rice and beans. It covered a huge area, one of the biggest missions. There is a rich, western European presence thanks to WWII. (Emily)
Lots of Italian influence. The food is delicious. The terrain changes immensely depending on your area. Neuquén is kind of desert landscape, but if you go north toward Rio Negro there are orchards. There are areas on the coast and in the mountains. There are penguins if you go far enough south. (Cami)
It's the best mission! 🙂 It's a different world in almost every area you go. The accents vary from place to place too. (Nicole)
We were the 3rd biggest mission land-wise in the world. Lots of bus rides, lots of traveling in general. (Jacob)
At the time, the mission was so large that it covered the same distance as from the Canadian border to the Mexican border and all my transfers were by plane. Also, the temperatures and weather are so variable that on the same day one part of the mission could be in 100 degree heat and the other in 20 degree cold and snow. (Jeremy)
The rain does not come down from the sky, but sideways and the roads fill up like rivers. (Ferrin)
My favorite area, Ushuaia, is the southernmost city in the world. Sadly, a couple of years after I got home, Ushuaia went from being part of the Neuquen mission to being a part of one of the Buenos Aires missions since transfers would be simpler. Ushuaia has an international airport, so instead of taking puddle jumpers down the second largest mission in the world, they figured make it a direct shot. Also, Ushuaia is practically the polar opposite of Alaska, so during their summer, when we were returning to our pensh at 9:30, the sun was directly above our head and wouldn't set for another few hours. Of course, I was also there during their winter, so the days were very short, and, since most of the days were overcast and snowing a lot during those days, I rarely saw the sun. Sometimes, I would go days without seeing it. (Kirk)
I was told that Comodoro Rivadavia has more dogs than people and I believe it. 250 k people and 300 k dogs. You can't take boleadores home on your carry ons, pack them underneath. They are a (blunt force) weapon. Pay the 15 pesos at the airport to have your luggage shrink wrapped, it is cheap insurance. Bring your mom a great gift, she deserves it. (Josh)
The views. The sunset has more colors unseen before. (Cristina)
This mission has all four seasons. We had our meal with members at lunch time. You wash your clothes by hand in a bucket. Most of the areas were dirt roads. You will need thick soled sturdy shoes. You have to walk every where. The seasons are opposite of the United States so summer is during Christmas. (April)
At the time, it was the largest mission with regard to land mass but only had about a million people. The furthest zone leaders from the mission home were a 40 hour bus ride and half of that zone was another airplane ride away onto the island of Tierra del Fuego. (Jared)
Lots of wind, yummy Italian food and it was the largest mission geographically in South America (I believe) until it was divided into the Neuquen and Comodoro Rivadavia Missions. (Alex)
What was the weather like in the Neuquen Mission?
In the north, it is hot and sunny during summer and mildly cold during winter. In the south, it was very cold and snowing during winter and pretty warm during summer. I did have one day that it snowed in the middle of summer when I was down south though. (Cody)
You need to be prepared for EVERY possible type of weather. Seriously, you may be in warm weather or super cold weather it just depends. There are areas of the mission that get Idaho/Utah cold in winter and rain a TON, with TONS of wind (wind is actually pretty much everywhere in the mission). There are other areas that get boiling hot in summer (I would suggest Texas hot with a little less humidity). Some places are super rainy and others even get hail. Be prepared for EVERY type of weather you can imagine. (Natilee)
It was super hot most of the time. The farther south you go, the colder it gets. In Bariloche, I was there in the winter, and we got a lot of snow and rain. Also, it's super windy most of the time. (Jessica)
Cold and hot. It was also very windy. (Camille)
WINDY!!! (Michael)
Cold, dry, and windy, not unlike Idaho and similar states. (Emily)
Not terrible. Windy. Dusty. Cold in winter, hot in summer. It depends on the area because the further south you get, the colder you'll be. (Cami)
The weather varied significantly. Since I was there, the mission has been split in half, but I'm sure that is still true. Very hot in the northern areas, snow in the western areas (by the Andes), windy by the ocean (and other places too!). (Nicole)
Almost the same as Idaho/Utah. (Jacob)
Variable depending on the day and region. I did nearly two years in winter like conditions. (Jeremy)
Frio era Neuquen. (Luis)
Great. (Ferrin)
Absolutely freezing to uncomfortably hot, depending on whether or not you're wearing your suit coat. Ushuaia is 400 miles from Antarctica and I was there during the latter stages of winter on through to late summer. Even during the spring and summertime, it was never really hot in Ushuaia. (Kirk)
I was where it was cold when it was cold and hot where it was hot, I was told Neuquen has been divided and it doesn't go so far south anymore so maybe not as cold? I went back last year and the exchange rate is great for us. In 96 an alfajor candy bar was $1-1.50, now the most expensive ones are now 15-20 cents! Based upon the exchange rates. You can now buy things really really cheap. Today it is 1:14. They joke about how expensive onions are and trading your first born for a sack. (Josh)
In the very south, it is windy. (Cristina)
Hot in the summer… December, January. Cold in the winter… June, July. (April)
Cold and windy. (Jared)
Very windy, hot in the summer and cold in the winter.  Snow in the Andes mountain range, during the winter. (Alex)
What's something you wish you did to prepare for your mission?
I wished I had completed studying the Book of Mormon and at least have had read Preach my Gospel before entering the Mission Training Center. (Cody)
Don't expect perfection. Come to trust in the Atonement, especially the enabling power of it. (Jessica)
They are humble. They are kind. They are very welcoming. They have a lot of pride for their country and their soccer team. The members LOVE the missionaries. (Michael)
How to be humble, how to have true empathy. (Emily)
Stop counting time! The time will pass as it will, but if you focus on the work, it will be more enjoyable. (Nicole)
I wish I would have strengthened my testimony and knowledge of the Book of Mormon. (Jeremy)
That it was going to be hard and to just deal with the hard stuff. But that also there will be amazing experiences that get you through those hard times. (Jacob)
I wish I had brought more of my own money for jerseys and all the cultural things of the country. Man do they love their soccer. (Kirk)
Study the language by listening even if you don't understand. You will get used little by little. Pray to overcome frustrated. Is part of learning. It makes us humble to pray with more intention. (Cristina)
I wish I knew how much I was going to miss it when it was over!  I wish I worried less and loved my companions more! So many little things that pop up between you and your companion can be solved by more love. (April)
I love everything about it and them. I would not change a thing. I learned so much from the things that I considered negative and difficult at the time. I learned almost daily specifically on strength that I gained through the spiritual and physical trials. (Jared)
I feel like I talked with lots of people before my mission, but I would have even tried to talk with more.  I also would have watched the videos with returned missionaries. (Alex)
What advice for pre-missionaries going to the Argentina Neuquen Mission?
Enjoy every moment. I know it's cliche to say, but it really does go by too quickly. If you give it your all, you will receive so many blessings, and gain such a strong testimony. Missionary work is the the best work on earth and you have such an amazing opportunity to do it full time! So enjoy it! Look for the blessings and little miracles in each day. (Jessica)
There isn't a day that goes by that I am not grateful that I was able to serve in Neuquén. As you learn to love the people, the work will become so meaningful and purposeful for you. (Camille)
Be humble, learn true empathy and charity and you will do just fine. (Emily)
It will be an experience different than any other in your life. It will teach you lessons that Heavenly Father needs you to learn that you may not be able to learn in any other way. It will be for good for generations for those you teach and your own family. (Nicole)
Get ready to walk, be rejected, eat the best food you'll ever have in your life, make best friends with many people, and prepare yourself for Montezuma's revenge. (Jacob)
Strive to receive a strong spiritual testimony of the prophet Joseph Smith. Keep a routine journal and put aside time every day to write in it. (Jeremy)
Argentinian people despise the British. They have since the Falkland Islands War, which they lost to the British. If you're American, they'll assume you're British. They'll just jeer you. Nothing crazy. Just be ready for it and don't bring up the "Islas Malvinas." (Kirk)
About overcoming getting frustrated with lazy or negative partners. (Cristina)
Just have the best time, you will love it, and miss the people when it is over! Oh and stick to the rules. There is so much safety and peace that comes from sticking to the rules! (April)
Be prepared to be physically, emotionally, and spiritually challenged. Love the work that it will take to face all three types of challenges. Never slow down, and remember that sacrifice brings blessings. (Jared)
Focus on serving your companion.  If you serve and love your companion and are obedient, you'll accomplish great things. (Alex)
Any things you really like about Argentina/Argentinians?
The members were always so kind to the missionaries. Most of the time, I was well fed thanks to them. When I was incredibly ill and unable to move, a member came to my apartment to drive me to the hospital. When members heard you did't have food in your apartment and it was a Sunday, someone would always bring something by. (Cody)
The sky in Argentina is the most gorgeous thing I have ever seen. Nothing compares to the colors and majesty that exist in the sky. (Natilee)
EVERYTHING! The people are so loving and open once they get to know you. The country is beautiful. (Jessica)
They are very loving. (Camille)
Warm and loving. (Emily)
EVERYTHING. The places were BEAUTIFUL. The scenery is awesome. The culture is so rich. Even though most people rejected us, they're so very humble and they love to give you things. They're so giving in many different ways. The culture shock is a bit hard at first, but you learn how beautiful it is and you learn to love it.The people are warm, caring, and open in general. They greet everyone with a kiss on the cheek which is something I really miss. (Cami)
For the most part the people listened. Whether or not they continued with the lessons, they were usually cordial…with exceptions of course. (Nicole)
That I made eternal friends with people that I may never have the opportunity to see again in this life. (Jacob)
Amable" The people are very loving when you show love and respect to them. Some of my closest friends still remain those I met on my mission. (Jeremy)
You feel that there is a bond between you and the people there half way around the world, so that you know that they are your brothers and sister that you said you would go and find. (Ferrin)
Unlike America, people in Argentina, even total strangers, will usually tell you "good morning" or "good afternoon" as they pass you in the street. I never had that in America before I went down to Argentina. (Kirk)
Everything. Very great people. "The people from Tucuman are thieves, the people from Cordoba sing when they talk (true), the people from the capital (porteños) are arrogant (also true). (Josh)
The hospitality. (Cristina)
They are a very believing people and are very open to talking about God and religion. (April)
I love everything about it and them. I would not change a thing. I learned so much from the things that I considered negative and difficult at the time. I learned almost daily specifically on strength that I gained through the spiritual and physical trials. (Jared)
The food…I really miss all the yummy home made foods. I also really like how homes are often very simple and affordable. (Alex)
What things can you not buy in Argentina?
I think it all depends what area you are in.  If you are serving in Neuquen you will have access to a Walmart which has most things you would probably want. (Alex)
Any packing/clothing advice?
Don't bring more than two suitcases, a carry on and your bag. You'll have to be carrying your bags around terminals every time you are transferred and if you can't carry your own items it makes it difficult. Sometimes you may have to bring your bags to your apartment yourself, so make sure that the bags have solid sturdy wheels. (Cody)
Get a bubble umbrella. With all the rain and wind, any other umbrella breaks, and bubble umbrella's don't exist in Argentina. Also, mouthwash is CRAZY expensive (as well as most other hygienic supplies there) so if you want some, then take it with you. Pay extra for having an overweight bag. Seriously, it will be worth it. (Natilee)
Sisters, pack skirts that work well with wind. Otherwise, you'll be fighting a lot with your skirt. Also be prepared for any sudden changes in the weather throughout the day. Get sturdy shoes. You'll be walking a lot, especially on dirt roads. (Jessica)
Don't over pack. It will make it harder to transfer. Bring clothes that don't need a lot of ironing. Also DON"T get cheap shoes! Your feet will thank you! (Camille)
Bring American deodorant. Prepare for lots of dust/dirt and wind. (Michael)
PACK WARM and invest in a good wind breaker and boots. (Emily)
Comfortable, durable shoes. There is a lot of walking. I think I went through 9 pairs of shoes on my mission. Bring a rainproof jacket/coat. (Cami)
Pack layered clothing so you can remove things if it gets hot. It often started cold during the morning hours, but then as you walk around and the sun gets warmer, you want less on. (Nicole)
Get thermals for the winter to wear under your pants and shirt. You'll thank me later. (Jacob)
It is difficult to pack for two years. I had money wired to me so I could buy items I needed instead of relying on mailing from overseas. (Jeremy)
Follow what the paper tells you to. (Ferrin)
Pack for both extremes of weather because I had both. (Kirk)
Get really good boots, Doc Martens are not good. And good socks. Argies have really small feet, anything over 9 is very big. Buy your compi good shoes. They will come out on crappy ones. (Josh)
Thermal clothing. Soft shoes. (Cristina)
You will need sturdy clothes that can hold up to hand washing and line drying. You will be lugging your stuff every time you travel so pack light. Leave behind the supplemental stuff they give you at the Mission Training Center, you won't need it. Bring 7 skirts, 7 short sleeve shirts, 7 long sleeve tops, 3 sweaters, waterproof trench coat with a really warm zip out/button out lining, 2 really great pairs of thick soled shoes, tights for winter…5 or 6 pairs. (April)
Swimmer's parka…waterproof and warm. I didn't have one but wish that I had. Sorrels, I had them and was grateful almost daily. (Jared)
What blessings did you receive from serving a mission?
I now have learned how to properly be motivated and work hard. I've learned how to listen to the spirit and have him constantly in my life to help me improve it greatly. I know how to properly treat people even when I don't agree with them. And I have learned patience and long-suffering with trials and people. (Cody)
EVERYTHING. Seriously, there is no blessing I didn't receive from the mission. (Natilee)
Too many to count. I met so many incredible people that will be forever in my heart. One of the biggest blessings is the testimony that I gained of the Gospel and especially of the Savior. I have come to know Him in a way that I probably would never have been able to. (Jessica)
There are SO many blessings that I have received from serving. My testimony has been strengthened in innumerable ways. I also learned to speak Spanish and have used Spanish almost daily since I have been home. I have also created friendships with people throughout the world. (Camille)
Joy from seeing others light up as they learned about the restored gospel and accepted, made and were faithful to the covenants they made in order to return home. The First Presidency's promise in the beginning of Preach My Gospel is true that greater happiness awaits you than you have ever before experienced. (Michael)
My whole life's course was changed. In a good way. (Emily)
I can't even name them all! I was protected. My family was blessed. I learned so much from every one of my companions. I became more organized, closer to and more reliant on my Savior, and I understood and felt more fully the magnitude of the Atonement and God's divine plan for us. (Cami)
My entire life has been blessed because I chose to serve a mission. My family and children have been blessed to have the experiences and testimony building from the mission. (Nicole)
Spiritual knowledge, the gift of tongues, eternal friendships, and the lessons of hardworking and being rejected, but persevering. (Jacob)
Everything I am today and the family I have. (Jeremy)
A guide to know what I want out of life and how to achieve it. (Ferrin)
Confidence as well as humility. The mission brought me to "highs" and "lows," and having both really goes a long way in molding your character, but, most importantly, building your testimony. (Kirk)
Years later I met my wife through a Facebook group. Didn't know her then. (Josh)
No more being shy. (Cristina)
I believe that I have been blessed with all that I need and more throughout my life as a direct result of my mission and subsequent service. The Sermon on the Mount says it all. (Jared)
I feel like I am a much more confident and social person. I also gained a testimony that I can do anything with the Lord's help. (Alex)
What are some skills you gained?
I learned how to cook a lot of different foods well, keep an apartment clean, sew, how to prepare a lesson fast, how to speak in public…prepared or not, how to speak Spanish, and how to get along with people and earn their trust. (Cody)
Speaking Spanish, communicating, loving others, consecration (which is still something I'm working on), prayer, recognizing my gifts, recognizing the Spirit and loving the Atonement. (Natilee)
Language, more confidence in speaking and testifying, better able to communicate with others. (Jessica)
Speaking Spanish, reading a map. (Camille)
Proficiency in the Spanish language. Teaching abilities. Communication skills. Leadership skills. (Michael)
Confidence. (Emily)
Speaking Spanish, organizational and time management skills, listening, teaching, being more assertive. I know there are more but that's probably enough. (Cami)
I already spoke Spanish before my mission, but I became completely fluent while there. I got to see a different world, and that may be the only time I have that opportunity. (Nicole)
Speaking Spanish. Overcoming the fear of talking to strangers. (Jacob)
Showing and retaining the Spanish language. Confidence in talking to people. Leadership skills. Learning compassion and love. (Jeremy)
Spanish, learn what makes people do the things they do and figure out how to help them. (Ferrin)
Spanish, social skills, being able to approach a stranger and strike up a conversation, planning, scheduling, discipline. (Kirk)
Spanish, how to work really really, really hard, my companions that never did sports were soft. How to set goals. (Josh)
Trust in the Lord and being brave. (Cristina)
I speak Spanish. (April)
I learned to listen to the Spirit, how to love, how to forgive (including myself), how to work, how to lead, how to listen to people, how to share. (Jared)
Is there anything you wish you knew/did at the beginning of your LDS mission?
I wished I had completed studying the Book of Mormon and at least read Preach my Gospel before entering the Mission Training Center. (Cody)
Be okay with asking for tons of blessings of comfort. They end up being some of the most precious things to you. Also, don't expect all His promises to be fulfilled in the beginning. Most of His promises are fulfilled after the trial of your faith. (Natilee)
Be obedient but enjoy your mission. Be happy. The mission goes by faster than you think. Work hard. TALK TO EVERYONE! Trust in the Lord. You will see miracles. Things work out on HIS time. Cherish every moment. (Camille)
Been more open with my Mission President in my weekly letters to him. (Michael)
How to be humble, how to have true empathy. (Emily)
I wish I had been braver in listening to the spirit and in speaking Spanish. I would have been more willing to ask people when I didn't understand what they were saying. (Cami)
That it was going to be hard and to just deal with the hard stuff. But that also there will be amazing experiences that get you through those hard times. (Jacob)
Don't buy a lot of shoes to take there. They only last a couple of months just buy more when you get there. (Ferrin)
I wish I had brought more of my own money for jerseys and all the cultural things of the country. Man do they love their soccer. (Kirk)
There are only three people you should write on your mission, preparation day is short, so don't write girls, first write your mother, no one worries like mom, then write the Mission President; your compi is, so he should get both sides, and write your children. Write in your journal and show them the miracles brought forth in your life and in the lives of others.  (Josh)
I wish I knew how much I was going to miss it when it was over!  I wish I worried less and loved my companions more! So many little things that pop up between you and your companion can be solved by more love. (April)
That I didn't need to know everything. (Jared)
I wish I understood more about Argentina. I didn't study Argentina much before the mission and didn't have the opportunity to study travel books while on the mission. I feel that understanding the people better would have helped me to serve them better. (Alex)
What was a funny language mistake on your mission?
I had a moment where we were doing an exercise during a training meeting. I was a brand new missionary and I was blindfolded and brought into a room, lifted up onto a table. I heard something about don't worry, and we'll catch you. Naturally I thought that this was a trust fall exercise. What I didn't know was they were telling me to saltar, to jump. The exercise was supposed to make you feel that you had been lifted onto a table by two elders and you were supposed to jump off of the table and land safely. However you remained on the ground, unknowingly, and were supposed to jump off of what you believed to be three feet and it was ground level. So I, trusting my fellow missionaries to the fullest, fell forward and fell flat on my face. I was so surprised. Everyone rushed to help me and then to the Sister missionary who go the whole thing on film. (Cody)
There are some common false cognates that people make in spanish. One is embarrassado which does not mean embarrassed, but rather pregnant. I never made that mistake, but I'd heard others do it. (Natilee)
"I only have 2 peces left for the month!" "And… money?" (Pez=fish peso=money). (Jessica)
Let's just say this. Make sure you learn the difference between the word ramera (used in the scriptures) and remera. (Camille)
"Ella es buena" means "she is good". "Ella esta buena" means "she's hot". When asked what I thought of the bishop's wife, I responded with the latter. Don't do that 🙂 (Michael)
My companion meant to say abdominales (abs) but instead said abdemonios, which isn't a real word but would translate to "ab demons". (Cami)
I was speaking to my companion (fortunately no one else!) and I began talking about how beautiful it is to see parajas (birds) walking together on the street. I meant to say parejas (couples). (Nicole)
Not appropriate. It was hilarious, but not appropriate. You'll find that those types of things happen when learning a language. (Jacob)
To say embarrassed is to say "Tengo verguenza", but to say "embarasado" sounds like it would be the word but that means I'm pregnant. (Jeremy)
It was common for the illiterate people to add an 'n' at the end of the 3rd person imperitive of a verb. For example, to 'sientense' (sit yourselves down) they would add an 'n' making it 'sientensen'. I picked up this bad language habit thinking it was proper Spanish and didn't know any better until a companion of mine who came from Buenas Aires brought it to my attention by saying, "You speak awfully. Where did you learn to speak like that?!" (James)
Don't read the graffiti on the walls and repeat what you read. (Ferrin)
Panzita and pancito are two different words. One means "belly" and the other means "little piece of bread." My Zone Leader's junior companion once asked if he could have a bite of his companions "belly" instead of "bread." (Kirk)
Abrazar to hug, embrazar to impregnate. Don't get these confused. (Josh)
Hmm, I'm sure I made a ton, but I can't think of them right now. A couple times I had people on the phone mistake me for being a girl, because of my high-pitched voice. (Alex)
Is there a principle from the scriptures that you think is helpful to missionaries?
The promise of faith given by the Savior in 3 Nephi. If we ask in faith, according to the Lord's will, it will be done. (Alex)
Any advice/testimony for pre-missionaries going to Neuquen?
I would say to trust in the Lord at all moments. It will be hard. It will test your patience. You will be mistreated. You will become very frustrated and stressed from time to time. You may even want to go home at times. But always trust the Lord. What he is doing to you is molding you into who you need to be for him. As time goes on, it will become easier. But in those moments of hardship, just push forward trusting Him, knowing that you can do it with His help. (Cody)
Be exactly obedient. It is nearly impossible to do, but the Lord knows your effort and will bless you all the more for it. If you haven't, read "The 4th Missionary" and "Becoming a Consecrated Missionary". Read them often throughout your mission because you will receive different insights. Strive to be those missionaries and never get discouraged by your efforts. Don't expect to see your tree grow. Progress is slow, but after months you will clearly see the difference. (Natilee)
There isn't a day that goes by that I am not grateful that I was able to serve in Neuquén.  As you learn to love the people, the work will become so meaningful and purposeful for you. (Camille)
Forget yourself. Talk with everyone. Focus on covenants. It's all true. (Michael)
Be humble, learn true empathy and charity and you will do just fine. (Emily)
Just love the people! They are amazing. It's easy to get into a routine or just memorize what you want to say but don't! They deserve so much more. Be obedient so God can bless you and your investigators, but don't get caught up in numbers. (Cami)
It will be an experience different than any other in your life. It will teach you lessons that Heavenly Father needs you to learn that you may not be able to learn in any other way. It will be for good for generations for those you teach and your own family. (Nicole)
Get ready to walk, be rejected, eat the best food you'll ever have in your life, make best friends with many people, and prepare yourself for Montezuma's revenge. (Jacob)
Man up and get ready to be the representative of our Lord JesuCristo. (Ferrin)
There is no reason to talk to the sisters. (Josh)
Just have the best time, you will love it, and miss the people when it is over! Oh and stick to the rules there is so much safety and peace that comes from sticking to the rules! (April)
Be prepared to be physically, emotionally, and spiritually challenged. Love the work that it will take to face all three types of challenges. Never slow down, and remember that sacrifice brings blessings. (Jared)
Have a wonderful time!  You'll look back and be amazed how fast time went by.  Make the best of it! (Alex)
Returned Missionary Video Interviews
Danielle's mission interview includes (2011-2013): Danielle's choice to serve a mission, being temporarily reassigned to the Texas McAllen Mission, interesting facts about the Neuquen Mission, Argentinian Spanish, travel tips, a funny story about cats, what it's like to live in Bariloche, helpful advice for sister missionaries, the blessing of mission presidents, a memory of meeting her Mom's trainer, uplifting Gospel messages in Spanish and much more.
Tawnette's mission interview includes (2011-2012): Tawnette's decision to serve a mission, experience at the MTC, arriving to the mission field and interesting facts about the Neuquen Mission. She also talks about the food, crime, transportation, weather, sister missionary clothing tips, missionary companions, helping less actives and the importance of keeping a mission journal.
Bradley's mission interview includes (2008-2010): Bradley's advice for pre-missionaries, interesting facts about the food, climate, places to see, traditions, history, lifestyle and crime in Argentina. Bradley also shares some impactful life lessons on patience, and companionship unity. He finishes his interview with a couple inspirational messages in Spanish.
Alex's mission interview includes (2008-2010): Alex's memories from the MTC including: avoiding his girlfriend, serving other missionaries and eating in the cafeteria. Alex shares some spiritual and crazy mission stories, involving: dogs, drug lords, getting robbed, being spiritually strengthened, finding 100 new investigators in one week, trying new contacting techniques, preaching boldly on buses and meeting someone prepared by an inspired dream. He also talks about Argentine culture, Patagonian winds, misconceptions about the Church in Argentina and fun service projects.
Melanie's mission interview includes (2008-2010): Melanie's decision to serve a mission, revelation regarding the inspiration of her mission call, advice for future missionaries called to the Neuquen Mission, the importance of promising blessings to investigators and advice for sister missionaries on dealing with discouragement. Melanie also shares some culture tips about Argentina, interesting facts about some areas she served in and an amazing story about how she prepared five converts in one transfer.