Here are free resources about the Argentina Cordoba Mission:
  Aquí están algunos recursos gratuitos sobre la Misión Argentina Cordoba:
*Other Mission Pages: Argentina LDS Missions.
---
---
Argentina Cordoba Mission Address
Here's a recent address for the Cordoba Mission. We try to keep this information up to date, but it's a good idea to check the mission address with several sources, including your mission packet or the mission office.
Argentina Cordoba Mission
Gay Lussac 5270, C.C. 17 Suc 9 Villa Belgrano
Apartado Postal No 49- X5009 ZAA
ARGENTINA
Phone Number: +54-3543-420-699
Mission President: President Pedro Fco. Correa Cardenas
Argentina Cordoba Mission Map
Here's a link to the mission map for the Cordoba Mission (LDS). To access the official, up-to-date LDS.org map for the Cordoba Mission
Log into your LDS account here.
Click here.
Argentina Cordoba Missionary Blogs
Here's a list of LDS missionary blogs for the Cordoba Mission. This blog list includes the missionary's name, URL and when their mission blog was updated.
*Send your missionary a gift (mission-specific shirts, ties, Christmas stockings/ornaments, pillowcases, etc.)
Argentina Cordoba Mission Groups
Here are Cordoba Mission Groups- for LDS missionary moms, returned missionaries, mission presidents and other alumni of the Cordoba Mission.
Argentina Cordoba Mission T-Shirts
Here are T-shirts for the Argentina Cordoba Mission!
Shirt designs include Argentina Cordoba Mission logo/emblem shirts and Called to Serve shirts. The shirts make great gifts for pre-missionaries, returned missionaries and missionaries currently serving. LDS Mission shirts come in all sizes: Small, Medium, Large, Extra Large, up to 4XL.  The mission designs are printed on white shirts and are shipped to you.
*Simply click on a shirt design to view the details and submit an order. The designs on mission t-shirts may also be printed on other LDS mission gifts, including: Argentina Cordoba missionary aprons, Christmas stockings, ties, pillow cases, teddy bears and Christmas ornaments.
*Click here to browse Cordoba Mission gifts
---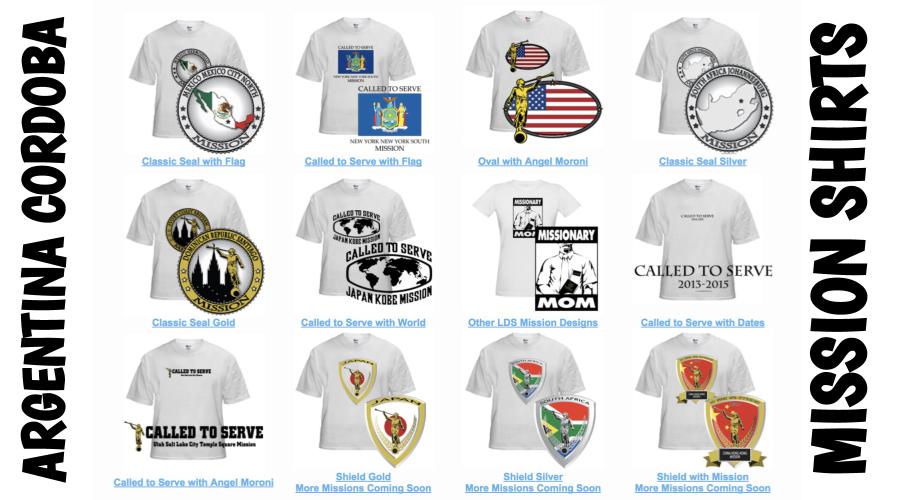 ---
*Click here to see our new shirt design for the Argentina Cordoba Mission:
---
---
Cordoba Mission Presidents
Here's a list of current and past Mission Presidents of the Cordoba LDS Mission.
2016-2019, Pedro Fco. Correa Cardenas
2013-2016, Ruben V. Alliaud
2010-2013, Alfredo L. Salas
2007-2010, Stephen L. Olsen
2004-2007, Ron Gardner
2002-2004, Steven Dale Ogden
2000-2002, Enrique Manuel Garcia
1997-2000, Juan A. Etchegaray
1996-1997, Oscar Abrea
1993-1996, Craig A. Hill
1990-1993, Gary C. Lunt
1987-1990, Tomas F. Lindheimer
1984-1987, Carlos Ruben Fernandez
1981-1984, O. James Klein
1978-1981, Hugo R. Gazzoni
1975-1978, Omar R. H. Righi
1972-1975, Marvin Earl Brown
1969-1972, Henry Clay Gorton
1965-1969, Richard D. Scott
1962-1965, Ronald V. Stone
Argentina LDS Statistics (2015)
Church Membership: 432,007
Missions: 12
Temples: 2
Congregations: 765
Family History Centers: 107
Helpful Articles about Argentina
Argentina Cordoba Missionary Survey
Here are survey responses from Argentina Cordoba RMs, to give you a snapshot into what it's like to live in the mission.
*Click here to take a survey to help pre-missionaries going to your mission.
When did you serve?
2011-2013 (Jonathan)
2011-2013 (Collin)
2006-2008 (Ross)
2004-2007 (Ron)
2001-2003 (Micah)
1985-1987 (Spencer)
August 1967-December 1969 (Jessica)
What areas did you serve in?
La Madrid/20 de Junio, Jardin, Unquillo, Rio Ceballos, Alta Gracia, La Rioja Capital, Villa Allende. (Collin)
Alma Fuerte, Rio Tercero, Chacabuco, San Vicente,  General Paz, Dean Funes, Villa Libertador, Los Boulevares. (Micah)
Salta, Tucuman, Santiago del Estero, Córdoba, Jujuy, and Mendoza. (Spencer)
I was in the Argentina North Mission back then. (Jessica)
What were some favorite foods?
Empanadas, Milanesas, Asado, Ñoquis, Guizo de arroz, Cow tongue. (Jonathan)
Empanadas, noquis, milanesa, chimi churri. (Collin)
Empanadas, Lomitos, Alfajores. (Ross)
Empanadas, Azados. (Ron)
Limit, empanadas arabeses, pasta relleno, facturas. (Micah)
Choripan, empanadas, milanesas, chocro, mantecol, alfajores de Bagley Blanco, dulce de leche. (Spencer)
Empanadas, asado, milanesa, alfajores, fruit salad and so much more! (Jessica)
What was a funny experience?
My first contact we knocked on this guy´s door and he opened it.  His dog ran out and he yelled for about 5 min. I did not understand a word then he slammed the door in our face. (Jonathan)
The street flooded one Preparation Day, so our whole zone went rafting down the street. (Collin)
When knocking doors one day, a grown 50-year-oldish man answered the door buck naked. I was shocked, but my companion started talking to him like nothing was wrong. (Ross)
It was fun to play ping pong and tennis with the office Elders on preparation day. (Ron)
Street flooding and playing with local kids. (Micah)
Having a monkey steal my backpack at a zoo in Mendoza. (Spencer)
My companion and I were riding our bicycles along side a bus and someone leaned out and threw up all over her!! Wasn't funny then but now we can laugh! (Jessica)
What was a crazy experience?
I almost got arrested twice. (Jonathan)
Getting robbed six times. (Collin)
I got robbed at gun point a few times. (Ross)
Unfortunately, there were too many robberies of missionaries. What was crazy is how often they took the sacred scriptures since that was all they really had. One time, the assistants rolled their car coming down a mountain… drive carefully please. (Ron)
Rocks being hurled at us from moving cars. (Micah)
Walking down a dirt road that was closed and being chased by a German Shepard. (Spencer)
I always hated riding our bikes downtown in all the traffic! I think one companion in particular got a thrill out of it! (Jessica)
What was a spiritual experience?
I was with my zone leader and we had gotten done really early so we prayed and I felt prompted to visit a sister that we had just stopped teaching. We had the most spiritual lesson that we had ever had with her and she was later baptized. (Jonathan)
Every single day! (Collin)
Every day was a spiritual experience. (Ross)
Too many to count. One particular one for me was when I was speaking at a Stake Conference and had mentioned that my dad had served in Argentina in the early 1940's. A sister approached me after and said, "I think I know your father!" It turns out that she was one of the two baptisms he had in the 33 months he served there. She was only 10 years old at the time of her baptism, but had kept a picture and note from dad for over 65 years. She gave me a copy to send to my dad. She is now the matriarch of a family of 37. They are all active and almost all of the young men have served missions. It fulfilled dad's mission all those years later. You never know what seeds you might sow on a mission. (Ron)
Having an investigator grab my arm and ask what they had to do to be baptized that same day. (Micah)
A companion from the Mission Training Center gave a young married woman with cancer a blessing that healed her and allowed her to have children. (Spencer)
Teaching a young couple in their very humble home. Tin roof, dirt floor, walls of canvas. We were able to see him pass the sacrament before we were transferred! (Jessica)
What are some interesting facts about the Cordoba Mission?
It is the oldest city in Argentina that was founded by the Spanish. There is a new temple there. In some parts of the mission they actually have an accent that sounds like they are singing their words. (Jonathan)
We have the best stakes in Argentina! (Collin)
Houses don't have door bells, so when you get to a door you clap until the resident comes out. (Ross)
The growth of the church is impressive in Argentina. We have multi-generational experience there. When my dad was there in the early 1940's, there were 600 members and one mission. When I served there in the mid 1960's as a young missionary, there were 6000 members, two missions and the first stake. When our daughter served there in the early 1990's, there were 60,000 members, nine missions and many stakes. When my wife and I returned in 2004-2007, there were almost 400,000 members, seven stakes in Cordoba alone and dozens and dozens throughout the country, and the number of missions was growing. Now (2015) there are 14 missions. (Ron)
Elder Zwick and Christofferson served in it. (Micah)
Carlos Ruben Fernandez was the Mission President the entire time that I served. There were 10 provinces at the time: Jujuy, Salta, Tucuman, Santiago del Estero, Mendoza, Córdoba, Catamarca, San Juan, San Luis, and La Rioja. The longest transfer (Jujuy to Mendoza) took at least 24 hours by bus. Usually the person would stop in Córdoba, spend the night at the mission home, and then continue to final destination. We were encouraged to teach people when they were available. This meant sometimes teaching until midnight. We could take a little nap during the siesta if needed. (Spencer)
Elder Richard Scott was my Mission President! He loved the sister missionaries and was always asking for more! His wife and I shared the same name (Janeen) which is my middle name. Elder Todd Christopherson was an Assistant to President, Clark Hinckley, Craig Zwick, and Mark McConkie were also in my mission! I felt like a very small person among giants! In our mission, we had to live with non-members. We ate with them, our laundry was done by the "criada" and our rooms cleaned! More time to do the Lord's work! (Jessica)
What was the weather like?
It is hot up to 100+ with humidity during the summer months. It gets really cold for about 1-2 months around July to August. It rains unexpectedly. (Jonathan)
Hot and dry. Cold and dry. (Collin)
They had four seasons in most parts of the mission. It was usually pretty humid. The northern part of the mission (Catamarca & La Rioja) got really hot and humid in the summer. (Ross)
The weather in Cordoba is somewhat like northern California, but to ask what the weather is like in Argentina as a whole is like asking what the weather is like in the whole United States. (Ron)
Like San Antonio, Texas. (Micah)
The climate ranged from subtropical zones to desert zones. The only time I remember seeing snow was in the mountains near Mendoza in the winter. Temperatures in the summer in Santiago del Estero could reach 120 degrees Fahrenheit. Most provinces felt cold in the winter due to the humidity and lack of central heating. (Spencer)
Any things you really like about the area/people?
Amazing people and places. Just everything is awesome. (Jonathan)
The people are respectable. Just be friends with them. (Collin)
People are super friendly. You be genuine with them and they'll be genuine with you. They are also super blunt, so if you don't get offended, it is really fun to joke around with them. (Ross)
Cordoba has the sierras with their mountain (small) getaways; the second most popular vacation spot in all of Argentina. But the members in Cordoba were the best part…warm and wonderful. The leaders of any of the stakes there could have led stakes anywhere in the world…strong and true. (Ron)
Wonderfully caring and bluntly honest. (Micah)
Wonderful, kind people. When you showed that you cared, you had a friend for life. Argentina is one of the most beautiful places on earth. (Spencer)
Everything! Such a loving, giving, caring people who treated us extremely well! (Jessica)
Any packing/clothing advice?
Pack a light raincoat because that is all you are going to want…it rains then gets really hot. (Jonathan)
You can get everything you need there. (Collin)
Everything The Church tells you to pack. (Ross)
Like I said about the Cordoba mission specifically, think of northern California; but the north provinces (Catamarca and La Rioja) are desert areas and get VERY hot in the summer. (Ron)
Prepare for hot. Pack light. (Micah)
The packing list provided by the Missionary Department is sufficient. I would recommend Mr. Mac polyester suites and plain lace-up shoes with thick rubber soles. (Spencer)
Cotton clothing best suited for the areas I worked in. I had winter clothing made there very cheaply and expertly! You show them a picture, they take your measurements and it's done! Beautiful! (Jessica)
What blessings did you receive from serving a mission?
Everything I have become is due to my mission. My parents were able to find the work that they needed because that was a worry before I left. (Jonathan)
Job opportunities. My beautiful wife and family! (Collin)
Everything. (Ross)
The connections with God's children and watching the gospel change and strengthen people's lives. And, of course, I was changed and strengthened at the same time. (Ron)
Everything I have today. (Micah)
My testimony of Jesus Christ and His church and leaders was strengthened. It was amazing to see people's lives change as they embraced the gospel and changed their hearts. Being the oldest of 8 boys and 3 girls, 8 of my siblings served full-time missions and all of my siblings were married in the temple. I also learned to speak Spanish, which has helped me in my work and church callings. (Spencer)
The blessing of receiving my own testimony and knowledge of the Gospel that has helped me so much in the past 48 years. (Jessica)
What are some skills you gained?
I learned how to talk to people. I was a really quiet person now I can talk your ear off. I also gained the language skills to help me in my chosen field of study. (Jonathan)
Spanish. Planning. Prayer. (Collin)
Hard work ethic. (Ross)
Language, organization and communication skills. Obviously, I grew in my ability to use the scriptures in teaching the gospel. (Ron)
Discipline and passion about being engaged in a cause. (Micah)
Leadership, organization, and language. (Spencer)
The blessing of receiving my own testimony and knowledge of the Gospel that has helped me so much in the past 48 years. (Jessica)
What do you wish you knew/did at the beginning of your mission?
I wish I had had more of a testimony of the Gospel. (Jonathan)
Talk to everyone! Don't be afraid of rejection. (Collin)
It's only two years, so work harder, study more, and pray always. Also, whatever is happening at home doesn't matter. (Ross)
Preach My Gospel is now an amazing tool for you. I have been teaching the Missionary Preparation class in our stake for eight years now. Become one of those missionaries who becomes a missionary before he/she actually goes on a mission. Get to know Preach My Gospel before you enter the field full-time; especially chapter 3, and you will make a great difference. Practice teaching the lessons before you go. (Ron)
Make sure I get all the other missionaries contact info. (Micah)
I wish that Preach My Gospel would have been available and that I had studied my scriptures better (i.e., took seminary more seriously). (Spencer)
I wish I had read the Book of Mormon and knew my scriptures better! Came from part-member family and I was the only active one. I often felt very inadequate and almost asked to be sent home the first week in the Salt Lake Mission Home! Had a wonderful talk with the most wonderful sister and she explained why I needed to stay and the Lord would bless me! And He did! (Jessica)
Any advice/testimony for pre-missionaries going to Cordoba?
Go there willing to make mistakes. They will laugh just laugh with them and they will love you. Don´t talk about the Falkland Islands (Malvinas). Don´t use slang from any other country because you never know which words will be offensive. (Jonathan)
Love the people. Do everything you can to get inside their homes to share your testimony. Play with the kids! They are a great way to break the ice. 🙂 (Collin)
Forget your life before the mission and work hard. (Ross)
This IS the Church of Jesus Christ and the elect MUST have the ordinances and blessings of the restored gospel in order to return to God's presence. Please recognize the importance of what you are called to do… and also the impact it will have on your life during and after the mission to continue serving God's children here on earth. (Ron)
Leave home at home. Make the mission your home. (Micah)
Love the people, keep the discussions simple, and focus on the Savior. (Spencer)
A working knowledge of the scriptures would help you a lot! Be humble and love others more than yourself! (Jessica)
What was a funny language mistake?
My greenie from Utah of Mexican descent called me a gringo but used Mexican slang and all the members stood up for me because what he had said was offensive. But he did not know better. (Jonathan)
I used vaca instead of boca for a whole week. Vaca is cow, boca is mouth. So, when I talked about speaking from the mouth of the Lord, I was saying we were speaking from the cow of the Lord. (Ross)
Embarazada (Spanish) sounds like it should mean embarrassed. But in fact it means pregnant! You can imagine the chuckle that Spanish speakers get when young missionaries think they are saying they are "embarrassed" about something and it actually means 'pregnant' in their language. (Ron)
In the discussions where Joseph Smith prayed in the grove, "Mientras Jose Smith oraba en el bosque…" Some missionaries would replace "oraba (prayed)" with "urinaba (look it up)", "ordeñaba (milked)", and "ordenaba (ordained)". (Spencer)
This told to me, an Elder said "embarrasada" for embarrass which in Spanish means pregnant! (Jessica)
Spencer (Argentina Cordoba Mission)
–Paraphrased from Spencer's mission interview–
Mission Geography
Cordoba is right in the center of Argentina, or the heart of Argentina as they call it. My mission in Cordoba also covered La Rioja and Catamarca which were a little bit north and northwest of Cordoba. It was about 10-11 hours from the top of the mission to the bottom by bus, so I got used to traveling like that.
The Church in Cordoba
The church in Cordoba is about 80 years old. On my mission I met a couple of the first pioneers of the church in the area. It was cool to see how much the church had progressed form a couple members to thousands. Now the church is just expanding a ton. The emphasis is on baptizing families and priesthood holders, which helped the church grow and retain its members. The Lord has been preparing everything, from the people and the surroundings for the temple which will be dedicated soon.
My first area began with only about 35 members, and then after about 6 months it grew to 120. I went to another branch that began with only 6 people. Later on I attended a ward with about 130 members. In the big city, there are a lot more members and wards, while in more distant places like la Rioja and Catamarca there a lot of smaller branches.
Life in Cordoba 
I feel like Cordoba is so unique it could be it's own separate country. The language there is really sing songy and is just a crazy accent. I love it. They also have their own music. It's a type of cumbia that comes from Cordoba. They special empanadas that they don't have in other parts of Argentina. The meat is cooked with lemon juice. I loved the food. I loved the people. I was expecting them to be more Latino looking, but they're all of Italian descent. Transport was usually through double decker bus. It rained quite a bit and it always rained hard and flooded the streets. Once there was a huge storm that knocked down big trees. In one area I never saw rain for six months. It gets really hot like 120 degrees. Cordoba itself is a little more mild. It gets pretty hot in the summer and pretty cold in the winter. A lot of houses I went into were just cinderblock or cement houses. There weren't really good directions or addresses, they would just tell you who lived by who. We helped build up a few roofs while we were there. Almost everyone builds their houses. Most people work in construction or they sell food or other things outside of their house. Cordoba is the second biggest city in Argentina.