Misión Argentina Bahía Blanca
Here are free resources about the Argentina Bahía Blanca Mission:
Aquí están algunos recursos gratuitos sobre la Misión Argentina Bahía Blanca:
*Other Mission Pages: Argentina LDS Missions.
---
---
Bahia Blanca Mission Address
Here's a recent address for the Bahia Blanca Mission. We try to keep this information up to date, but it's a good idea to check the mission address with several sources, including your mission packet or the mission office.
Argentina Bahia Blanca Mission
Chacabuco 1755
8000 Bahia Blanca
Buenos Aires
Argentina
Mission President: President Mark E. Cifuentes
Phone Number: +54 291-451-7633
Argentina Bahia Blanca Mission Map
Here's a link to the mission map for the Bahia Blanca Mission (LDS). To access the official LDS.org map for the Bahia Blanca Mission
Log into your LDS account here.
Click here.
Bahia Blanca Missionary Blogs
Here's a list of LDS missionary blogs for the Bahia Blanca Mission. This blog list includes the missionary's name, URL and when their mission blog was updated.
*Send your missionary a gift (mission-specific shirts, ties, Christmas stockings/ornaments, pillowcases, etc.)
Bahia Blanca Mission Groups
Here are Bahia Blanca Mission Groups- for LDS missionary moms, returned missionaries, mission presidents and other alumni of the Bahia Blanca Mission.
Bahia Blanca Mission T-Shirts
Here are T-shirts for the Argentina Bahia Blanca Mission!
Shirt designs include Argentina Bahia Blanca Mission logo/emblem shirts and Called to Serve shirts. The shirts make great gifts for pre-missionaries, returned missionaries and missionaries currently serving. LDS Mission shirts come in all sizes: Small, Medium, Large, Extra Large, up to 4XL.  The mission designs are printed on white shirts and are shipped to you.
*Simply click on a shirt design to view the details and submit an order. The designs on mission t-shirts may also be printed on other LDS mission gifts, including: Argentina Bahia Blanca missionary aprons, Christmas stockings, ties, pillow cases, teddy bears and Christmas ornaments.
*Click here to browse Bahia Blanca Mission gifts
---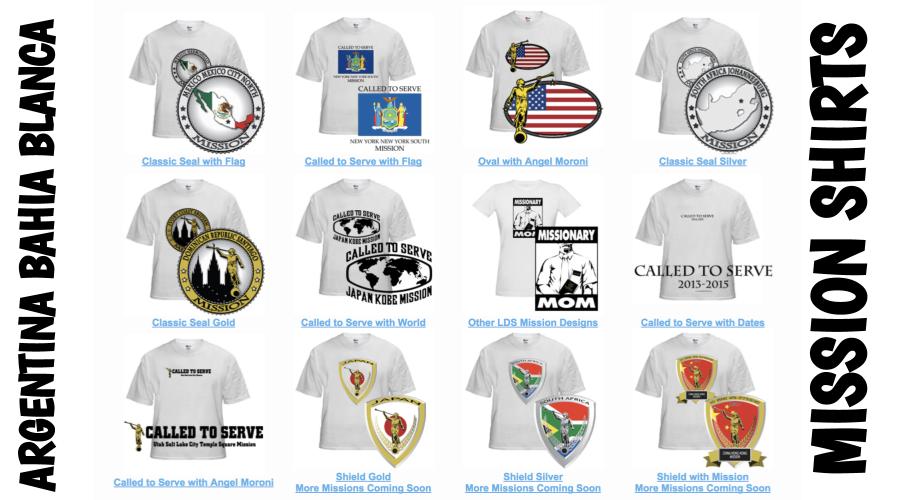 ---
*Click here to see our new shirt design for the Argentina Bahia Blanca Mission:
---
---
Bahia Blanca Mission Presidents
Here's a list of current and past Mission Presidents of the Bahia Blanca LDS Mission.
2015-2018, Mark E. Cifuentes
2012-2015, 

Manuel Parreño Ruiz

2009-2012, Jorge Esteban Detlefsen
2006-2009, Raul Hector Spitale
2003-2006, Luis Wajchman
2000-2003, R. Lavor Cardon
1997-2000, Brian Schuck
1995-1997, Ramon Alvarez
1992-1995, E. Reece Finlinson
1989-1992, Gayle Bluth
1986-1989, Agricol Lozano
1983-1986, Hugo N. Salvioli
1980-1983, Allen B. Oliver
Argentina LDS Statistics (2015)
Church Membership: 432,007
Missions: 12
Temples: 2
Congregations: 765
Family History Centers: 107
Helpful Articles about Argentina (Written by RMs)
Bahia Blanca Missionary Survey
Here are survey responses from Argentina Bahia Blanca RMs, to give you a snapshot into what it's like to live in the mission.
*Click here to take a survey to help pre-missionaries going to your mission.
When did you serve?
June 2013- June 2015 (Brandon)
2013-2015 (David)
2011-2013 (Ryan)
September 2011-September 2013 (Mason)
2011-2013 (Brandon)
2009-2011 (Sam)
June 2007-January 2009 (Sarah)
2001-2003 (Justin)
1982-1983 (James)
1982-1983 (Mark)
1982-1983 (Dale)
1981-1982 (Gregory)
no date (Daniel)
no date (Maria)
Which areas did you serve in?
Bahia Blanca, Mar Del Plata, Viedma, Santa Rosa. (Brandon)
Punta Alta; Mar Del Plata; San Martin De Los Andes; Bariloche; Bahia Blanca. (James)
Bahia Blanca, Mar Del Plata, Neuquen, San Martin de los Andes. (Mark)
Bahia Blanca, General Pico, Mar del Plata. (Dale)
Gaiman, Rio Gallegos, Tres Arroyos, General Roca, Neuquen. (Gregory)
Bahia Blanca y Mar del Plata. (Maria)
What were some favorite foods?
Asado, tallarines caseras, ñoquis, pastel de papa, chorripan. (Brandon)
Pastel de papas (Shepherd's pie), Ñoquis, Arroz con leche (rice w/ milk), and Mantecol (a common treat). (David)
Milanesa, ñoquis, pizza, pasta, pastel de papas, empanadas, dulce de leche, the bread, and asado (steak). Argentina is NOT Mexico. Expect to eat a lot of delicious Italian food. (Ryan)
Fideos caseros, milanesas, empanadas, dulce de leche. (Mason)
Everything! (Brandon)
Gnnochi, sorentino, empenada de humita. (Sam)
Savory crepes, shepherder's pie, fruit salad, lots of homemade pasta and sauce, slow cooked meats (lots of beef), and of course: dulce de leche (South America's response to caramel). (Sarah)
Empanadas. Milanesa. Fideos con tuco. (Justin)
Empenadas. Alfajores. (James)
Empanadas, milanesa, flan. All the food was good. Lots of meat and pasta. (Mark)
Milanesa, Empanadas, Ñoquis, Alfajores, Chorizo (Dale)
Alfajores Bagley Blancos, Empanadas (Gregory)
Empanadas, ensalada de fruta, y milanesas. Sobre todo ñioquis! (Daniel)
Spaguetti, Pastel de papa, milanesa a la napolitana, pizza, sorrentinos, asado, pie de jamon queso y maicitos. (Maria)
What was a funny experience?
Man walks into church, take him on as an investigator, forgets he's a member (we've been teaching him for 3 weeks). (Brandon)
Well, in many areas there are dogs that have been following the missionaries for years. We had a dog in Santa Rosa (named Suipacha) that we saw get hit by a car, and he lived! He ran over to us, and was hugging my comp! (Trying to get comforted, I guess) He was a good dog. (David)
Every moment was the greatest. I had some good laughs with companions. (Ryan)
My companion almost not making it home to the bathroom after lunch… (Brandon)
One time I got robbed in Belgrano, but then I fought the little pibes verbally and made them feel like complete idiots because all he took was hand sanitizer and pamphlets. The older brother could tell how dumb they looked but the younger one wouldn't give up and admit that he didn't have a real gun. Went on for another 15 minutes, then the kid ended up coming to church on Sunday to repent of what he tried to do to us missionaries. Lesson learned…don't take my hand sanitizer during a swine flu. (Sam)
We knocked on a door (garage) one night and the woman, in her 50s and unknown to us, who answered was surprised and pleased to see us. She hugged and kissed us, ushered us in, and then after a second look, apologized and sent us back out. She said that she thought we (in our 20s) were old school friends of hers! (Sarah)
Shopping for the first time. I never knew milk came in a bag or in a box. I was very disturbed. (Justin)
One time I blessed the food at an investigator's home and asked for all those who "mueren" (die) in this home to be blessed; instead of "moran" (dwell). (James)
My whole mission was fun. (Mark)
Worst haircut of my life by a member of our ward. After she finished cutting my hair, we found out she had just taken heavy pain killers to treat her pain from a recent surgery. Two days later, she didn't even remember and asked me who gave me that awful haircut. (Dale)
Living in an 8×8 shack behind the chapel in Rio Gallegos. Having nothing but 2 beds and a desk in it and having to run down the sidewalk and unlock the church to use the restroom. We didn't always make it to our desired restroom in the night. Especially after chewing 6 tasty pieces of laxative gum. No Bueno. (Gregory)
Getting to know my trainer who was from the Philippines. He was so much fun. Learned a lot from him too. (Daniel)
Una vez el perro de un vecino de nuestra pension, quien ademas era converso, empezo a seguirnos mientras estabamos proselitando. El nombre del perro es Panda. Supusimos que se iba a cansar de seguirnos, pero no fue asi. El nos siguio en todo nuestro recorrido por la ciudad mientras haciamos algunas visitas y cuando entramos donde una hermana que vivia en un edificio tuvimos que dejarle afuera. Cuando salimos de la casa, el perro ya no estaba y supusimos que como era un perro entonces el podria regresar solo y que capaz habia vuelto a casa, pero luego nos enteramos que no habia regresado y empezamos a sentirnos muy culpables por lo que estaba pasando. Al otro dia Panda no aparecia entonces decidimos orar para encontrarle y en ese instante nos comunicamos con una investigadora que habiamos visitado el dia anterior y ella nos dijo que tenia al perro que nos estaba siguiendo el dia anterior…. asi que tomamos un bus hasta donde ella estaba y trajimos a Panda caminando por toda la ciudad con una cuerda atada a su collar ..imaginense a dos misioneras llevando un perro y no poder proselitar sino solo pensar en el hermano recien converso que estaba sufiendo por la perdida de su perro… Al final nos terminamos riendo de esa experiencia y como resultado ya no dejamos que ningun perro ajeno no siga. (Maria)
What was a crazy/dangerous experience?
People throwing rocks at us in the Villa. (Brandon)
We contacted a guy that we found out was drunk, and he was an angry drunk. He started swearing, and threatened to kill us. We kept dodging him through the night, but he kept finding us. (David)
I got robbed in my first area. The kid took our phone and both of our watches! (Ryan)
I got robbed three times and burglarized once. The least dangerous one (a couple of unarmed teens) was where I reacted the most poorly. It's not crazy uncommon, but nobody ever got hurt. (Mason)
Getting attacked by dogs. (Brandon)
Our house got robbed 3 times within 3 months. We were all to the point where we couldn't lose anymore and had no way of stopping it. So we ended up putting pictures of Jesus all around the house hoping to guilt trip, and scare the robbers that they would go to hell if they kept robbing us. Nothing was taken again, and we found my companion's photo album afterwards at our neighbor's house. (Sam)
In one of the smallest areas of the mission, we found a young man who may have been crazy. He seemed to do fine with everyone but us. Whenever and wherever he saw us, he would so what he was doing, look up, and glare at us with this evil look. Once he had been chopping wood with an axe and came after us with it in broad daylight, but only followed us a few yards. The height of our fear was an afternoon when we were walking home; we didn't realize until getting our keys out that "Freddy", as we referred to him, had been walking the same road just a few paces behind us and now knew where we lived! Fortunately, we lived behind an older couple and the Brother went out to check on things and/or speak to him and we didn't have any problems after that. (Sarah)
While walking down the sidewalk, two men followed us and were going to rob us. My companion yelled and chased them with his umbrella. (Justin)
I was in the last group to be sent during the war over Las Malvinas (the Falkland Islands) and it was pretty hectic. There were solders all over the place carrying machine guns and at one point, we were confined to our quarters for a few weeks. They even had everyone cover all their windows at night so potential airborne bombers couldn't see where to bomb. During this time, I went running with my companion, Elder Christopher Doughty, very early one morning while it was still dark and foggy out. We accidentally ran straight into the military base, right past the guard at the gate. We both had headphones on and didn't hear him yelling at us at first. When I finally did turn around, I saw a soldier pointing his rifle at us and screaming to stop. We did. Soon there were ten soldiers who marched us to a building and had us stand against the wall. They then all stood in a line in front of us exactly like a firing squad. I was very concerned but my companion just kept making jokes and laughing. They didn't laugh. Eventually they searched us, took our music devices and questioned us. We weren't carrying our official papers with us like we were supposed to so it wasn't good. We told them to call President Allen B. Oliver. They did and eventually he came and got us. We were his Assistants at the time. He wasn't too happy but I can laugh about it now. (James)
In one particular area, we had huge rainstorms. Streets were flooded so much so that as cars would pass through the intersection, the car would die. My companion and I would wait at the intersection waiting for these cars to enter the deep water and ultimately die, We would jump out there in knee deep water and offer to push their cars to dry land so they could dry out. In the process, we would hand them a Book of Mormon to "hold" while we pushed them out. We always left the book with them as we left. (Mark)
I was there during the war over the Falkland islands. Being American, there were some people who would get quite angry with us. However, I never once felt like I was in danger. (Dale)
Falkland Islands War started when I was in Rio Gallegos (the closest city to Las Islas Malvinas). Inspired leaders got us out on the last flight before the airports closed to civilians. War painted faced soldiers with guns filled the airport and we got the sisters out under tense conditions. Bring the Books was the word from Salt Lake delivered to President Gary. We didn't even get to say goodbye to our 21 investigators. (Gregory)
Almost walking into a house with drug lords asleep inside. (Daniel)
What was a spiritual experience?
Saw girl outside her home, told her to go get her mom, mom said she's been to church in another town, got baptized 2 weeks later. (Brandon)
After not having contact with the church for over 15 years, we contacted a woman who was very ready to accept the gospel. She had regretted not accepting the gospel before, and was so grateful for a second chance to receive the gospel. (David)
One day at dusk, as my companion and I were walking along a road at the far edge of our area, I felt like knocking a specific set of doors back behind the main set of buildings. We ended up finding a kid named Daniel and taught him the first lesson. When we returned, he was never home. Finally, a couple weeks later, we felt like we should give it one last try. He was at home when we went by and when we entered his small apartment, we met his friend Mariano, who we baptized later on. Mariano has now been through the temple and serves as Stake Young Men's President. (Ryan)
My companion and I fasted multiple times in the week to find someone to baptize before my companion finished his mission. We found an amazing miracle in a guy who had known about the church for years. His wife had been a member and faithful active member for the past 26 years and he finally softened his heart and go baptized with us. He then later on became branch president when I was still in the mission! (Brandon)
There were tons of spiritual experiences. One was when I received news my grandma had died. That same time, I had really been focusing on learning about the plan of salvation and I had no bad feelings, I felt extremely happy when that moment came. I gained a strong testimony about the plan the Savior has for us. (Sam)
Every day. (Sarah)
Teaching the law of tithing to a family by candle light. They had no money for electricity. The spirit was there so strong and bore witness to them that they would be blessed. (Justin)
One day while serving in Mar Del Plata with Elder Eric Asay, we were out tracting when Elder Asay suddenly had a strong feeling that we needed to go see Sister Vani. I thought it was a little strange because she was a good member but Elder Asay was the Senior Companion and I always followed. We literally ran all the way across town to her home. When we got there, we found her praying with another woman. The other woman had been her friend all her life and was not a member of the Church. She had visited Sister Vani to tell her about the terrible thing going on in her home. She said that her grand-daughter was possessed with an evil spirt and was scaring everyone in the home. She would get up in the middle of the night and sleep-walk talking in Latin. She didn't know Latin. They were Catholic and had gone to their Priest, who gave her a blessing. She didn't get better so they called in higher priests who traveled to her and performed an exorcism, which also didn't work. The family then began to go to other churches requesting help. Nothing worked. This is the story she told Sister Vani. Sister Vani told her she knew people who could help her and asked her to kneel down and pray with her. Just as she was praying for Heavenly Father to send the missionaries, we knocked on the door. We told her that we could help and said we could give her a Priesthood blessing but first we wanted to teach all the family for at least 15 minutes about why we could help and no one else could. It was a bad time to be an American there because of the war against England (we sided with them and aided them with intelligence). I'm sure that is why the Lord provided her with such a strong witness that we were sent by Him. We set an appointment for two days later and went straight home to call President Oliver and get his advice. He told us to fast and pray and go give a blessing, using oil, and cast out the evil spirit. We did go and there were a few dozen people there to hear our teaching and witness the blessing. It was amazing. The feelings in the room before the blessing were very dark, with all those doubting people watching the young Americans (probably thinking "who do you think you are that you can do what our Priests could not do?). It was tense during the blessing at first. Both Elder Asay and I could hear weird sounds clicking around our heads and it was distracting but the Spirit guided us and gave us the words and power to get the job done. When the blessing was over, the feeling in the room had completely changed. The young woman we had blessed had passed out and then suddenly awoke again, jumping out of her chair. This is the moment the evil spirit left and the room was filled with the Holy Ghost. All the people in the room said we were glowing white. Elder Asay and I did not see that but we felt the Spirit. The following Sunday, we rented an entire bus to bring all the new investigators to church. Those who were present had gone to their friends and neighbors and told them the story. The bus was completely full. We had many teaching opportunities from that experience and baptized the young woman, Marisa Palavecino and her boyfriend and her mother. In the middle of all of this, Elder Asay's mission ended. These people loved him so much they wrote him a song and came to the bus station to sing it to him as he left. There were at least 50 of them. I was then transferred and others were left to teach our large pool. I learned that the power of the Priesthood is real and all powerful if we exercise our faith by relying on the Lord. (James)
We had many many wonderful experiences. A simple story, six of us missionaries were on the colectivo heading to a zone conference. We were the first passengers on the bus. As the bus stopped more often, the bus became crowded. On one particular stop, six older women boarded the bus with bags of groceries. Instinctively, all of us missionaries stood up and offered our seats to these woman. It must have shocked the passengers on the bus. You could hear whispers, "Who are they?" then you heard the response, "Es los Mormones" Because of that simple act, we ended up teaching and baptizing 3-4 of these older woman and several of their family members. That has always stayed in my mind as a reminder to perform service. (Mark)
It was on my mission where my testimony of this gospel was solidified. My testimony of Joseph Smith, prophet of the restoration came through a spiritual experience that came while teaching the Joseph Smith story. As I started the discussion, I had just barely gotten started when our investigator, who was not himself well educated, but could read, started to recount the entire story of Joseph Smith from memory, enthusiastically adding other facts that he had learned from studying some materials that a member of the ward had given him previously. The spirit there was so strong and testified to me of the truth of the first vision. It is that single experience that I have fallen back on during many difficult times in my life when my testimony has been put to the test or time I have struggled with my faith. (Dale)
Since the limitations due to the war and my mission time being changed from 2 years to 18 months. I wondered if I had done what the Lord wanted for my mission or did I do an acceptable mission. While sharing my testimony, when I asked that question, I had a manifestation of the Holy Ghost head to toe that God accepted my mission and was pleased. (Gregory)
When one of the first families that I found was baptized. (Daniel)
Un dia estabamos caminando con mi compañera por una calle, y aunque veniamos hablando de algunas cosas que no recuerdo, sentimos tocar la puerta de un garage que estaba entre abierta, al fondo vimos a un hombre trabajando en una casa pintando una pared y cuando nos vio le explicamos que eramos misioneras y el dijo: "¡Llegaron!". Al principio estabamos confundidas pero luego de hablar con el, el estaba fascinado con lo que le deciamos y nos invito a pasar por su casa y a hablar tambien con su mama y enseñarles nuestro mensaje….Tiempo despues el se bautizo y pudimos ver al igual que su madre, el cambio que el evangelio habia causado en el. (Maria)
What are some interesting facts about the Bahia Blanca Mission?
Three Argentine provinces (Buenos Aires, Rio Negro, La Pampa). Coronel Suarez (capital of Polo) Many colonies of European descendants (Germans, Danish, French). (Brandon)
It covers three provinces (or states) geographically, many of the ancestors in this area are Italian or German, and the siesta is taken pretty seriously in the smaller towns. (David)
Bahia Blanca is in the province of Buenos Aires and is about 8 hours south of the city of Buenos Aires. The largest city in the mission is called Mar del Plata, which has almost a million inhabitants. The smaller areas are little towns of 20,000-30,000 people. The members travel to Buenos Aires in buses to visit the temple. It isn't like Mexico. I know missionaries in Mexico who had as many baptisms in a month as I did in a year. The population is largely 2nd or 3rd generation European descendants. Mixed with descendants from indigenous people. You eat lunch with members, not dinner. Then you work from about 1:30-9:00 without stopping. They don't eat dinner like we do in America, at 5 pm or 6 pm. They eat it much later, around 10 pm. The siesta is a real thing in Argentina. Especially in more remote places. Everything shuts down from 12-5 unless you're a missionary. You find people who let you come in the early hours of the siesta (2 or 3) and you find others who let you come in the later hours (4 or 5). That way you're busy during it. Most old people are Catholic, and most of the younger generation are some form of protestant, evangelist, etc. There are quite literally no mountains in the mission (occasionally there is a hill or small "mountain" nearby). (Ryan)
It's one of the toughest missions in Argentina. It's not too big. So taking a bus, you can get to the other side of mission within 10 hours. (Brandon)
Manu genobli is from there. (Sam)
Bahia Blanca is Argentina's windy city. The mission takes in city, rural country, and a touristy beach city–there's a good variety of regions and ways of life. There are two soccer teams: River and Boca. (Sarah)
My first president, Allen B. Oliver, opened the Bahia Blanca Mission. He had also served in the area as a missionary and had been the first one to open Bahia Blanca as an area for proselyting many years earlier when most of South America was just one mission. (James)
At the time, our mission ranged from the top of Mar Del Plata to the bottom of Tierra del Fuego. It was a vast area with so much diversity. We had the dry campos to the mountains of Bariloche to the beaches of Mar del Plata. At the time, there were only five missions in Argentina. (Mark)
1. At the time I think it was the southern most mission. However, Ushuaia and Comodoro Rivadavia were areas that were closed to missionaries for a period of time because they were too close to the Falkland Islands. 2. Best steak on the planet. 3. Greatest mission ever!! 4. Penguins in the southern part of the mission. (Dale)
I flew 23 flights on my mission. I had to fly to get to a zone meeting. 2 Sisters and 2 Elders assigned 1,000 miles away from the mission home. I only had 2 interviews my whole mission because I was out in remote locations. We were assigned to close down a branch in Rio Grande (Tierra del Fuego ) and tell them they can't go to Church anymore. (Gregory)
Beautiful sunsets, diverse climates, and fun people! (Daniel)
What was the weather like?
Humid. Super cold and windy in the winter in Bahia Blanca. (Brandon)
It all depends on which of the three provinces you're in. Part is a dessert, so you have sandstorms in the summer, two parts are closer to the coast, so it's relatively wet in the summer, and cold in the winter. It's a wet cold. (David)
It gets very hot and humid in the summer, and mildly cold in the winter, depending on the area you are in. It will get to about freezing but I never saw it snow. It will rain like you've never seen. And it won't dry up. The roads get muddy for weeks. (Ryan)
The weather was more humid than Utah. It gets about as hot and as cold as Utah too, but you get used to expressing it in degrees Celsius. (Mason)
It's bipolar. It rained a lot in the winter. And was super hot in the summer. Lots of lightening storms at night. (Brandon)
Hot in the summer, freezing in the winter. (Sam)
It can get pretty cold and windy in their winter season. People will be shocked that you are doing anything when it's cold, especially when it's raining. I remember some good down pours, but when you're outside all day, you can generally see storms coming. (Sarah)
Very cold and very hot. (Justin)
I served in Mar Del Plata in the winter and it was the kind of damp cold that chilled you to the bone. Someone had tipped me before my mission that I should bring an electric blanket. It was the best advice ever. I was in the mountains for a lot of my mission and it was cold there too, even in the summer, but it was also very beautiful. In Bariloche, we awoke each morning to the wonderful aroma of chocolate from the local chocolate factory. (James)
Snow to hot beaches. The coldest time that I remember was while serving in Bahia Blanca. One sister made us all scarves in the colors of the Argentine flag. (Mark)
Very diverse weather. Snow and cold weather in the mountains in Bariloche, to warm nice beach weather in Mar del Plata. (Dale)
Wind/cold latitude, like Alaska. (Gregory)
Cold, bone chilling winters without snow. Beautiful springs, and hot summers. (Daniel)
Mientras estuve en la mision, si bien alli hay estaciones, el clima era muy particular pues durante el verano hacia mucho calor pero dias despues llovia como si no hubiera un mañana, sobretodo en las noches, lo cual causaba muchos truenos y relampagos … era muy interesante (Maria)
Any things you really like about the area/people?
Love the culture, the food, everything! The people are brutally honest and so giving. (Brandon)
I love that the majority of people are kind enough to talk to you as you walk from place to place, so you can share the gospel with so many. (David)
They are in love with their country. No matter what. Just learn to love it, too, and this pride will never be an issue. Argentines love people that love Argentina. (Ryan)
They were so humble. They will change your life if you let them. And they will receive you with open arms from the beginning. Just let yourself go and be outgoing and become like them! (Brandon)
Loved how open the people are, and how willing they are to serve. The members are extremely dedicated to serve, and the church is so much a part of their lives. (Sam)
I love everything about Argentina! I felt like I was leaving home when I returned to the states. The people are so quirky. There is a huge sense of pride, but people say what they think, they like to look nice, they're generally gorgeous people, friendly (and flirtatious), and their food is amazing! (Sarah)
Very humble people. Very proud of their heritage. (Justin)
I loved all the places I served. There were many people who treated us very kindly, especially after getting to know us. Because of their great faith I witnessed miracles regularly. They fed us well. They provided us with all of the people I taught. I hardly ever did any tracting because the members kept us busy. (James)
The people is what I remember the most. Great people. I had great companions and worked with great investigators. Very generous, very caring. (Mark)
Very friendly, loving people. Beautiful country with great diversity and a wealth of natural resources. Great food. (Dale)
Their positive spirit and faith despite inflation of the dollar being worth 7000 pesos to the dollar going to 150,000,000 pesos in 18 months. And going through a bad war and 3 Presidents. (Gregory)
How easy it was to start a conversation with anyone. (Daniel)
Donde yo servi las personas eran amables y en muchos casos atentas a lo que deciamos. Algunas personas eran tan buena gente que nos compartian de su comida cuando ibamos a sus casas fueran miembros o no. Donde yo vivo hay muchas montañas, y donde servi todo es llano asi que estaba bueno para caminar pues no me cansaba tanto. El paisaje es muy lindo y la comida me gustaba mucho. (Maria)
Any packing/clothing advice?
Bring a sleeping bag! Bring 3 pairs of shoes (guys) and one of them boots. (Brandon)
You will want washable church pants. Extra shoes are good too. Many areas have a lot of mud in the winter, and you'll need to clean your pants a lot. (David)
Get good shoes. You will walk EVERYWHERE. Polish and clean them often so that they last. I came back with holes in the bottoms of my shoes. A good idea is to use HALF of your clothes and shoes for one year. Then use the rest for the second year. (Ryan)
The sleeping bag suggestion in the packet seemed strange to me, but it saved my life. Maybe bring things that will help repel fleas. (Mason)
Take only one suit. You will be okay with just one. Only will be worn on Sunday's and at conferences. Make sure you have durable shoes. Take a few pairs. Good rain jacket will help. Thermal garments as well. But lots of stuff that you may need you can get from other missionaries going home and then leaving their stuff. It's like Christmas for a missionary. (Brandon)
Bring long johns for winter, and mesh garments. (Sam)
Plan on gaining some weight, at some point. I gorged myself the first half of my mission and spent the second half stressed/sick which means I unintentionally lost everything I gained. Most missionaries like to keep a family picture in their scriptures…this helps in lessons on the family as well as helping you relate to people…I recommend laminating it. I brought English scriptures, but never touched them. If you study in English, you'll just have to translate all your thoughts and findings before you share them anyway. Some personal hygiene products for women are not as culturally accepted in South America, so if you use a specific item or brand, consider bringing a lot. (Sarah)
Your going to get wet no matter what you wear. Just be comfy. (Justin)
ELECTRIC BLANKET. BEANIE. WARM SCARF. (James)
I asked President Oliver if I could wear my down jacket … He said you can wear anything you want just put your name tag on it . .. It's cold down there! I slept in a down sleeping bag the entire mission having sheets only in one area. (Gregory)
Warm coat, sleeping bag, lots of short sleeve shirts. (Daniel)
Llevar cosas que sean abrigadas porque a veces hace mucho frio, pero tambien es importante llavar ropa para el verano, pues es muy necesaria la ropa que sea fresca y comoda, llevar para ambas estaciones pero pienso que aun mas para verano Pd: Hermanas no lleven muchas chaquetas formales por que cuando hace frio tendran que usar abrigos y cuando hace calor no van a querer llevarlas puestas asi que si van a llevar chaquetas formales, llevar por ahi dos o tres maximo y ocupar ese espacio en otras cosas Lleven botas de cuero o similar al cuero (para que tengan una idea de que hablo), pues en el invierno son de gran ayuda al momento de resguardarse del frio y de la lluvia, aunque muchas hermanas para la lluvia compran botas de caucho o pantaneras para no mojarse los pies. (Maria)
What blessings did you receive from serving a mission?
Learned Spanish, lasting friendships, more converted to the gospel, spiritual experiences. I wouldn't trade it for the world. (Brandon)
A deeper love for everyone. I see more clearly how God loves each of us, and wants the best for us, even when we don't want it for ourselves. (David)
A beautiful wife, of course. (Ryan)
It changed my life and made me who I am today and I am thankful! (Brandon)
Married an awesome woman right after, and learned the leadership skills needed for the job following after my mission. (Sam)
Everything!!! A stronger testimony, better study skills, language ability, greater love, service, living in adverse circumstances, gratitude, the gospel, respect, adaptability, how to live with someone you don't like (and/or someone who doesn't like you), faith, a personal relationship with my Savior (because sometimes he's literally the only one who can understand you!)…endless blessings! (Sarah)
Not enough room to write it all here but 32 years after my mission, I now have 3 sons who served honorable missions and they and my one daughter have all been married for eternity in the temple. I now have 9 grand-children growing up in the Church with 2 more on the way. All my family was just here for Christmas and I know that if I hadn't served my mission, I would not have this wonderful family. I grew up in a part-member, totally inactive family. I was baptized when I was 9 yrs old along with my little brother who was 8. It was because of a good home teacher. My parents divorced when I was 14 and I went to live with my non-member dad and didn't go to church. How I came back is a story for another time but my life and countless others have been blessed because of it. (James)
The blessings are still being realized as my two boys have recently returned from Mongolia and South London where they both served a mission. My kids sometimes make fun of me because I always have a story from my missionary experiences. My testimony and knowledge of the gospel were fortified while I was on my mission. (Mark)
I truly believe that I filled my spiritual bank account while serving the Lord in Argentina. I have spent the last 30 years since then going to that bank account and making withdrawals when I needed the Lord's help in my life. The best spiritual experience of my lifetime. (Dale)
Too many to name.. (Gregory)
Countless! Essentially what it really means to be a man. (Daniel)
Mi testimonio se fortalecio, mi familia fue muy bendecida mientras no estuve, una bendicion que tuve fue que nunca me falto la comida en todo el tiempo de mi mision, aunque no hubiera dinero, aprendi a amar mas a los demas, y a entender las situaciones por las que pasaran, aprendi a ser mas servicial sobre todo en mi casa. (Maria)
What are some skills you gained?
Spanish, how to deal with people, how to deal with difficult people, how to solve problems calmly. (Brandon)
Language skills, budgeting skills, singing, and financial management. I served as the financial secretary for the mission, so I was in charge of all the finances used for the President, missionaries, and the office. It was a lot of work. (David)
Learned Spanish. Gained leadership skills, interpersonal skills, and how to tactfully guide a conversation in a specific direction. (Ryan)
I learned to work hard in a way I'd never done before. I learned to love people unconditionally seconds after getting to know them. (Mason)
Social skills, teaching skills, hard working habits, etc. (Brandon)
Leadership, tracting, teaching skills, gospel knowledge, discipline, hard work. (Sam)
Speaking Spanish, redirecting conversations, cultural awareness, people skills, respect for local leaders. (Sarah)
I learned how to love others more than myself. This is huge and has served me well ever since. I learned about the importance of obedience. Do whatever the Mission President asks and do it with all of your heart and you will be very blessed. It works the same outside of the mission. Magnify your calling with all of your heart and you will always be happy. I also learned to have patience with my companions. I believe this has made me a better husband and father. (James)
Leadership, learning how to talk to people. (Mark)
1. Fluency in a second language which I have maintained and continue to use often. 2. People skills that have helped with job and school interviews. 3. Love of the gospel. (Dale)
Faith and trust in the Lord. How to receive and act on revelation. How to proselyte in 70 mph winds. (Gregory)
Speaking Spanish. Working with twine, juggling, talking with people. (Daniel)
What do you wish you knew/did at the beginning of your mission?
My purpose: I didn't have the urgency to baptize. (Brandon)
Give. I would give more of my ideas, my money, my food, everything. (David)
Daily contact. I went almost 6 months without a baptism in the beginning. When I began to do daily contact with my investigators, my companion and I baptized 8 people in 3 months. Then another companion and I baptized 11 people in the following 3 months. People need your help. They will face trials beyond your imagination. Visit them daily to help them overcome these trials. (Ryan)
I wish I were a better teacher at the outset of my mission. It was a steep learning curve, and it would have been helpful to be more familiar with Preach My Gospel before the Mission Training Center. (Mason)
I just wish I had been able to avoid home distractions from the beginning. Just focusing on my mission and only my family. (Brandon)
Focused more on baptisms. Didn't let other missionaries affect my obedience or views on the mission. (Sam)
I wish I had realized that LOVE is the soul purpose of a mission. I wish I had put love first, because if I had, I would have been a better missionary than I was by trying to put "being a good missionary" first. If you love your companion, you will serve them; if you love the people, you will have investigators and teach lessons; if you love your Mission President, you will do what he asks and be obedient; if you love the Lord, you will begin to see the expanse of His love for you and His other children. What a blessing! Put first things first and everything else will fall into its proper place or out of your life. (Sarah)
I wish I would have more fully understood the infinite power of the Atonement. I felt that because of my shaky past that I was the least among all the Elders, that they were all far more worthy than I was. The bright side of this was that it kind of caused me to be more humble than I might have otherwise been. If my senior companion would have told me to go jump in a lake, I would not have hesitated a second. This turned out to be a blessing to me but I may have been a more effective missionary sooner if I had gone into the mission field already knowing that the Lord loved me just as much as He loved anyone else. (James)
I wish I had a better command of the Spanish language. Every missionary wished that they were more prepared before they left to serve. The same goes for me. Although I studied the Charlas and Book of Mormon before I left and while I served, it would have been beneficial to have even a greater knowledge. (Mark)
Wouldn't change anything. (Dale)
It is the Lord's time. If he wants me there doing what I'm doing, I'm ok with that. Time in Liberty Jail was not wasted even though to our minds it seems inefficient. (Gregory)
Worked more with members. Had more scriptures memorized. (Daniel)
Me hubiera gustado conocer un poco mas de como planear y estudiar mejor. (Maria)
Any advice/testimony for pre-missionaries going to Bahia Blanca?
Be prepared to work and walk a lot! Go out with the missionaries in your ward. Know your purpose! (Brandon)
Your mission will be unique from everyone else. Even between yourself and others from your mission. Don't fall into the comparison trap. You work with all YOU'VE got, and Heavenly Father will bless you. Rely on your companion, and love him before you judge him. (David)
You'll hear it a lot. Don't waste your time. Don't be disobedient. Follow EVERY rule. Even the ones that are small, or the ones that don't make sense. If you go and do not strive to be obedient and do not work hard, you will look back with regret and before you know it, it is over! However, if you are obedient and work to always have the Spirit, you will look back with gratitude and love, having devoted your whole self to the betterment of other's lives and to their salvation. (Ryan)
Read Chapter 3 of Preach My Gospel and practice teaching the lessons before the Mission Training Center. (Mason)
Just go have fun. Love the people. Enjoy the scenery. Take lots of pictures. Laugh a lot. Imitate the Argentines. Work on your language skills daily. (Brandon)
The sky is the limit…don't buy into the averages of other missionaries, or base your success on what they do. Base it on what the Lord wants you to do. (Sam)
A mission is not the best years of your life…it gets so much better, but they're the best years for your life. You can't imagine now how beneficial (and therefore selfish!) serving a mission can be. (Sarah)
Go expecting to witness miracles. Make very bold promises to your investigators. Promise them directly that if they read from the Book of Mormon TODAY and pray about it TODAY, they will receive a sure feeling through the Holy Ghost TODAY that it is a true book. We once were teaching a man, Benjamin Alvarez, of Mar Del Plata, who was one of those guys who loved to argue with the missionaries and trip them up with his questions. He was in his mid fifties and definitely more knowledgeable in the scriptures than I was. During one of our discussions I testified that if he would pray about the things that we were teaching him NOW that he would receive a sure witness NOW. He said no. I told him he was a fake and had no faith and we were going to leave unless he tested us by praying that very moment. In anger, he began to pray. About 30 seconds into his prayer, he suddenly went quiet for what seemed like a very long time. When he began to speak again he was all choked up and began to thank Heavenly Father for sending His angels to him. He agreed that night to be baptized, after having argued with many missionaries for a long time. I learned that the Lord and His angels really will be on our left and on our right and that He will prepare the way before those missionaries who believe that he truly has their backs. (James)
Go and serve with all your might mind and strength. You have two short years to serve and the rest of your life to think about it. I have been home now for over 30 years. I don't think there is a day that passes that I do not think about some of the experiences that I had while I served a mission. (Mark)
Enjoy the adventure. Love the people. Have fun!! (Dale)
Keep every rule. Find how to serve and love the people, helping any way that you can. (Gregory)
You will learn to be real men! You will learn of Christ and the truth! Just stay in the field. As you feel down, just know that everything will making you stronger and that God will help you. (Daniel)
What was a funny language mistake?
Well, using the word "pescados" (fishes) instead of "pecados" (sins) was always classic. "Jesus has saved us from our fish!" haha. (David)
"Me gusta" means "I like" roughly translated. Do not use this to refer to human beings. Especially those of the same gender! (Ryan)
In a lesson about The Fall, my companion confused the subjunctive third person of 'to fall' (caer) with 'to soil one's pants' (cagarse). (Mason)
I was told when eating food to compliment the person who made it and to say "questions Rica esta este porqueria" don't say that. (Sam)
Speak! You will never learn unless you're willing to make mistakes and sound like an idiot! Better to sound ridiculous early on! In my first area, at our first lunch, the sister was telling me about her 3 sons and how the oldest had a girlfriend and got a mission call to Chile. I happily congratulated her. She hesitated and then told me a story about a new missionary who didn't understand what had been said and had congratulated someone on the death of their father. I thought her story was rather random, but the conversation moved on and I didn't think about it until Sunday when I met her oldest son and his very pregnant girlfriend! Guess I missed a crucial part of her first story! (Sarah)
Once, at a Zone Conference, a new sister missionary stood at the pulpit to bear her testimony. We were told to do our best to do it in Spanish. As she was struggling with the language, the Mission President, who was sitting behind her said something that the rest of us didn't hear but she then meant to say that she was embarrassed but it came out as, "Yo soy embarazada y es la culpa de el" (I'm pregnant and it's his fault [pointing at President Oliver]). (James)
I was very new to Bahia Blanca. (Mark)
Funny but probably not appropriate. When I heard the word "bostezar" which means to yawn, I repeated it back wrong and said, "bostear" instead leaving out the "z". The member family started laughing and told me not to say that. Finally the 11 year old boy got the dictionary to show me what I said. Definition said, "tirar caca" or "to throw poo". Not sure why there is a need for a verb for that, but it made us all laugh. (Dale)
I was almost hit by a car and yelled "Watch Out "….which sounded like I said the Chilean or Argentine insult "Guacho or Wacho" equivalent to bastard. My Argentine companion admired my inadvertent command of the language. (Gregory)
Elyse (Argentina Bahia Blanca Mission)
–Paraphrased from Elyse's mission interview–
Geography
I served in five areas in Argentina. It is a huge mission and covers parts of three different provinces or states. I served in the corners of all of the provinces so I jumped around a lot. The northeast part of my mission is the bottom part of the Buenos Aires province so we have the south part of that state. We have all of the province of La Pampa and we have one city in Rio De Negro. We covered three different states so our mission was huge and we always had to cross these weird state borders.
Bus Rides
It was kind of hard being moved to all of these different areas because you were constantly being put on buses for eight hours and doing that by myself was so nerve-wracking because sometimes I didn't know when to get off the bus. It was fun though because you have the Spirit constantly and you are blessed in ways you don't even realize because I woke up at the right times. The bus rides were so long and so I was able to talk to people around me and share my message with them even though I would never see them again. I could explain what I was doing and why I looked different with my dress and name tag. Those moments were way less stressful because it was up to them to hear it again. So I got to meet the most interesting people.
Mate and the Church
One huge thing about Argentina is they drink mate. Most Americans think it's disgusting and I did too at first, but now I love it. I was on the bus once and a guy pulled a mate cup out and started making mate and it was hilarious. They love it so much. We weren't allowed to drink it, but it was a good opportunity to explain more about the church. Finding points about their culture or families to talk about and connect to the Gospel was one of the best ways to teach the people down there. They really appreciate that you're trying to accept them and become part of their culture.
Argentina's Immigrant Culture
The majority of their people were refugees from others countries. In WWII, a lot of people left Germany and settled in Argentina. So a lot of people in Argentina have lighter skin and not everyone assumed that I was American. They didn't have the typical Latino culture that exists in Mexico and Peru. You'll meet a lot of people that still know German and because of that we ate a lot of pasta and potatoes. The culture itself is European based, especially how the cities are set up. Everything is kind of stuck to everything else.
Clapping at Doors
One thing that was fun was trying to learn when someone was knocking on your door and not on your neighbors. We actually clapped outside of the door instead of actually knocking on the door. We practiced clapping in different ways on the streets sometimes.
Popular Religions
There were a ton of challenges down there. The country itself is pretty much a Catholic country, and a majority of people don't actually go to church or participate in religious activities. They just say that they're Catholic and they don't want to hear anything from us. They were really stuck on tradition. A lot of people would gain testimonies of the church but not be baptized because of those years of tradition. The evangelist church is very big down there as well because I can remember several times when an evangelist missionary would try to smack me with the Spirit. I would try to explain to them that I already have the gift of the Holy Ghost. They do practice what they believe though and theirs is really similar to our Gospel, but sometimes that similarity meant that it was difficult to teach people the difference. They tend to prefer loud music and bands at church and reverence can be a difficult concept to teach.
Marriage
Another huge challenge is the concept of marriage. No one gets married there because it is way too expensive so they just live together. It's also really expensive to get divorced. So even if we teach someone and they want to get baptized but they have to get married first, they can't because it's so expensive. It was really hard to help them with that and all of that paperwork and documents. It was such a struggle. It's always amazing to see the chosen ones who go through the steps and do everything they possibly can.
Working with Members
If you don't have appointments and members don't give you referrals, then you have to knock on doors. It isn't that effective, so it was much better to work with the members. It wasn't always possible, but it was fun to see how excited some members would get in certain areas.
Olavarria, Argentina
Olavarria was interesting because I couldn't really speak Spanish yet and we opened up the area for sisters and the ward was really used to having Elders so we had to earn their trust. We didn't have many investigators either. It was really amazing for me to be in that area because we had a set of Elders that helped us find and teach investigators and we would help find and teach investigators for them. It would get crazy sometimes, because we would have one investigator and four missionaries. One time the Elders just could not get this investigator to understand why they needed to be baptized, so they brought us in and we showed them the baptismal font and the Elders brought them down into it and showed them what would happen when they got baptized. It was just so special and spiritual. I remember testifying in broken Spanish and it was just such a spiritual moment even though I couldn't speak very well.
Santa Rosa, Argentina
My second area was Santa Rosa. My companion there was so hard working and I learned a lot. Santa Rosa is the capital of La Pompa. We actually didn't live in our area, so we had to take a bus or walk to our area. On the way, we would see just dirt and farms everywhere. It was interesting going from the city to the farmland in the country. They had a really cool museum as well that showed the history of the city and that was really fun. My favorite thing about the area was the excitement that the members had. The ward mission leader was one of the first people baptized in the area and we met with him each week. We didn't have baptisms every week, but we taught a lot of investigators that were progressing and had a lot of faith. That stake is very near and dear to my heart. At one point I found a member that actually spoke English and it was so amazing to hear English again. We had four missionaries in that ward and we worked together so much. We were able to teach so many people and the members got excited to help us. We had open houses for the church and it was so amazing. The dream was to serve in Santa Rosa because of all the gauchos and the history. The members there are just awesome and the cities are so cool. There is a lake in that area that we go to go to for P Day.
Tandil, Argentina
I had a zone leader in Santa Rosa that got transferred before I did and I basically followed him there and it was nice to see a familiar face. There had been sisters there previously that had left the members with bad tastes in their mouth, so we had to work so hard to get them to trust us. They really grew to love us though and it was really cool to see the change. I was called to train a new missionary there and that was nerve-wracking. I was really nervous because I thought I would be a bad trainer. I was afraid of training a Latina that would have way better Spanish than me, and I was afraid of training a gringa because we would speak English all the time and our Spanish would get worse. I ended up training a sister that was blonde haired and blue eyed just like me, but she was so dedicated and we actually didn't speak English together at all. We were able to baptize a couple together and that was the highlight of my mission. Argentina is really flat, but in that area the entire city is hills. I was used to walking miles on flat ground, but here my calves and my feet hurt so bad. The people there thought they lived in the mountains until we showed them pictures of Utah. That area was also hard because of how big it was.
Mar del Plata
I got transferred here and it is a typical beach city. It's huge. I would compare it to San Diego. It isn't quite as grand, but it is for Argentina. It was weird to be in such a metropolitan city. The work was amazing. We had such great investigators. I thought serving next to the beach would be really tempting because I'm from California, but I never felt any temptations to go swimming. The climate was a lot different because we were next to the coast. It was probably one of my biggest areas. It was like a long rectangle. We would have an appointment like 20 or 30 blocks north and we had to learn the bus routes very well. The thing that was really hard in that area was that our investigators weren't progressing. They had been taught for such a long time, but they just hadn't had that desire to be baptized yet.
Carmen de Patagones
Carmen de Patagones is on the border of two states on the river of Rio Negro. For district meeting we had to cross the river and it was just so beautiful. I wanted to go to the river every P Day. There is this little boat that can take you across or you can take a bus across the bridge. I got to know the members really well in this area. We had some really great teaching experiences as well. The work was already so great before we got there. We had some members that would have come out to teach with us every day if we let them. We had a recent convert and her daughter that were members, but the husband and her extended family weren't. We started teaching them. They convinced the mom that wasn't a member to come to church one week and from then on they went every Sunday. The husbands would never go to church though. They would sit in on the lessons, but they just never would come to church. Since I've been home, I learned that all of the men in the family have since been baptized and they have even gone to the temple as a family.
Andy (Argentina Bahia Blanca Mission)
–Paraphrased from Andy's mission interview–
Geography of La Bahia Blanca Mission
La Bahia Blanca Mission is the final frontier for Argentina as far as heading from north to south. Argentina from top to bottom is about the difference from New York to LA, or about the length of our country. Argentina, however, is definitely not as wide and only has about 40 million people compared to the over 300 million in the US.
The Church in Bahia Blanca
The mission itself about the size of Texas, or fairly large. Most of that is in a province called La Pampa, which is very rura, and so the Church has yet to reach the farthest western edge of the mission. There are branches in some of the far reaches of La Pampa, but they are part of larger districts that are part of the Mendoza mission, bordering provinces like Rio Negro and Mendoza. There are two stakes in Bahia Blanca, another in Santa Rosa, La Pampa, and they are making another near Tandil, which is in the center of the province of Buenos Aires. My mission also had pieces of Buenos Aires and Rio Negro. One of the most famous parts of the Bahia Blanca mission is Mar Del Plata, where there are two stakes, and they are pushing for 3.
One of the main goals that my first mission president impressed upon me is the goal of having a temple. He said that if we want a temple in 10 years, we need to have the attitude if getting one in 5. There are four million people in the Bahia Blanca mission and if they were to all accept the covenants of the gospel and be righteous, they would definitely be considered for a temple. A temple in Bahia Blanca would be advantageous for the church in southern Argentina, and would greatly bless the lives of so many members.
Travel Tips
If you're going in between buses you take these big double decker buses called colectivos. It's really a nostalgic thing for me know. Mar del plata is probably the only city I was in that had the bus system reliable enough and the city was big enough. Mar del plata looks a lot like what you would see of Brazil on TV. They have a beautiful beach front with lots of hotels, tourists, surfing competitions, and vendors. We could go to the beaches in the winter if we had permission. There is always someone on the beach selling something. The middle of the city has a lot of English influence, but also some French and German influence. The city is mostly very modern, but the area I lived in was where the more poor people had to move to when the modern city was really put up. There are houses of boards and cement. They aren't called favelas, but they are there. We lived in the middle of one, and most people would tell us that it wasn't where we should be living. I felt safe where we were though because it was kind of like a gated community with security guards. It was safe enough. There were definitely some places that I didn't want to be at night. I wasn't assaulted, but I did get robbed. If you're passive and attentive, nothing bad really happens. I always carried a little money with me in case I got robbed. Most people will work in the city center. There is a lot of tourism and a lot of fishing. The church was pretty well established there. The members were divided into pockets where someone would get baptized and they would bring their neighbors in. The social ties are really important for people to feel comfortable at church. I was training then, so we would wake up, study, and we would study the language together. I had a dictionary of Argentine words. It's almost like they have their own language. The area that I was in meant that their language was very Argentine and very different than other Spanish you would here. I would study a lot of that and I tried to forsake my Mexican accent. Of course you don't want to use a lot of slang, but you want them to be able to relate to you. I studied the language very seriously throughout my whole mission. We would have an hour of training sessions afterwards as well. We definitely did a lot of practicing. New missionaries come in with a lot of new knowledge. He couldn't speak very well, but he definitely knew what he needed to know to get going. I spoke a lot of Spanish to him and I would help him less and I would make him talk on the phone. He definitely learned to be Argentine a lot faster than I did.
Courtney (Argentina Bahia Blanca Mission)
–Paraphrased from Courtney's mission interview–
It was interesting trying to go into homes of the people of Argentina because the culture is so different. A lot of them don't even have screen doors, so they hang rags in the doorway to keep out flies. The houses are all very small. They don't have a lot of money down there and usually they just have one room and the table will be where they eat their meals and watch TV. No one has couches or carpet and I thought that was so weird. They always have the TV on too. They'll have conversations with friends and they TV will just be noise in the background. I had to learn to politely ask to turn the TV off. I remember one lady I was teaching that kept looking at the TV and I went and stood right in front of the TV. A lot of the nuances of the culture like that weren't very conducive to the Spirit. They'll try to serve you mate or they'll get up to prepare something and you really have to teach them how to have that spiritual environment. It was interesting in the beginning to help people to create that kind of environment. They don't have the same concept of time as we do either. We are very structured and set appointments and try to be on time. No one wants to make appointments ever. If we had appointments, it was because I forced them to give us a time. They were never there if we set appointments though, so after a month of trying to do it that way, we started learning that we had to understand their culture and work with them differently. No matter where you go, there will be different cultural things and you have to tailor your missionary work to fit their needs and their customs. We had to learn when they would normally be home and we just had to show up and they were glad for us to come in. I remember getting really frustrated at first