Here are free resources about the Alaska Anchorage Mission:
---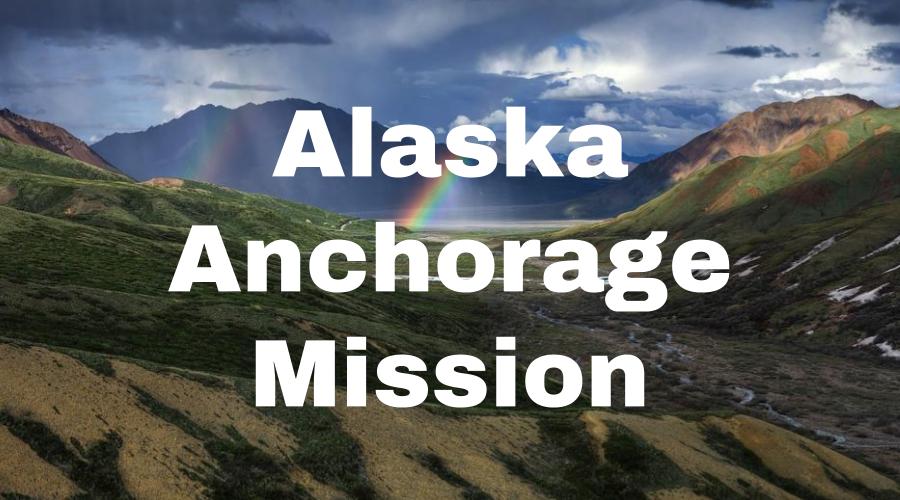 ---
Alaska Anchorage Mission Address
Here's a recent address for the Anchorage Mission. We try to keep this information up to date, but it's a good idea to check the mission address with several sources, including your mission packet or the mission office.
Alaska Anchorage Mission
3250 Strawberry Road
Anchorage, AK 99502
United States
Phone Number: 1 907-345-7579
Mission President: President Lance D. Toone
Alaska Anchorage Mission Map
Here's a link to the mission map for the Anchorage Mission (LDS). To access the official, up-to-date LDS.org map for the Anchorage Mission:
Log into your LDS account here.
Click here.
Alaska Anchorage Missionary Blogs
Here's a list of LDS missionary blogs for the Anchorage Mission. This blog list includes the missionary's name, URL and when their mission blog was updated.
*Send your missionary a gift (mission-specific shirts, ties, Christmas stockings/ornaments, pillowcases, etc.)
Alaska Anchorage Mission Groups
Here are Anchorage Mission Groups- for LDS missionary moms, returned missionaries, mission presidents and other alumni of the Anchorage Mission.
Alaska Anchorage Mission T-Shirts
Here are T-shirts for the Alaska Anchorage Mission!
Shirt designs include Alaska Anchorage Mission logo/emblem shirts and Called to Serve shirts. The shirts make great gifts for pre-missionaries, returned missionaries and missionaries currently serving. LDS Mission shirts come in all sizes: Small, Medium, Large, Extra Large, up to 4XL.  The mission designs are printed on white shirts and are shipped to you.
*Simply click on a shirt design to view the details and submit an order. The designs on mission t-shirts may also be printed on other LDS mission gifts, including: Alaska Anchorage missionary aprons, Christmas stockings, ties, pillow cases, teddy bears and Christmas ornaments.
*Click here to browse Alaska Mission gifts
---
---
Alaska Anchorage Mission Presidents
Here's a list of current and past Mission Presidents of the Anchorage LDS Mission.
2017-2020, Lance D. Toone
2014-2017, Eldon Ray Robinson
2011-2014, Jon Beesley
2008-2011, Alan R. Dance
2005-2008, Randy C. Lewis
2002-2005, Kent B. Petersen
1999-2002, J. Vance Hendricks
1996-1999, Jackie D. Orton
1993-1996, W. LaVon Gifford
1990-1993, Stephen R. Forrey
1987-1990, Jim Fogg
1984-1987, Wilford E. Thatcher
1981-1984, Julius B. Papa
1978-1981, Douglas T. Snarr
1975-1978, Howard W. Barben
1972-1975, Weston F. Killpack
1969-1972, Raymond C. Bowers
1966-1969, Arza A. Hinckley
1963-1966, Stewart A. Durrant
1960-1963, Milton L. Weilenmann
Alaska LDS Statistics (2015)
Church Membership: 33,375
Missions: 1
Temples: 1
Congregations: 86
Family History Centers: 15
Helpful Articles about Alaska
Coming soon..
Alaska Anchorage Missionary Survey
Here are survey responses from Alaska Anchorage RMs, to give you a snapshot into what it's like to live in the mission.
**Click here to take a survey to help pre-missionaries going to your mission.
When did you serve?
2013-2015 (Tyson)
2013-2015 (Maxwell)
2013-2015 (Nels)
2012-2014 (Ryan)
2012-2014 (Andrew)
January 2013-August 2014  (Marissa)
February 2012-September 2013 (Madison)
2012-2013 (Kira)
2011-2013 (Tanner)
2010-2012 (Jessica)
2010-2011 (Jeff)
2009-2011 (Tony)
December 2008-December 2010 (Nicholas)
1997-1999 (Nathan)
1995-1997 (Andy)
1995-1997 (Keith)
1993-1995 (Casey)
1993-1995 (Karl)
1992-1994 (Angela)
1991-1993 (Brandon)
1991-1993 (Shelly)
1991-1993 (Leon)
1991-1993 (Jeremy)
1989-1991 (Michael)
1989-1991 (Chester)
1988-1990 (Dennis)
1986-1988 (Cody)
1980-1982 (Lynn)
1977-1979 (Dave)
1972-1974 (Gary)
February 1972-February 1974 (Phillip)
1972-1974 (Phillip)
1971-1973 (Larkin)
What areas did you serve in?
Anchorage, Bethel, Whitehorse, Wasilla. (Tyson)
Fox (Fairbanks), Ketchikan, Anchorage, Willow, Salcha, North Pole, Chugiak. (Maxwell)
Willow, Fairbanks, Eagle River, Anchorage, Healy, Palmer, Kenai. (Nels)
Stirling/Soldotna, Ketchikan/Metlakatla, Anchorage, Fairbanks, Big Lake, Chugiak/Eagle river. (Ryan)
Fairbanks,Valdez, Palmer, Anchorage, Wrangell, Kenai, Nikiski, Glennallen, Healy, Nenana. (Andrew)
Rabbit Creek Ward (Anchorage), Sitka, Turnagain Ward (Anchorage), Inlet View Ward (Anchorage), Valdez. (Marissa)
Beach Lake (Eagle River), Fairbanks YSA, Juneau 3rd Ward, Inlet View (Anchorage). (Madison)
Kodiak, Wasilla, Anchorage, Fairbanks, and Nome. (Nicholas)
Eagle River and Chugiak. (Kira)
Anchorage, Kodiak, Bethel, Fairbanks, Northpole, Wasilla. (Tanner)
Soldotna, Juneau, Anchorage, Eagle River. (Jessica)
Anchorage, Eagle River, Fairbanks/North Pole, Whitehorse. (Jeff)
Seward, Craig, Bethel, Wasilla. (Tony)
Anchorage, Petersburg, Wrangell, Craig, Ketchikan, Homer, Eagle River, Chugiak. (Nathan)
Chugiak, Anchorage, Wasilla, North Pole, Sitka, Homer. (Andy)
Anchorage, Fairbanks and Soldotna. (Keith)
Fairbanks, Juneau, Eagle River, Anchorage, Ketchikan. (Karl)
Anchorage 4 times, Kenai, Kodiak, North Pole, Delta Jct, and Tok Jct. (Leon)
Kodiak, Eagle River, Big Lake, Wasilla, Soldotna, Kenai, Homer, Anchorage. (Jeremy)
Anchorage, Sterling, Kenai, Bethel and Dillingham. (Michael)
Anchorage, Palmer, Juneau, Sitka, Eagle (not Eagle River), Wasilla, (Dennis)
Wasilla, Palmer, Eagle River, Kenai, Chugiak, Sterling, Anchorage. (Cody)
Fairbanks, Anchorage, Haines. (Lynn)
Anchorage, Kodiak, Fairbanks, Juneau. (Dave)
Burnaby, Sitka, Vernon, Victoria, Saanich, Vancouver, North Vancouver, Nelson, Cranbrook. (Gary)
Vancouver Island , the Mission Home Cranbroke, Ketchikan Alaska, Langley British Columbia. Back then it was Alaska/British Columbia Mission. (Phillip)
Victory, Sidey, Mission Home, Cranbrook, Ketchencan Alaska, Langly BC. (Phillip)
Vancouver areas, Hazelton, Anchorage, Valdez. (Larkin)
What were some favorite foods?
Hmong sausage, sticky rice, and pho! (Tyson)
Moose, carabou, reindeer, bear, salmon, halibut, ect. (Maxwell)
Moose. (Nels)
Chicken and rice, hamburgers, spaghetti. I just love food in general and there is a lot of it in Alaska. (Ryan)
Salmon, Halibut, Dungeness Crab, Moose, Caribou. (Andrew)
Salmon, halibut, shrimp, moose burgers, trips to Moose's Tooth when I was in Anchorage 🙂 (Marissa)
King Salmon, Eskimo ice cream, Thai noodles, and artisan bread. (Madison)
Moose, and pizza. (Kira)
Bilo Bilo, Moose Head Pizza, (Tanner)
I served in a Tongan ward, so all the Tongan food (even though I got super fat). Besides that, anything but spaghetti. (Jessica)
Whale blubber, Crisco with berries, Spaghetti, Salmon, Moose, Macaroni and cheese, PB&J. (Jeff)
King Salmon, Halibut, Caribou, pancit and many other wonderful foods. (Nicholas)
Moose steak, BBQ salmon. (Nathan)
Moose, Dall sheep. (Andy)
Salmon, Moose, Caribou, Halibut. (Keith)
Lasagne, Salmon, Halibut, Eskimo ice cream. (Casey)
Moose Caribou Salmon Crab legs. (Jeff)
Halibut, salmon, caribou. (Karl)
Halibut, salmon, caribou. (Angela)
Moose. (Brandon)
Halibut and salmon. (Shelly)
Caribou, Elk, Moose, Halibut and of course Salmon! Whale blubber is just nasty! (Leon)
Moose, Elk, McDonalds. (Jeremy)
Salmon, Bear, Crab. (Michael)
Smoked salmon, Salmon berries, Halibut Olympia, dall sheep, caribou, moose. (Chester)
Halibut, bear, moose and especially crab. (Dennis)
Cod, Salmon, Moose. (Cody)
King crab, Salmon and Moose. (Dave)
Meat pies from the Sperling Bakery in Burnaby. Tomato and Cucumber sandwiches from Sister Peterson in Victoria (Saanich). Traditional English dinner from the Patriarch and his wife (name?) in North Vancouver. Least Favorite….Soup Sandwiches from my first companion. (Gary)
All of them…I gained 40 lb on my mission. (Phillip)
Everything. (Phillip)
Fresh Halibut. (Larkin)
What was a funny experience?
Too many to count. (Tyson)
My companion and I were out tracting on the ice and we saw a moose and her baby and we were trying to run away. But we were slipping and sliding not really going anywhere all the while screaming and laughing. (Ryan)
My trainer and I were at a family's house for dinner and my trainer accidentally mixed up who's wife was who and asked the wrong husband about his pregnant wife. The whole family went silent, and there was an awkward stare down at the non pregnant wife. Then, everyone at once realized the mistake and they all laughed. My trainer was quite embarrassed. (Andrew)
My companion and I were having dinner with a family with four kids. As part of the closing thought we invited each member of the family to share one way that they will better invited the spirit into their lives. When we got to their youngest son, who was probably six or seven, he was beaming from ear to ear and couldn't wait to exclaim, "I'm going to invited the Holy Ghost to my birthday party!" (Marissa)
Fairbanks Dec 2012- We were coming home for the night, and about to get out of the car when I heard my companion (from Arizona) say, "Hey look, a moose!" There was a cow moose fewer than 10 feet from her open car door. I yanked her back into the car (she was getting out to look closer) and locked the doors. I've seen and heard enough about moose attacks to get out of that Jeep! After trying unsuccessfully to scare it away with the car horn, we called the district leader to let him know that we were home, but couldn't go inside yet. We finally got it to walk away from the car after flashing the headlights and honking at it for another 15-20 minutes, and then we booked it into the house! (Madison)
Just being able to help with a chili cook off. (Kira)
My greenie was getting ready to back me out after we left seeing a less active, when a girl from across the street yells "Sarah!?" and my companion turned around (who's name is NOT Sarah) and my greenie says "yeah?" the girl runs to her hugs her, and my greenie hugs her back, and the girl look at her and says "uhh, you're not Sarah…" and my greenie says "no…I'm not. But we're missionaries (and gave the spiel) I laughed so hard. But then once my greenie got in the car I was like "whaaaat was that?!" (Jessica)
Falling through the Mendenhall Glacier when it was supposed to be frozen over. (Jeff)
When my companion slipped on the ice while getting in car and slid halfway under the car and just laid there laughing. I even had time get my camera out and take a picture of him. (Nathan)
Finding a frozen dog on the side of the road and propping it up in the snow for a picture with it. (Andy)
Being chased by a moose when tracting. Wrestling in the snow with companion. (Keith)
Wrecked a new car on Christmas Eve that only had 15 miles on it. Person whose car we hit into was later baptized. (Casey)
Playing pranks on my companion and visa versa. (Shelly)
Being taken to a home out by Soldotna in the boonies. My companions said it was a part member family. The lady seemed sweet until a dude at least 6'6″ came out from a room, shotgun in hand and yelling at her AND us! We cowered and tried to figure a way out, like outside! We were so shocked after being scared and rattled to have him smile and welcome us! He was a member, they did this to many missionaries! (Leon)
Being in the hospital Christmas Eve for dehydration from stomach flu. Before church building windows were all bolted shut, I saw a moose outside the window and yanked a tuft of hair off it, it was not happy. (Jeremy)
My first week on the mission came across a huge malamute dog. I have never ran so fast in my life. (Michael)
Tracting and being invited in because it is too cold to be out but they did not want to hear about our church. (Chester)
We buried the sisters front door with snow so they couldn't get in their apartment, then we dug it out for them. (Dennis)
Following a prospective person to teach into another church not our faith but By invitation, it made the Pastor nervous and we were asked to leave. (Cody)
In Kodiak, we lived in a log cabin and in the spring, we found a nest of angry bees in our bath room — that had just woken up! (Dave)
I guess I was a bit too talkative at times. One night as we were preparing to go to sleep, I keep blabbering away. When my companion, Elder Bill Albright from Phoenix, dropped to his knees I thought he was ready to pray. However, he faced me and pleadingly implored me to please SHUT UP!! He is still my closest friend and we are like brothers. (Gary)
Tracting when my companion got bit by a dog and the dog ran right past me and bit my companion. (Phillip)
We had a drunk that lived under us and he was always blaming us for using the hot water and making to much noise in the early morning time. (Phillip)
What was a crazy/dangerous experience?
I don't know, I got a few guns pulled on me but no big deal; we used it to start conversations. (Tyson)
People answered the door with a gun, often. (Maxwell)
Chased by a moose. Companions falling asleep at the wheel, and/or companions who are unsafe drivers. (Nels)
We had a bear 20 yards from us running at us and our truck was a good 100 yards away. Quite a scary experience, but God looks after His missionaries. (Ryan)
My companion and I got stuck in snow with no cell service and only 1/8 of a tank of gas left during a snowfall. Thankfully, Heavenly Father overlooked our foolishness and guided us out of that situation safely. (Andrew)
In my last transfer I was serving in Valdez (my favorite area!) about two weeks into the transfer my companion and I were woken up at 2 am with shouting and pounding on the door. Our 4-plex we were staying in had caught fire and we had to get out!! We were blessed that we weren't harmed though, and although the fire had completely destroyed the apartment right next to ours, our apartment hardly had been touched! Definitely a testament that God watches over His missionaries. (Marissa)
We were driving to the army base outside of town (I was driving), and in a fit of stupidity I sped up to try and catch a green light turning left. As soon as I realized we were going too fast on the ice, I tried to pump my brakes. It didn't work, and we went sailing sideways across the 6 lane intersection. All I could hear was my companion yelling over and over, "PRAY. PRAY. PRAY. PRAY." We were in the inside lane, sliding into the outside lane. Somehow, the person turning the corner with us fell behind 5-6 feet (we barely missed them) and we stopped our slide 2-3 ft from the cars waiting at the red light on the other side of the intersection. I'm convinced there were angels between the cars, holding us apart so that no one would get hurt. That's the only way we could have missed the car that was turning with us. (Madison)
Getting into car accident and slipping on ice. (Kira)
It was my first area and my trainer and I were tracting. We knocked on this one door, and this guy with no shirt, but overalls on opened the door and invited us in. I had a feeling that we shouldn't go in at all, and told my comp that, but she wouldn't listen. So we go in, and I feel sick, and he's trying to prove to us that Joseph Smith was a liar, and my companion is fighting back, so the spirit of contention was for sure there. Then, another guy comes in, and I look behind me and there is a wall full of guns. I just had a sick feeling. I literally had to grab my companion from her shoulders and drag her out. She just wanted so badly to prove to that man that Joseph Smith is a prophet, but I'm like dude, it doesn't matter. He's not going to listen. (Jessica)
Getting hit on by drunk people. (Jeff)
We got chased by a moose. (Nicholas)
While tracting we came around a corner and found 3 moose sitting on the lawn right by the front door. Needless to say we skipped that cul-de-sac. (Nathan)
Getting chased off some guy's property with a gun. I guess no trespassing means exactly that in Alaska! (Andy)
Being chased by a moose. Going to a house with a bunch of crazy sled dogs. (Keith)
3 or 4 day transfers between areas. (Casey)
While tracting we had to hide from a mama moose while her baby moose was near the house we were at. I also had a couple of apparently vicious dogs run towards me at full speed, and then just circle me a couple times, and walk away. (Karl)
When a moose tried to push her way into our apartment in Soldotna, Alaska. (Brandon)
Getting a flat tire on the Alaska highway in the middle of winter and not knowing how to change it. (Shelly)
Knocked on a door in an apartment set. Guy comes to door, barrel of a gun facing us. Says…"together forever, huh? I can arrange that'" We were gone! (Leon)
Sliding sideways toward oncoming traffic, sliding off the road into snowbank dodging a moose. (Jeremy)
Fed a wild cow moose with very little fence in between. Not a very wise choice. (Michael)
My companion and I were going to transfer to Barrow who hasn't had missionaries for years and years, we were all set to go but the Mission President was informed if we were sent there we'd be killed within a day. (Dennis)
Two dogs approached us angry and ready to attack but I held up our Scriptures and they stopped dead in their tracks. And let us be. (Cody)
When traveling from Fairbanks to Delta Junction in January, the temperature was -50 F and our gas began to freeze — we still had over 25 miles to Delta Junction. Lots of prayers were said! We limped into town thankfully. (Dave)
3 car accidents, 4 dog bites. And I didn't have 'driving privileges' because of my prior driving record. But I had some companions who shouldn't have had drivers licenses!!! One accident was extremely bad – I still have shoulder pain every day as a result. But it also helps me to remember and realize how blessed and watched over I was. (Gary)
PLAYING ICE HOCKEY WITH THE INDIAN KIDS ON THE RESERVATION AFTER SEMINARY CLASS . WE PLAYED ON A FROZEN RIVER . When I was in Ketchikan Alaska and we had to visit some members on another island . We ended up on that island for 2 weeks because of a storm . The winds where 100 mph and the clouds where only 10 ft off the ground . Finally, the storm winds let up to 75 mph and the pilot told us we where going, what ride .  (Phillip)
Playing ice hocky with the Lamanite kids on the frozen river. (Phillip)
Driving in 100 degrees below zero and  knowing that if your car broke down your dead in minutes. (Larkin)
What was a spiritual experience?
Any of my investigator's baptisms. (Tyson)
Teaching the plan of salvation to one of our favorite investigators the morning her father passed away. The peace that came to the room was very special. (Ryan)
My trainer and I happened to receive a supreme pizza from a family. We then went to contact a really remote family that we hadn't been able to get a hold of. When we got there, we met the mother outside and we introduced ourselves to her. Then, out of the blue, my trainer said, "Would you like a supreme pizza?" I was so surprised and shocked by the randomness of his comment that I knew it was from the Spirit. Turns out, the family was in major financial need and also wasn't equipped for an Arctic winter. After a quick call to the Bishop and Relief Society President, we were able to help them get started on the path to help. It was a "supreme" miracle. (Andrew)
About half way through my mission I was teaching a lady who had lost her daughter several years ago. She was still struggling with it, and wanted to find peace. As we taught her about the plan of salvation my companion (who happened to be a brand new missionary) bore her personal witness that she knew she would see her daughter again. As my companions said those words is was like the whole room was filled with light. Everyone in the room was hit with the spirit and this woman began to cry and committed to baptism that very lesson. (Marissa)
We had an investigator that was having a hard time with the idea of Joseph Smith. One day, we decided to share a simple story of faith from the Book of Mormon, and then we asked her to pray aloud about him. After the story was read and we discussed it (bringing the Spirit in) we knelt together and she said a prayer. She specifically asked about Joseph and his divine calling, asking Heavenly Father to reveal the answer and help her understand. The Spirit came in full force, bearing powerful testimony of the first prophet of our dispensation. She had never received an answer to a prayer like this in her life, and yet she still didn't recognize the source. It wasn't until almost two years later, after I was home for over a year, that she messaged me and told me about her baptism and what led her to the decision. I taught her for the first 8 months of my mission, so hearing about her conversion (and now her temple marriage!) brought me some of the greatest joy I have ever known. (Madison)
Being able to help people and watching them grow into people they want to be. (Kira)
In my second area my comp and I were tracting on this super long street. And of course, no progress. We were getting really put out because nothing was going right that day. Towards the end of the street (after a full hour of rejections) we knocked on this door, and a very sad women opened the door, only to tell us she wasn't interested. We turned around, got halfway to her driveway when she opened the door and said "Why do bad things happened to good people?" we turned around, shocked, and walked back up. She invited us in. Her husband (who she loved very much) was this amazing man who passed away and she was struggling. We taught her that families can be together forever, and the plan of happiness. The spirit was extremely strong. Even though nothing happened after that, a seed was planted. (Jessica)
Attending the Temple with members I had taught. (Jeff)
I was able to provide blessings to many people and see their faith grow and see how they overcame whatever ailment they dealt with. (Nicholas)
Having a guy (nonmember) from a fishing boat and his member friend stop in at church one Sunday. They were supposed to leave town the next day and it just so happened they had some problems with the boat and could not leave. He came by the church (where we lived) the next morning and we ended up teaching him all the discussion, put together a program for a baptism and then his friend baptized him in the ocean that night. It was one amazing day. (Nathan)
Tracting a street of all Russian Orthodox folks and finding the one person on that street who was not, and then baptizing him. (Andy)
Any baptism was special. (Keith)
After giving a second discussion we gave our investigator the pamphlet that went with the discussion, and when she looked at it she wept. She said the picture on the front cover (of the second coming) was an image she had seen in a dream, and wanted to know what it was. (Karl)
Watching the Lord guide us to those that needed the message. (Shelly)
Walking home after lots of tracting to the "popping" and sky-dancing of Northern Lights near North Pole, AK. Heavenly Father's gorgeous reward for our work! (Leon)
Too many to list. (Jeremy)
Too many….but I did have a baptism the day before I went home. (Michael)
Many…teaching the gospel. One man we baptized, I found years later at a LDS Boy Scouting event was married in the temple and is raising his family in the church. We were able to introduce our boys to each other. (Chester)
We gave a blessing to a member who was in a bad wreck and he was in really bad shape. They transferred him to Anchorage and the found nothing wrong. He was up and going in a few days because of the power of the Priesthood. He was healed. (Cody)
Many tracting experiences meeting all sorts of people. So many wonderful spiritual discussions. (Dave)
A Zone Leader testimony meeting that I will never forget in my life. The Spirit testified to me that what I was doing was not only right, but that I had been foreordained for that very moment. (Gary)
The first Baptism. When I was sent to Cranbroke to serve. I loved the people and the area. I had a nephew that served in Cranbroke about 20 years later. (Phillip)
Has to be when you have your 1st baptism. (Phillip)
Valdez Alaska…the Fenn family baptism. (Larkin)
What are some interesting facts about the Anchorage Mission?
It's cold but so beautiful pretty much year round except for break-up season of course. (Tyson)
Supposedly Alaska eats more ice cream per capita than the lower 48. AKA the rest of America. (Ryan)
It covers roughly 7 time zones. We transfer by land, air, and sea. There is no temperature cut off for proselytizing. (e.g. We proselyted at -40.) The mission is roughly a 1/4 to a 1/3 the size of the continental US. (Andrew)
Our mission is huge! There are areas the size of Utah, or times when there are only two missionaries on an entire island, or the next nearest missionaries are a five hour drive away. Flying for transfers is very common. Also for transfer meetings or other mission wide meetings, we would often have a video conference with all the missionaries in the far away areas. (Marissa)
In square mileage, Alaska is the second largest mission in the world. There are no snakes, spiders, or poisonous bugs, but the mosquitoes are enormous. Bears outnumber people by a 3-1 ratio. Alaska is home to the largest bear in the world – the Kodiak bear. (Madison)
Tons of Polynesians which is awesome. Five different languages you can get called to. Hmong, Tongan, Samoan, Spanish, Tagalog. (Jessica)
Highest baptizing mission in the Pacific Northwest in 1997, with 525 baptisms. (Jeff)
Alaska. Yukon. There really isn't a better place on earth. (Jeff)
You could end up learning a language or two. There are many Filipinos, Samoans, Tongans, Hmong, and Hispanic in the state and you'll meet many awesome people. (Nicholas)
It is one of the largest (geographically) missions in the world. (Nathan)
Very diverse ethnicity's. You will find Tongans, Samoans, Filipinos, Mexicans, Russians, Koreans, and probably even more now. (Andy)
We don't work much with natives. (Keith)
Largest geographic area, variety of climates. (Casey)
Multiple days for some transfers by car. On one occasion I had a commercial airline transfer. (Karl)
If you put the Alaska mission boundaries on top of the continental United States, it would touch all four borders. (Shelly)
We wanted a third Anchorage stake, a temple and Russia to open up officially! ALL happened within mere years of my release! (Leon)
Covered Alaska and parts of Canada. (Michael)
Largest mission with the fewest elders. So our area is the size of other missions. (Chester)
Exxon Valdez crashed and spilled oil everywhere while I was there. (Dennis)
Northern lights in winter. Dark most of the winter. Usually lots of snow. (Cody)
Alaska low temperature was -72 F Midnight sun and Northern Lights amazing Alaska was the most beautiful place I have ever seen. (Dave)
Largest land mass mission in the world at the time. (Gary)
The cold weather and a lot of the different people we talked to. How you learn the Lord is really in charge of everything. (Phillip)
Cold cold cold. (Phillip)
What was the weather like?
Oh, I got the full spectrum of weather (Tyson)
COLD. But also hot in the summers in some areas. I saw 102 degrees Fahrenheit and -40 degrees (and that's without windchill) on my mission. But that kind of gear you can get there. (Nels)
It is similar to Utah except a few places like the southeast and up north and on from Fairbanks. It is very wet in the south east and very cold and dry up near Fairbanks. Fairbanks gets really warm though in the summer. All around snow and ice stays longer. (Ryan)
Ranged from 80 to -50 throughout the year and dependent on your location. Some places had lots of rain/snow, others had minimal. Summers usually were rainy and mild, although I was there during their two sunniest summers. Absolutely beautiful. (Andrew)
This really depended on where I was. Anywhere in the southeast (Juneau, Sitka, Ketchican etc.) is known for cold summer and warmer winters. This is also the rainier parts of Alaska, so I saw a lot of rain in the summer (pretty much every day…) and when it was sunny all our appointments were canceled because people would go out fishing, haha! In the bowl (Anchorage, Wasilla) the weather reminded me of Utah, just a bit more extreme cold and snow in the winter, and not quite as hot in the summer. Fairbanks area has the two extremes, known for hot hot summers, and cold cold winters. (Marissa)
Depended on the area… it was an enormous mission, so the southern part had a completely different climate. There were also lots of mountain ranges and plains, so you'd get more wind in some areas, or just straight up freezing temperatures in another. (Madison)
There are the northern lights, bears, moose and you can go fishing. (Kira)
Depends on where you are at. Snowy in the fall and winter. And usually in the 70's if you are more south. If you are north, like in Fairbanks, I hear it gets pretty hot. (Jessica)
Great in the summer, terrible in the winter. (Jeff)
Amazing. I love the cold and that was great. I'm originally from Arizona where it gets really hot like 114 degrees for several days at a time and in Alaska I only ever saw one day where it reached 100 degrees. (Nicholas)
Cold and beautiful. (Nathan)
Bitter cold winters, beautiful summers. (Andy)
Cold but dry in Fairbanks. Loved the long summer days. (Keith)
Cold, hot, sunny, dark, depending on the season. I thought it was great though- as long as you were prepared for it. (Karl)
Between -37 to 85 degrees. (Brandon)
Depending on where you were, it could have rained all year to been extremely below zero. (Shelly)
Gorgeous, often more sun than I had ever seen before! In winter, lovely, crispy and awe inspiring. (Leon)
Perfect, except when Mt. Spurr erupted. (Jeremy)
Freezing and dark in the winter. Sun all day in the summer. When it snowed one time it was on the ground for 6 months. (Michael)
Weeks with a high temperatures of forty below zero. (Chester)
Cold in winter warm in summer, saw -70 degrees one winter. (Dennis)
Lots of snow and ice and cold. (Cody)
Depends of what part of Alaska. Fairbanks in the winter dipped below -60 F. In the summer, Anchorage was a pleasant 75 F for the most part. (Dave)
Beautiful at times, especially in the interior. Rainy most of the time in the coastal areas cold and snowy in the winter times but always enjoyable. (Gary)
Winter time depending where you were. Coast is rainy… the interior cold and snow. Some places got 16 inches of rain and some places got to 40 below zero . (Phillip)
Wet and snowy. (Phillip)
Many are cold but few are frozen. (Larkin)
Any things you really like about the area/people?
Their friendly attitudes and the raw untouched beauties of it all. (Tyson)
It is very unique. Some of the smaller settlements are just different structurally than the lower 48, especially in Ketchikan. All of the people are very patriotic. I loved that so much about Alaska. (Ryan)
Everything. The uniqueness of Alaska and Alaskans is impossible to describe. One must experience it to understand it. (Andrew)
It is a relaxed place – there was no rush to be in style, to get so much work done, to have lots of material things. They were hard workers, but they knew how to have fun, too. And they could live off the land better than anyone I'd ever met. (Madison)
Cold, lots of snow. (Kira)
I just loved the people. Period. They were and are amazing. I've met so many non members who were so incredible, and cared so much about you. And of course the places are cool. I saw bears, moose, porcupines, seals, the Northern Lights. It's pretty magical. (Jessica)
Everyone was so service oriented and took great care of the missionaries. (Jeff)
There are great environments. There are lots of friendly people. Some areas are in forested areas and that was cool. (Nicholas)
I loved them and have visited a lot of them 3 times since. (Nathan)
Most beautiful place to be, and the people love the missionaries like their own kids. (Andy)
The people are genuine. (Keith)
Very religious and spiritual people in Alaska. They often disliked organized religion, but they usually had deep spiritual feelings and unfortunately bad experiences with religion. (Karl)
Hard working genuine people. (Shelly)
The very most extreme oriented! If they knew or come to know God…they were soldiers and solid! (Leon)
The weather, the traffic, the people. (Jeremy)
Very warm and friendly. (Michael)
I have become attached to Alaska and after college married a sister missionary from the mission and moved back to Alaska where we now live. (Chester)
Beautiful country. (Dennis)
The scenery. Most people were friendly. (Cody)
The people certainly fit in this last frontier — rugged and wild but very kind for the most part. The place is paradise on earth. (Dave)
Not enough time and memory to list all of the incredibly wonderful people and places. Some of the fondest memories of my life. (Gary)
You could feel the Spirit with all those that where active. (Phillip)
They were some of the next down to earth people you ever meet. (Phillip)
Any packing/clothing advice?
Pack everything you think you need rather than leave half of it back home. (Tyson)
Durable is good, keep it to one bag. You really only need 2-3 shirts at a time. (Nels)
Follow the packing list honestly. They say bring thermals, but I don't think I wore them at all. Bring more service clothes and also preparation day clothes such as shorts or sweats for morning games with districts if they still do that and preparation day sports. (Ryan)
Buy winter/regional gear when you get there. (Andrew)
For sisters: I liked having leggings to wear under my skirt. I just bought some from Costco in neutral colors and wore them all the time. Bring comfortable clothes that you don't mind wearing all day. I loved my cardigans, layering that with a pea coat kept me warm. My scarf and warm gloves were very essential as well. There was a sisters closet at the mission home when I was there that had clothes there that other missionaries left if they got too small or if they were leaving and had too much stuff! There are usually some coats left and boots and other warm clothes too! (Marissa)
If you're from a warm climate, wait until you get there to buy heavy duty winter gear. The "heavy duty" stuff from places like Arizona and Texas won't keep you warm. Also, rolling your clothes instead of folding them gives you a lot of packing space! (Madison)
Bring lots of warm things. (Kira)
I wouldn't worry about the cold stuff until you actually get to Alaska. (Jessica)
Buy your clothes up there. (Jeff)
Do not get thermo-garments. I'd recommend just getting thermals that you can put over your garments. When going to someone's house it can sometimes get very hot and if you have thermal garments then you'll stay a little to warm. (Nicholas)
Good comfortable boots that are easy to take on and off, because most people ask you to remove your shoes when entering there homes. (Nathan)
Buy most of it when you get there if possible. (Andy)
Layers. Get good boots once there. Your feet are important to protect. Buy the parka there too. The ones you would buy in the lower 48 will not do well. (Keith)
If you go in the summer, buy a winter coat when you are there. There's a better selection, plus you can get local advice. Depending on your area you will need very different winter wear. (Karl)
Buy your coat there. (Angela)
Be prepared for anything. A good raincoat is essential, snow boots, a warm parka, gloves, and all the essential items for winter weather is a necessity. (Shelly)
Wools for cooler times, very much cotton/poly for summers! Can get mighty hot! Fairbanks is noted for highest climate/temperature change in extreme seasons! Look it up! (Leon)
I never wore thermal garments, I seemed to be fine with my Sorel boots, parka, hat, gloves. (Jeremy)
Anything for winter buy it up there. But your slickers (rain) as well. (Michael)
Need a parka long johns, most things I had I got after I got there, outbound
Buy your weather gear in Alaska…most of the gear from the lower 48 will not be adequate. (Chester)
missionaries will give away or sell some items you need. (Dennis)
Buy well made shoes. (Cody)
Don't wear shorts. (Dave)
Times have changed but buy a coat when you get there. You will find something much more suited to your needs. Better umbrellas are found there than trying to bring one with you. (Gary)
You wear most of the clothes you are going to pack. It will save room and weight in your suit case. Some times, it is better to pack light and buy what you need when you get to your mission. (Phillip)
What blessings did you receive from serving a mission?
A stronger testimony and first-hand experience into how the Gospel changes lives. (Tyson)
I was blessed with the most amazing wife. Had I never served a mission I never would have met her, let alone learned what I need to learn in order to be responsible in marriage. I also learned how to really lock my heart. Lock your heart on your mission and you will be blessed immensely. (Ryan)
I have received many blessings from all aspects of the gospel I have kept. The greatest blessing I have received from my mission though, is my deep love for the Savior and unshakable testimony of Him. (Andrew)
Hundreds of lifetime friendships, a better understanding of the gospel, greater empathy for those who are different than me, greater appreciation for eternal families, a new home in Alaska, better direction for my life, great examples of leadership, etc. (Marissa)
ave otherwise. I met my husband on my mission (he's from a different country). I learned how to dig in and really study the Gospel. I made eternal friendships. I tasted the joy that Christ feels when a lost sheep returns. (Madison)
Lots. Serving is the best thing to do. (Kira)
Every blessing I have in my life comes because I chose to serve a mission. I would not trade my experience for the world. (Tanner)
Oh man, too many to count. Honestly. It's been incredible. Probably having the Lord placing sisters in my path who are considering going on a mission, and I just talk to them about it. Those are pretty cool blessings. (Jessica)
Taught me how to work hard, deal with adversity and have a better understanding of the Atonement. Too many to attempt to list here. (Jeff)
I met so many wonderful people and I feel that I've become more social since I served. (Nicholas)
Everything good that has happened to me I can trace it back to serving a mission. (Nathan)
A firm testimony of the gospel and a love for Alaska. (Andy)
Touching the hears of the people. My family at home was blessed too. (Keith)
My testimony and gospel knowledge grew in amazing ways. (Karl)
My whole life has been richly blessed from my mission experience. (Shelly)
Every good memory, as staunch a testimony, and enduring friendships. (Leon)
I was able to establish a relationship with Heavenly Father and the Savior, understand the Atonement more fully, learn study habits, self-discipline. (Jeremy)
I am a better man because of it. (Michael)
I met my beautiful wife, then a sister missionary. Three years after the mission, we started dating and were married. (Chester)
Knowledge…it taught me how to work harder. (Cody)
"He who loses his life for my sake, shall find it". I found it!! (Dave)
Every blessing in my life since my mission is a direct result of serving. (Gary)
More then I will ever be able to count. All types of blessings and I am still receiving them. (Phillip)
Too many to mention here. (Larkin)
More then I can count and still receiving them. (Phillip)
What are some skills you gained?
People skills. (Tyson)
Driving on ice. (Nels)
I gained a lot of patience and knowledge to live in close quarters with people all the time. I learned to not worry or argue over dumb little things. I learned to lock my heart so now that I am married I know how to lock my heart. It helps with budgeting as well. I learned to cope more with stress. Cooking is a big skill I learned on the mission. Public speaking has improved for me because of my mission as well. I have gained many more skills from my mission. If we set aside all of the spiritual blessings, skills, and knowledge learned on the mission; looking at it from a secular view, by serving honorably and diligently I learned more than a associates degree worth of knowledge and I am sure a bachelor's degree worth of knowledge as well. (Ryan)
Driving in snow. Talking to people with ease. (Andrew)
I have always been a good student, but my ability to study efficiently skyrocketed!! I can study so much more in a short amount of time now! Also my planning and organization has gotten even better, and I don't mind waking up early as much anymore! (Marissa)
Social/conversational skills, study skills, patience, persistence, and compassion (Madison)
Being able to chop wood. (Kira)
How to talk to people, think for myself, and study. (Tanner)
I'm not afraid to ask people about the gospel. At all. I used to be afraid. Now I'm not. And I do it in a fun way, not a forceful way. Also, I have gained so much scriptural knowledge which is pretty awesome. (Jessica)
I am better at social interacting, time managing, scheduling, filing reports, and Leadership skills as a District Leader. (Nicholas)
Dealing with different personalities. (Nathan)
How to deal with cold weather, great people skills, stronger work ethic. (Andy)
Confidence in teaching and good leadership skills. (Keith)
Companionship conflict resolves, how to push self more, how to love way more than ever. (Leon)
I can make the perfect snowball. (Jeremy)
Learning to forgive. (Michael)
Overcame my shyness and I am now able to talk and communicate with anyone I meet. I am able to memorize which I could not do before my mission. (Chester)
Cooking and dealing with people and how to love all regardless. (Cody)
How to stay warm in a single wide trailer at -60 F. (Dave)
Talking, teaching, studying, praying, getting along with others, serving. (Gary)
How talk to people and learning the Gospel and understanding the meaning of things in the gospel. How to deal with people. (Phillip)
People skills. (Larkin)
What do you wish you knew/did at the beginning of your mission?
How to relate to others and focus on their needs. I also learned how to go with the flow not beat myself up too much if your plans fall apart. (Tyson)
Stop worrying so much. (Nels)
I wish I knew the lessons in chapter 3 of Preach My Gospel better and scripture references that go with important Gospel topics better. I felt stressed and insufficient in the knowledge I needed. If you can, complete the reading of The Book of Mormon before you leave. I hadn't don't that. (Ryan)
I wish I knew how to lead out more/better and work even harder than I did. You don't realize how short two years is until it's over. (Andrew)
Never teach a lesson if you aren't unified with your companion, you will do more harm than good. (Marissa)
Exact obedience (it really brings miracles), how powerful the Atonement really is, and that physical appearance matters much less than spiritual countenance. (Madison)
Things to read. (Kira)
That Christ was the Savior. I thought I knew that, but I wish my testimony was even stronger. (Tanner)
The BIGGEST thing I wish I knew was that miracles do not happen constantly. When you hear these cool miracle experiences of people's missions, you think you're getting that constantly. You're not. Which is OKAY. Because it makes you appreciate the miracles that DO happen. And it makes you appreciate the tender mercies. If you don't see these magnificent thinks happening ,that's fine. you're not doing anything wrong. If you're obedient, and doing the work, that's all that matters. I was obedient, worked hard, and saw 4 baptisms. But a lot of my investigators are now baptized. And it all started with a seed. Just because I didn't see those other baptisms, doesn't mean I didn't have an impact. It's not all about the numbers. Focus on the people. (Jessica)
Missionaries aren't perfect and that's okay. (Jeff)
Enjoy your time as a missionary. Don't make it stressful and full of anxiety. (Tony)
Everything! (Andy)
Study the scriptures more and have better bible knowledge. Now days really study Preach My Gospel. (Keith)
I was grateful God prepared me in every needful way. (Leon)
I wish I had a better knowledge of the scriptures going into my mission. (Jeremy)
More preparation. (Michael)
Any weakness can be made a strength. Leave your troubles home and work hard. (Chester)
Master of the scriptures. And don't worry about anything except for why I was called. (Cody)
I wish I had read the Book of Mormon at least twice. (Dave)
How to love easier and more. (Gary)
I wish I knew the scriptures better. I wish I would have had more of the Gospel stories before I left. I worked a lot and played too many sports in high school. I could not go to seminary like other missionaries. (Phillip)
I was too serious. (Larkin)
Any advice/testimony for pre-missionaries going to Alaska?
Relax–don't be a pile–but relax. The Lord won't let you screw up anything beyond repair. (Tyson)
Study chapter 3 in Preach My Gospel until you have it memorized. That way it gives the Holy Ghost  something to pull from while teaching. Don't teach from memorized writ. Don't be a robot, be personal while teaching, this is your church. This is Christ's true and everlasting Gospel and His only true and living Church. Smile, laugh, enjoy teaching and meeting people when you get the opportunity. Most of all, remember that God is at the helm and it is His work. Rely on Him and the Savior and you will have a successful mission and you will love it and look back with great fondness on this time of your life. (Ryan)
Give it your all. Just be a good boy/girl and Heavenly Father will be pleased with and accept your missionary service. Just do your best. (Andrew)
I just so happened to be the first 19-year-old sister missionary to the mission so the second I saw all the other missionaries (especially sisters) I had a huge feeling of inadequacy. I felt so young and so not ready! However, I was blessed with a phenomenal trainer, and she always reminded me that God qualifies the called, and doesn't necessarily call the qualified. She also reminded me that the mission is meant to be enjoyed, not just endured! Enjoy the mission, find a way to love every day, it will be over before you know it. (Marissa)
Don't give up – it's going to be the hardest thing you've ever done, but you can do it. The Lord gives us hard tasks so we learn to lean on Him. Use His strength and grace, and you can do anything. (Madison)
Just remember the lord is with you, and their are people out there looking for the gospel. (Kira)
Have your very own testimony. Know that the Book of Mormon is true. Know that Joseph Smith was a Prophet. Know that President Monson is a current day modern Prophet. Most importantly, know that Jesus is The Christ. (Tanner)
Once you decide to go on a mission, all hell will break loose. Satan will try to stop you. But, I would go through all that crap again to see all of the people of Alaska. And to touch their hearts. A less active said to me and my comp "I feel like you were sent here specifically for me" It's a beautiful feeling. Missions are worth it. They're hard, but incredibly worth it. (Jessica)
Read the Book of Mormon completely before you go and familiarize yourself with Preach My Gospel. (Jeff)
Go about doing good. Don't get wrapped up in obsessing over the exactness of your obedience. Just wake up each day wanting to give of yourself to help others. (Tony)
Read the scriptures and become more familiar with them. Study Preach My Gospel. Practice teaching friends and family; even role play. Attend Mission Preparation classes if available. I know that these are the most beneficial things one can do to prepare for missionary service. As you do these things you will not only set yourself up as a successful missionary but you will be well on your way to having the sort of habits that will bless you even after you finish serving. (Nicholas)
Remember that your Savior suffered way more than any coldness you experience. (Nathan)
Get ready for a great adventure full of amazing fun and spiritual experiences. (Andy)
Learn Preach My Gospel. (Keith)
Learn to sleep with the lights on. (Karl)
Love the land first! If you love where you are, Alaskans will know and feel you fit in. Love them next! (Leon)
Be obedient, have faith in the Lord, trust your leaders, especially your Mission President, work hard, always have a prayer in your heart and leave no room for evil thoughts or actions to creep in, do not foster negative feelings for others, especially your companion, treat your companion like you would your own family (he/she is). (Jeremy)
Be prepared and love the people. (Michael)
Settle your affairs and leave them home. (Chester)
Strengthen testimony by sharing and living righteously. (Cody)
Be prepared physically and spiritually. Forget yourself and go to work! (Dave)
Cherish your companion relationships. Never get too angry or upset. Trust that you will look back and remember each and every companion as someone you would love to spend time with again. (Gary)
Be humble, be loving and be kind…not every person is the same and they all are at different learning levels. Study everything, read everything and pray a lot and get as close as you can to the Lord. Know why you're going and know you're going because you want to…not because your parents and others want you to go . The 2 years you spend will be tough but the rewards are greater than you can imagine. (Phillip)
Make sure you go to seminary, learn all you can about the Savior . Read the scriptures and live your life the way the Lord wants you to live. Be honest in all your interviews, pray daily. (Phillip)
Don't talk American politics in Canada. (Larkin)
What was a funny language mistake?
While in the Samoan ward I learned that there is a very small difference from daughter and homosexual so be careful! (Ryan)
There is a large Polynesian population in Alaska, and even though I served English speaking, our mission president and his wife would teach us how to say "hi" in all the different languages. Well one day I met a Samoan family and to show my cultural awareness I said "hi!" but in Tongan instead of Samoan.. They were not thrilled!! (Marissa)
When an elder in Anchorage was trying to teach someone about the temple, she heard him say "ten balls" instead of "temples" and thought he was talking about basketball. (Madison)
Trying to read the scriptures but accidentally said wrong words. (Kira)
Asking for a 'napkin' at the dinner table of a proper English woman and her husband. She quickly pointed out that 'napkins' were used for feminine purposes and she would be happy to give me a 'serviette'. (Gary)
Everyone in Canada would say A and then I would say B. I thought it was a Spelling Bee. Every one in Canada would say A or round and about . (Phillip)
Mark (Alaska Anchorage Mission)
–Paraphrased from Mark's mission interview–
Alaskan Mission Geography
I think there's a lot of unique things about Alaska, the first being the boundaries. The mission not just the state of Alaska as you know it included in the call, but also a sliver of Canada's Yukon territory which happens to be bigger than California, so it's not just a sliver. The missionaries that go there actually have to get visas. You'd be surprised by how strong the church is in Alaska. Behind California, Utah, Arizona, Idaho, I believe Alaska has the fifth largest population of LDS members. Of the 700,000 to 800,000 people there's about 30,000 members, and that equates to about 7 stakes, which equals about 7 zones in the mission
The Church and Mission in Alaska Today
There's a temple in anchorage. It's currently the second smallest temple in the world. It was the smallest temple in the world until they added a heated awning where members could walk in and take their shoes off, so it's absolutely tiny. It is actually right next to the mission home, so you get to go the temple quite a few times during your mission if you'd like too. You go about once every quarter but can go more often if you ask for permission.
Another thing that's unique about the Alaskan mission is the way transportation occurs. There's about 130-140 missionaries when I was there. You could get transferred by car, jumbo jet, bush plane, sea plane, or ferry; there's a lot of different ways you can be transferred, and I had the chance to experience every one of them. Sadly, there's no transfers by sled dogs though.
In the mission theres quite a few languages. Missionaries were called to speak English, Spanish Tongan Samoan, Hmong. We had a couple Russian and ASL speaking missionaries while I was there, and we had a few elders from the Philippines who spoke Tagalog as well. Contrary to what you might believe, there's quite a few minorities in Alaska, and the reason for that is because of work and jobs. The oil fields, fishing, and tourism are huge. There's actually a large population of Polynesians in Anchorage and in Jun0.
Church History in Alaska
The church was introduced during the Alaska gold rush. There was an elder of the church who went up to Nome to pan for gold, and he was the only member of the church in  the state. While there, he started sharing the gospel and organized a little branch. After awhile, the church headquarters took notice and they sent missionaries out to go and dedicate the area of Alaska for the purpose of missionary work. There's a plaque in Juno on the side of a mountain where they said the dedicatory prayer. They blessed the waters so that missionaries could be safe in their travels and teach. The church is growing like wildfire in Alaska..  you can expect to teach a lot and the people are so ready.
Alaska, as you may know from U.S. history, was actually purchased from Russia for cheap – it was the best land deal the U.S. ever made. As a result, the primary religion of the native alaskan people is Russian orthodox along with other tribal religions. Unless you go to White Horse or Canada Yukon territory, you should call the people "First Nations," because if you call them Alaskan natives they'll be very offended
Alaskan Food
I ate like a king. Food in Alaska in incredible. Everything is bigger. A lot of people gather berries or shoot to get food for the winter. You get a lot of moose steaks, bear, halibut, and salmon. You get crab as well. It's amazing. We would have freezers full of this meet. The people are just so generous. You'd be knocking doors and people would be eating crab and they would invite us right in. We helped making moose hamburger one time. The food is delicious. I never really enjoyed the indigenous food. They gave us slices of whale and I thought it was just horrid. The natives will eat fish eyes, or the cheek of the fish. They'll eat the meat out of a seal and leave the oil to ferment and they will dip things in that.
First Nations Culture
The most unique culture was with the Alaskan natives or the First Nations people. I got to serve with both of them. I would describe them as stoic. They're quiet and reserved, but so generous and loving. It takes a little while to break down those barriers they put up some times. Sometimes tribes will take us in and try to induct us, but I loved it. Their religion is very interesting. It has a lot of similarities to the gospel of Jesus Christ. One family I taught had this wonderful mother that would tell us about these amazing dreams she had. She had dreams of angels and a man in white approaching her. Other times in her dreams she would meet men that would tell her to listen to what we were teaching. They were visionary really. The culture has been really influenced by the settlers of the area so there are some poor relations between the tribe and "the white man" at times. You have to really work with the people to gain their trust first, but after that, anyone would let us into their homes.
Weather in Alaska
Summer, you have 24 hours of sunlight, which is incredible. You can do missionary work from 4 am until 11 o clock and people don't even care. We would teach out to 9:30 and 10 sometimes. Daylight made it really easy to wake up. The flip side is terrible. In Anchorage you get about five or six hours of sunlight. If you're in the Artic Circle you get zero. You wake up and study in the dark and you go out to work. By 3 or 4 o clock you have to work in the dark and no one wanted to let you in. We had to set appointments for people that we knew during that time. There is a seasonal depression disorder that is really prominent in Alaska. A lot of different medical illnesses come to surface because of that lack of light and vitamin D. That affects the missionaries as well. I felt physically drained during the days. The light would just feel amazing. It was fun. The darkness means you get to see the Northern Lights which are phenomenal. They're gorgeous and amazing.