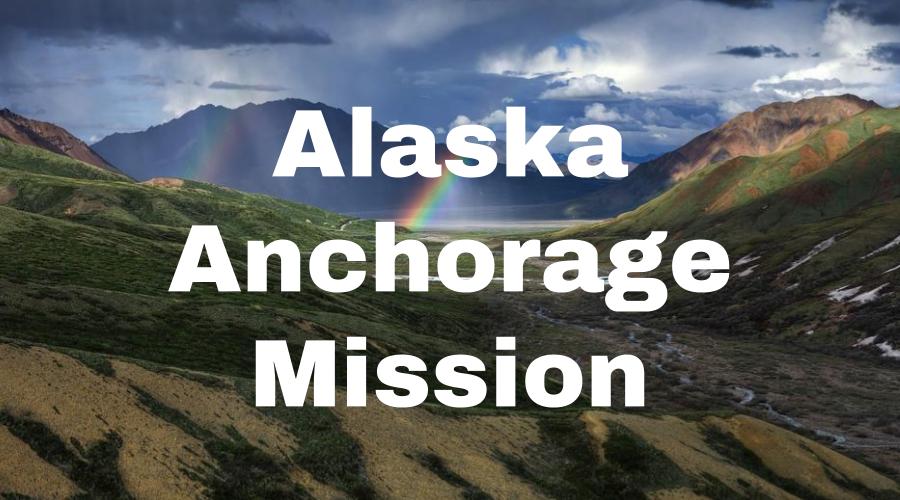 Mark (Alaska Anchorage Mission)
–Paraphrased from Mark's mission interview–
Alaskan Mission Geography
I think there's a lot of unique things about Alaska, the first being the boundaries. The mission not just the state of Alaska as you know it included in the call, but also a sliver of Canada's Yukon territory which happens to be bigger than California, so it's not just a sliver. The missionaries that go there actually have to get visas. You'd be surprised by how strong the church is in Alaska. Behind California, Utah, Arizona, Idaho, I believe Alaska has the fifth largest population of LDS members. Of the 700,000 to 800,000 people there's about 30,000 members, and that equates to about 7 stakes, which equals about 7 zones in the mission
The Church and Mission in Alaska Today
There's a temple in anchorage. It's currently the second smallest temple in the world. It was the smallest temple in the world until they added a heated awning where members could walk in and take their shoes off, so it's absolutely tiny. It is actually right next to the mission home, so you get to go the temple quite a few times during your mission if you'd like too. You go about once every quarter but can go more often if you ask for permission.
Another thing that's unique about the Alaskan mission is the way transportation occurs. There's about 130-140 missionaries when I was there. You could get transferred by car, jumbo jet, bush plane, sea plane, or ferry; there's a lot of different ways you can be transferred, and I had the chance to experience every one of them. Sadly, there's no transfers by sled dogs though.
In the mission theres quite a few languages. Missionaries were called to speak English, Spanish Tongan Samoan, Hmong. We had a couple Russian and ASL speaking missionaries while I was there, and we had a few elders from the Philippines who spoke Tagalog as well. Contrary to what you might believe, there's quite a few minorities in Alaska, and the reason for that is because of work and jobs. The oil fields, fishing, and tourism are huge. There's actually a large population of Polynesians in Anchorage and in Jun0.
Church History in Alaska
The church was introduced during the Alaska gold rush. There was an elder of the church who went up to Nome to pan for gold, and he was the only member of the church in  the state. While there, he started sharing the gospel and organized a little branch. After awhile, the church headquarters took notice and they sent missionaries out to go and dedicate the area of Alaska for the purpose of missionary work. There's a plaque in Juno on the side of a mountain where they said the dedicatory prayer. They blessed the waters so that missionaries could be safe in their travels and teach. The church is growing like wildfire in Alaska..  you can expect to teach a lot and the people are so ready.
Alaska, as you may know from U.S. history, was actually purchased from Russia for cheap – it was the best land deal the U.S. ever made. As a result, the primary religion of the native alaskan people is Russian orthodox along with other tribal religions. Unless you go to White Horse or Canada Yukon territory, you should call the people "First Nations," because if you call them Alaskan natives they'll be very offended
Alaskan Food
I ate like a king. Food in Alaska in incredible. Everything is bigger. A lot of people gather berries or shoot to get food for the winter. You get a lot of moose steaks, bear, halibut, and salmon. You get crab as well. It's amazing. We would have freezers full of this meet. The people are just so generous. You'd be knocking doors and people would be eating crab and they would invite us right in. We helped making moose hamburger one time. The food is delicious. I never really enjoyed the indigenous food. They gave us slices of whale and I thought it was just horrid. The natives will eat fish eyes, or the cheek of the fish. They'll eat the meat out of a seal and leave the oil to ferment and they will dip things in that.
First Nations Culture
The most unique culture was with the Alaskan natives or the First Nations people. I got to serve with both of them. I would describe them as stoic. They're quiet and reserved, but so generous and loving. It takes a little while to break down those barriers they put up some times. Sometimes tribes will take us in and try to induct us, but I loved it. Their religion is very interesting. It has a lot of similarities to the gospel of Jesus Christ. One family I taught had this wonderful mother that would tell us about these amazing dreams she had. She had dreams of angels and a man in white approaching her. Other times in her dreams she would meet men that would tell her to listen to what we were teaching. They were visionary really. The culture has been really influenced by the settlers of the area so there are some poor relations between the tribe and "the white man" at times. You have to really work with the people to gain their trust first, but after that, anyone would let us into their homes.
Weather in Alaska
Summer, you have 24 hours of sunlight, which is incredible. You can do missionary work from 4 am until 11 o clock and people don't even care. We would teach out to 9:30 and 10 sometimes. Daylight made it really easy to wake up. The flip side is terrible. In Anchorage you get about five or six hours of sunlight. If you're in the Artic Circle you get zero. You wake up and study in the dark and you go out to work. By 3 or 4 o clock you have to work in the dark and no one wanted to let you in. We had to set appointments for people that we knew during that time. There is a seasonal depression disorder that is really prominent in Alaska. A lot of different medical illnesses come to surface because of that lack of light and vitamin D. That affects the missionaries as well. I felt physically drained during the days. The light would just feel amazing. It was fun. The darkness means you get to see the Northern Lights which are phenomenal. They're gorgeous and amazing.